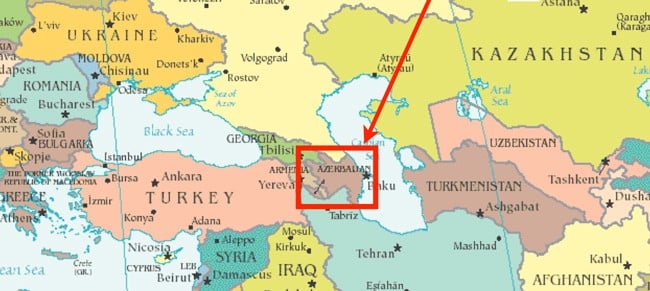 Disturbing reports have emerged from Azerbaijan over the past week that suggest a repressive campaign against LGBTQ individuals has been launched in the Muslim-majority nation in the Caucasus.
Details of beatings and pressure on detainees to become informants are reminiscent of the similar repression occurring in nearby Chechnya.
Azerbaijani officials said the raids were part of a campaign to crackdown on prostitution, but activists charge that police specifically targeted gay men and transgender women in Baku, the Eurasian nation's capital.
Javid Nabiyev, president of Nefes LGBT Azerbaijan Alliance, said in a Facebook video that police detained arrestees for up to 30 days and forced them to give names and addresses of gay and transgender acquaintances.
"People are confused," Nabiyev said in the video, which was published on Sept. 22. "Everybody have [sic] fear that they might be arrested anytime on the street, and even existence of this fear is big problem."
According to the Civil Rights Defenders, a human rights group based in Sweden, detainees were subjected to beatings and forced medical examinations, and transgender women had their heads forcibly shaved.
The group, which said it had received information from local activists and lawyers, added that detainees were kept under "administrative detention," a legal practice in Azerbaijan that does not require a public hearing prior to sentencing.
Azerbaijani officials told the Caucasian Knot newspaper, which covers the Caucasus region, that the raids are part of a campaign to fight prostitution and "protect national moral values" in response to citizen complaints.
The former Soviet republic had a dust-up with neighboring Iran some years ago in which it staunchly defended its anti-gay practices. Troubling incidents such as the suicide of a prominent gay activist and an attempted immolation of a gay teenager by his parents reflect the intolerant social climate for LGBTQ individuals in the country, but this latest move by authorities suggests an escalation with official sanction and supported by politicans:
Ayaz Efendiyev, a leader of the right-wing Justice Party, spoke out in support of the raids and against the West, according to local news site AzPolitika. In Nabiyev's Facebook video, he translated Efendiyev's comments into English.
"Defending these creatures, who are sources of immorality, dangerous diseases and who have been cursed by God, Western circles trying to destruct of our national traditions under the name of 'human rights,'" Efendiyev told AzPolitika, as translated by Nabiyev.
Although the European Parliament did condemn in 2015 a string of homophobic incidents in Azerbaijan, the West has often been reluctant to strongly criticize the authoritarian nation, which the Aliyev dynasty has ruled since 1993, due to its strategic location and plentiful natural gas reserves, and it remains to be seen whether these new reports will elicit further outcry.