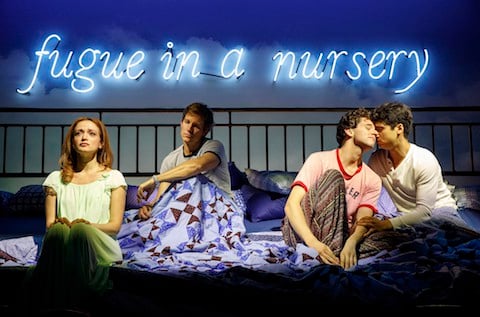 Some stories both define and transcend a generation. When Harvey Fierstein's Torch Song Trilogy premiered more than 35 years ago, first in scrappy downtown theatres and then on Broadway in 1982, some audiences were shocked; others saw their lives reflected back at them perhaps for the first time. Second Stage Theatre's triumphant and beautifully imagined revival, which opened off-Broadway last night, proves that Torch Song remains both prophetic and timeless in a way few but Fierstein could have imagined.
Michael Urie steps into Fierstein's outsize stilettos as Arnold, the quippy Jewess and drag performer whose quest for love drives the story, which has been condensed here and titled simply Torch Song. (The playwright won a Tony for his performance as well as for Best Play, and starred in the 1988 movie opposite Matthew Broderick and Anne Bancroft.) Urie, who's proven to be a master of both character and comedy on stage and the small screen, makes the role unmistakably his own. The Younger star is at the height of his talents pedaling Arnold's sweet cynicism and physical humor while rendering a larger-than-life character entirely in flesh and blood.
We first meet Arnold dolling up backstage at International Male, a watering hole where he entertains men passing in and out of the backroom. It's 1971, according to a neon sign. Arnold soon meets Ed (Ward Horton, charming, doe-eyed), who is as confused about what he wants as he is goodlooking, and becomes involved with a woman as well, Laurel (Roxanna Hope Radja). Between Arnold and Ed, the phrase "it's complicated" is wildly insufficient.
By 1976, the play's second part finds Ed and Laurel and Arnold and Alan (Michael Rosen), Arnold's young model boyfriend, in bed together — literally. In a riff on Pillow Talk-style romantic comedy (the scene is titled 'Fugue in a Nursery,' also in neon), the four lovers (and two former lovers) spend a weekend up at Ed's farmhouse. What could go wrong? After the interval, we fast-forward to 1980, when Arnold introduces his "Ma" (an imperious and show-stopping Mercedes Ruehl) to his adopted son (an impressively teenage Jack DiFalco).
Though the final act shifts into sitcom mode, this is where the meat of story spills real blood — in explosive and devastating scenes between Urie and Ruehl, as Arnold fights tooth and nail for his mother's respect. It's a battle that's certain to rend hearts from their chests — no one with a mother is immune; those who've faced upward battles for acceptance will recognize every impassioned twist and turn.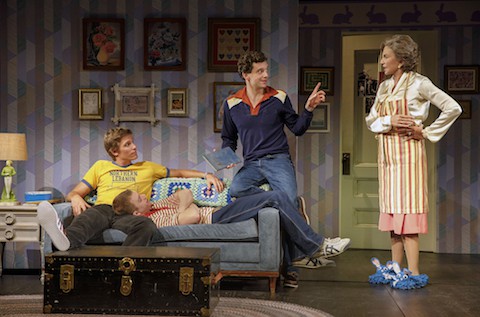 That Torch Song takes Arnold's journey toward love and acceptance with all seriousness is what made it so groundbreaking more than three decades ago. Of course, the play is also funny as all hell. The cast lands punch lines and navigates nuanced emotional turns with equally exquisite rhythm, thanks to Moises Kaufman's finely calibrated direction.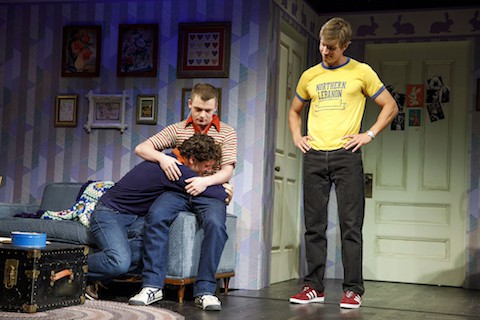 The play's staging is no small logistical challenge, and Kaufman's production unfolds with an easy panache on David Zinn's ingenuous scenic design. Missing from the truncated revision is a full portrait of Arnold's relationship with Alan (an intermission, like any good wallpaper, covers over a multitude of sins), but its emotional impact on Arnold is painfully clear to see as he ventures into parenthood alone.  
Carving out a queer family — even before the catastrophic crisis of HIV — was once considered a revolutionary act. Though that may no longer be the case, we're certainly in no position to forget what it means to fight.    
Follow Naveen Kumar on Twitter: @Mr_NaveenKumar
(photos: joan marcus)