"I don't know what's going on but I'm just going to go with it."
By the time that line is spoken around 30 minutes into Steve Martin's new comedy Meteor Shower, which opened at the Booth Theatre last night, the playwright is counting on audiences to take the same leap of faith. And thanks to razor-sharp direction from Jerry Zaks, and the comedic mastery of its four stars, including Amy Schumer and Keegan-Michael Key in their Broadway debuts, the leap is worth a ton of laughs. But the play's crash landing — while fitting of its the title — is more head-scratching than illuminating.
It's 1993 in Ojai, California, and the forecast calls for a celestial downpour. Norm (Jeremy Shamos) and Corky (Ms. Schumer) are in what you might call an "evolved" marriage. They've been to seminars and listened to all the tapes; when one of them feels slighted, they join hands and recite practiced scripts to diffuse tension with emotional clarity. A more fiery couple with whom they seem only loosely acquainted, Gerald (Mr. Key) and Laura (Laura Benanti), come over to stargaze. Only, they're not really visitors, not the kind you think.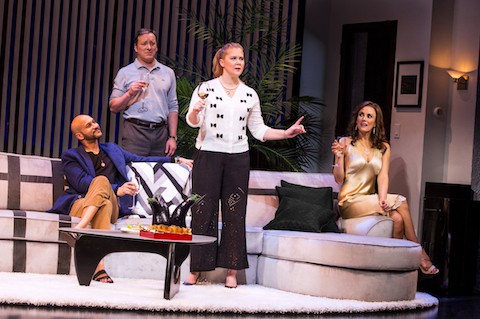 Martin, a genius comedian himself, whips up a gleeful pastiche of tropes recognizable to fans of his '90s heyday. The setup — affluent couples, quirky by degrees, sparring, flirting, and testing social boundaries — is pure Neil Simon. Mix in a bit of Groundhog Day's time-shuffling repetition, death-defying gags and sexual antics worthy of Death Becomes Her, and Martin delivers a new comedy that's comfortably old-fashioned. Even his pat twist on the form feels distinctly nostalgic, rooted in '90s self-help and pop psychology.
For the same reason, there's cause to chafe at the play's affirmation of passé gender norms, and out-dated attempts to wring punchlines out of same sex desire.
But whether Martin successfully achieves anything new-fangled here hardly seems the point (though I don't think he does). When a cast like this assembles on stage, the jokes write themselves — sometimes literally, when there are none on the page.
Schumer, whose background in standup clearly pays off here, is a brilliant physical comedian, finding laughs in the smallest moments, like a tiny start when she turns around to find Laura sitting creepily close to her. Benanti is likewise a comedic pro, laying down the precise rhythms of the sultry Laura, as effectively as she did Melania's on Colbert's Late Show. (The night I attended, the two actors cracked each other up as often happens on SNL, a testament to how much fun they're having.)  
A go-to everyman on Broadway, Shamos wrings a lot out of what begins, at least, as a less showy part (one like those Martin himself is known for). Key, who appeared off-Broadway in Hamlet this spring, at times takes Gerald's flash too far when he'd do better to share the air on stage. His co-stars tend to outshine him by doing less.
Zaks, a musical comedy vet who also helmed Bette Midler in Hello, Dolly!, keeps the action moving at a clip (even when it's going backward), often to the point where you don't much care whether the play makes perfect sense. But if not for its stars, and the subtle life Zaks finds in unscripted moments, Meteor Shower might be groping about in the dark.
Follow Naveen Kumar on Twitter: @Mr_NaveenKumar
(photos: matthew murphy)