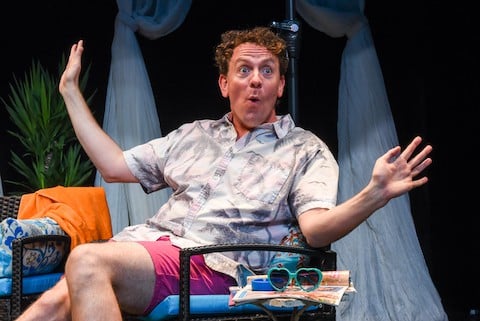 At various moments during Bright Colors And Bold Patterns, Drew Droege's uproarious solo portrait of a gay man on the verge, my friend and I nudged each other in the dark. "That is you!" "Oh, this is so [name redacted]." "Now that… yeah okay, that's me."
Not that anyone could hear us over the laughs at SoHo Playhouse, where the show's return off-Broadway engagement opened November 20, following an acclaimed run at Barrow Street Theatre last year.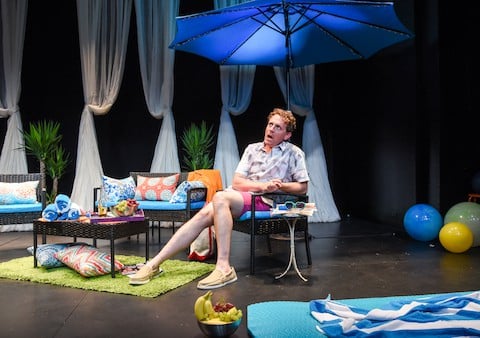 Maybe you've never attended a gay wedding in Palm Springs — or shared a weekend house with your ex-roommate and lover turned best friend, his new boyfriend, and a sworn frenemy. But an evening with Gerry is like looking into a kitschy mosaic mirror in some corner of these desert digs, whose aesthetic he describes as if "Trina Turk and Betsey Johnson threw up Bacardi Razz and then sold it to Target." (Scenic design is by Dara Wishingrad.) Chances are that during this 80-minute roller coaster of a poolside bender, you'll recognize flashes of yourself and pretty much every homo you know.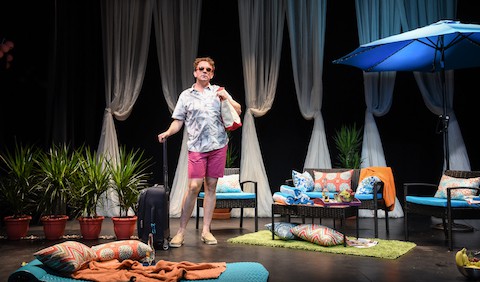 Not that everyone lives as out loud as Gerry ("I'm a lot," he says, in dramatic understatement). From the moment he steps on stage, after a bitch of a drive up the 10 from L.A., Gerry runs his mouth as though if he slowed down the motor might give out. Nimbly directed by Michael Urie, Droege plays one-sided conversations disguised as a monologue opposite empty chairs. But the unseen characters would be hard pressed to get a word in, anyway — their presence hardly matters. Gerry's own life is a one-man show, a manic, encyclopedic stream of campy references and repartee. He's the life of the party with an appetite for escape ("Werrk!" he commands his first afternoon Corona). The question is from what.
What begins as an anxious and colorful kind of frenzy descends with the sunset into something more dour. Like the margaritas he swills, there's a salty bitterness mixed in with Gerry's sanguine self-assurance. Beyond the indecency of flying solo to a gay wedding (Gerry claims he's in a fight with his boyfriend), he rails against what he calls the "race toward normal" that his soon-to-be-wed friend — and the queer movement writ large — seem to have embraced.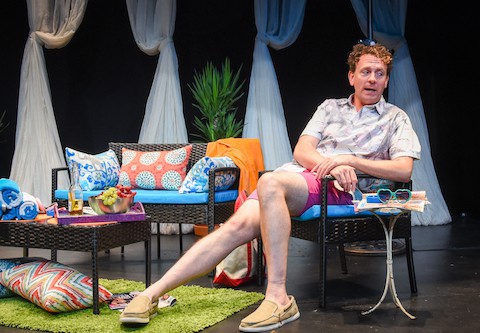 With Bright Colors, Droege, best known for his viral YouTube sendups of Chloë Sevigny, mines the psyche of a culture that's gone from celebrating life on the margins to scrambling toward the middle. Having the door open to a conventional life — one hardly any queer person would agree should've remained closed — comes with a new kind of pressure to step through it. And, worst of all for Gerry, to leave behind some of the hard-won vibrancy and freedom born of reacting against the system to begin with.
The wedding invite that brought the crew to Palm Springs tells them to avoid wearing "bright colors and bold patterns" — a request that strikes Gerry as an affront to everything he's worked so hard to love about being himself. They may not be your style, but Gerry's impassioned defense of living in a full range of hues will likely stir something in you, too.
Follow Naveen Kumar on Twitter: @Mr_NaveenKumar
(photos: russ rowland)