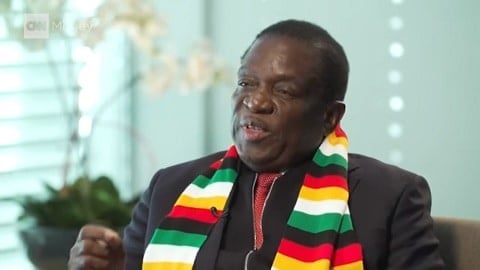 Zimbabwe's new President Emmerson Mnangagwa has said he has no intentions to legalize homosexuality.
Last November, President Robert Mugabe fired then-Vice President Mnangagwa in an apparent attempt to clear a path for his wife Grace to succeed him. That set in motion a military takeover and ultimately to Mugabe's resignation. During his rule, Mugabe threatened to behead gay people who he said are "inhuman".
#LGBT community and proud #Zimbabwean won't be safe under the ruthless regime of #EmmersonMnangagwa #LifeisGreatandBetterTogether

— Charles ATANGANA (@Charlesatangana) November 24, 2017
Speaking at the World Economic Forum in Davos on Wednesday, Mnangagwa said that Zimbabwe is "open for business".
However, while he said Zimbabwe is now focusing on embracing the international economy, modernizing infrastructure and repaying debts, he added that it is "not my duty to campaign for" gay rights.
In the interview with CNN's Richard Quest, he continued: "In our constitution it is banned – and it is my duty to obey my constitution."
Watch a clip of the interview below.