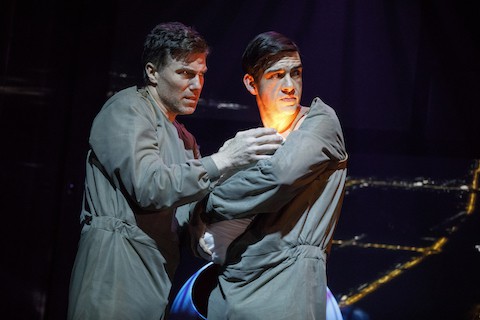 What if women were extinct?
What if men evolved to bear children — and invented "Feminism" as a religion, devoted to making the world hospitable for the second coming of the bygone sex? Such is the dystopian setting of writer-director Robert O'Hara's ambitious but stalled new play Mankind, which opened off-Broadway at Playwrights Horizons last night.
Though it's more often men who are out of the picture, à la Wonder Woman's Themyscira, single-sex societies are a familiar sci-fi trope. The question of men becoming pregnant is likewise well tread — Arnold Schwarzenegger tried it in Junior (1994), and scientists even say it could be possible IRL through uterine transplant. Though their combination here feels timely enough — with women having been "legislated out of existence" as O'Hara puts it in the program — Mankind doesn't probe the consequences of its premise beyond these basic parameters.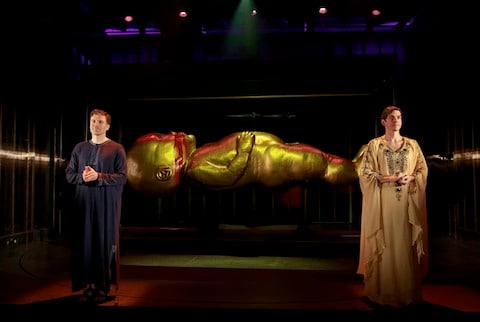 In the opening scene, Jason (Bobby Moreno) wakes up with Mark (Anson Mount) and shares some big news: "Dude, I'm pregnant." It's briefly amusing to imagine how two guys (aggressively coded as "bros" by their incessant repetition of "dude") might handle such a milestone exchange. "Dude, get rid of it," etc. "Dude, we fuck! That's all the fuck we do," and so on. But the opening dialogue recurs, verbatim, four times throughout the play, as O'Hara fixates on and repeats but a handful of jokes.
When Jason asks his OBGYN about obtaining a secret abortion, a crime akin to murder, he and Mark are arrested. When he later delivers the first girl born in 100 years (who quickly dies from pollutants in the air), he and Mark are deified. An underground movement of 'Feminists' consider the baby a sacrifice, and believe that fighting for women's full civil liberties now will pave the way for them to return.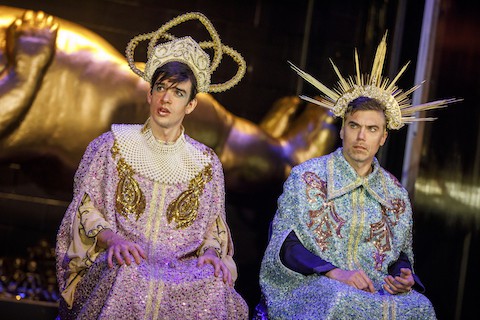 O'Hara, whose autobiographical gay coming-of-age Bootycandy premiered at Playwrights Horizons in 2014, is a high-concept auteur who tackles issues in bold-type. But in crafting the dark, oppressive world of Mankind (dynamically rendered by scenic designer Clint Ramos), elements that might lend it human drama — like evidence of desire between Jason and Mark — are often lost in the shadows.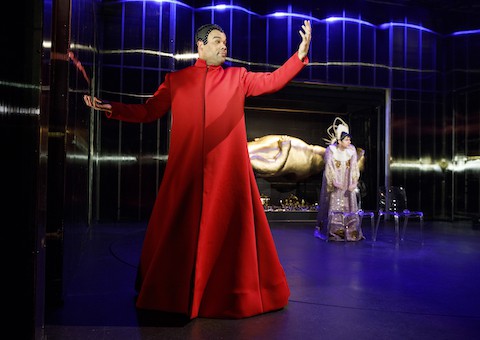 Even if a piece presented entirely by men (including Mankind's full cast and creative team, excepting costume designer Dede M. Ayite) is to be viably considered as feminist, O'Hara doesn't seem much interested in the voices and bodies of actual women — even the specifics of their extinction are glossed over. (Were they… proven the weaker sex by dying off?) Nor are men actually made to reckon with their role in creating this world — or even with the drawbacks to not having women around — beyond paying lip service in reciting Feminist scripture.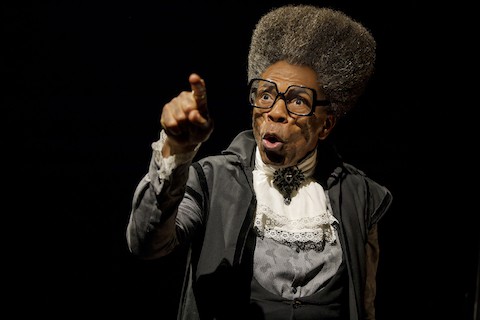 The irony of men inventing feminism is also surprisingly underplayed. Instead, focus remains on how Jaron and Mark navigate the increasing absurdity of their situation — which would itself be more engaging if we knew who they were. But they're ciphers rather than characters, while the supporting cast (including the legendary André De Shields) embody multiple caricatures.
If the play didn't raise so many interesting questions, it would feel less frustrating that it doesn't ponder too many of them at any great length. As Jason and Mark might say, "Dude?" "Dude, exactly."
Follow Naveen Kumar on Twitter: @Mr_NaveenKumar
(photos: joan marcus)