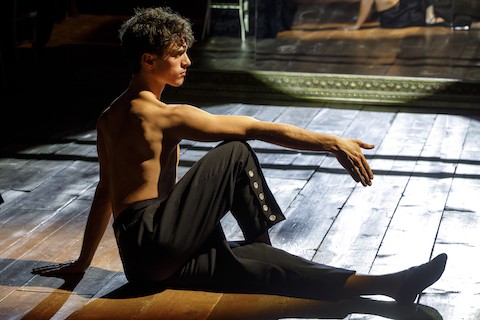 There is an enchanting scene near the conclusion of Fire and Air, Terrence McNally's new play about the Ballets Russes, when the cast is led through a simple barre routine by the company's trailblazing founder, Sergei Diaghilev (Douglas Hodge). There are only two dancers among them: Vaslav Nijinsky (James Cusati-Moyer) and Leonide Massine (Jay Armstrong Johnson). The fun is in watching other characters in Diaghilev's story — his cousin and former lover (John Glover), his best friend and patron (Marin Mazzie), and his devoted maid (Marsha Mason) — go through the motions alongside his legendary protégés.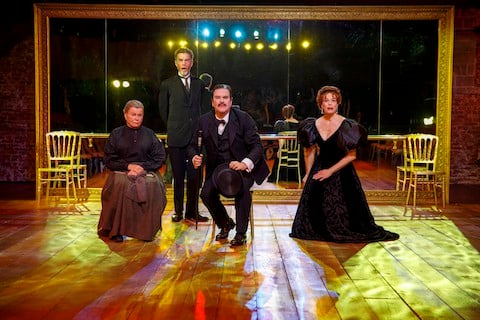 It's a rare grounded moment in what is otherwise an alternately frenzied and tedious history of the revolutionary company, which was active from 1909 until Diaghilev's death in 1929. Where the barre serves as ballet's foundation, no such anchoring principal grounds McNally's bustling historical drama, which despite its title can often feel airless and gives off precious few sparks. McNally's portrait of the artist as a boil-covered egoist may stay true to the facts and incidents of Diaghilev's storied career, but this portrait's overall aspect and purpose are difficult to decipher.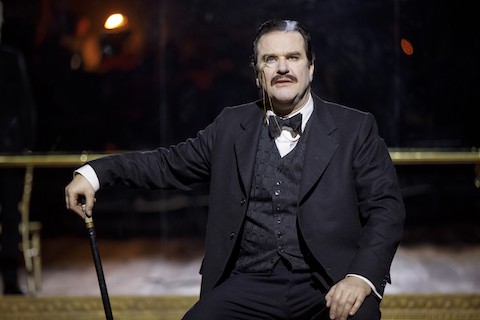 The play begins with Diaghilev's torturous affair with iconic dancer turned star choreographer Nijinsky, which seems, at first, like not much of an affair at all. The two hardly touch, and when they do, desire doesn't seem like the inciting factor. Gradually it becomes clear that serving as Diaghilev's muse is actually something of a stifling cage. As the young dancer's fame ignites, he becomes willful, secretly marries a woman in the company, and is banished and replaced by Massine.
The story is the stuff of legends in the history of dance, and indeed of modern art. But Fire and Air unfolds as a breathless timeline of the itinerant company's premieres rather than an insightful take on the origins of modern ballet — or even an intimate look at the artist's relationships.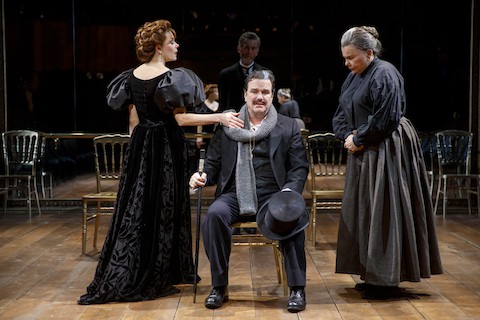 McNally, whose plays like Love! Valour! Compassion! and Lips Together, Teeth Apart helped define 20th century gay drama, doesn't make much of the characters' homosexuality, or even of sexuality more generally. Granted, these relationships are about power not love, but the play offers hardly any social context for their queerness — or their modernity — nonetheless.
John Doyle, artistic director of Classic Stage Company, where the play opened off-Broadway last night, brings his signature pared-down aesthetic and style to the production (Doyle both directs and designed the set). A handful of golden chairs and two large mirrors hung at the back of the stage and from above offer a simple canvas for the story and a built-in illusion of depth. The fluidity Doyle's staging makes easy work of the play's globe-trotting and at times metaphysical action, but jumps in time and place make much of it feel altogether unmoored.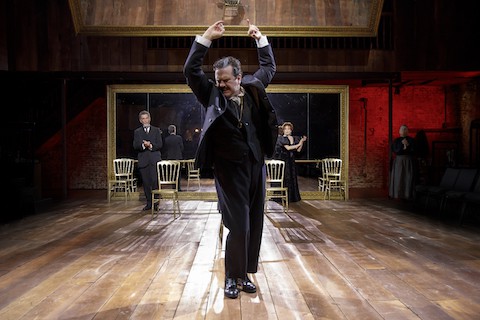 If a clear picture of the origins of modern ballet doesn't emerge from the venerable actors, quiet moments observed in the body offer glimpses of the language used to create it on the stages of Paris and London. Moments like the penultimate scene at the barre feel like fresh gusts of air, but they're too few and far between to catch your breath.
Follow Naveen Kumar on Twitter: @Mr_NaveenKumar
(photos: joan marcus)