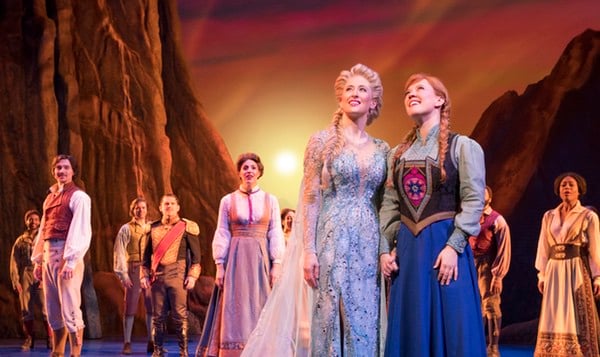 If Disney's great strength is conjuring magical worlds — on screen, in its theme parks, and on Broadway stages — Frozen well suits the current state of ours (and not just because winter won't… let go).
A story about true love between sisters rather than a typical fairy tale romance has timing on its side, which is more than can be said of some other big musicals this season, including Carousel and My Fair Lady.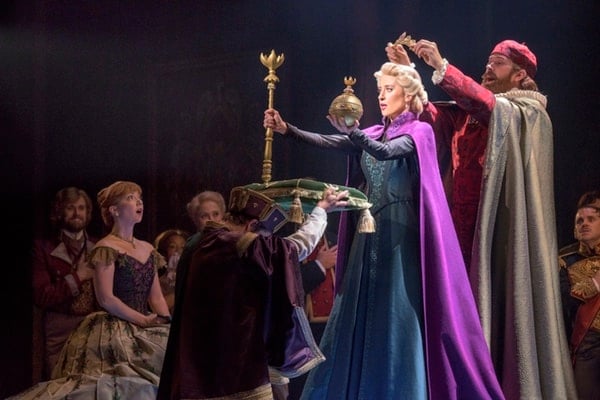 But Disney Theatricals' latest outing, which opened last night at the St. James Theatre, can't seem to settle on any specific world for more than a scene or two.
With a few notable exceptions, director Michael Grandage's production, which first premiered in Denver last year, feels heavy and scattered, weighed down by solutions to visual storytelling that don't add up to a unifying aesthetic.
Its characters, too, often feel like they belong in separate stories (and not in a fun, Into the Woods sort of way). Even the show's only two puppets (fan favorites Sven and Olaf) are cut from different cloth.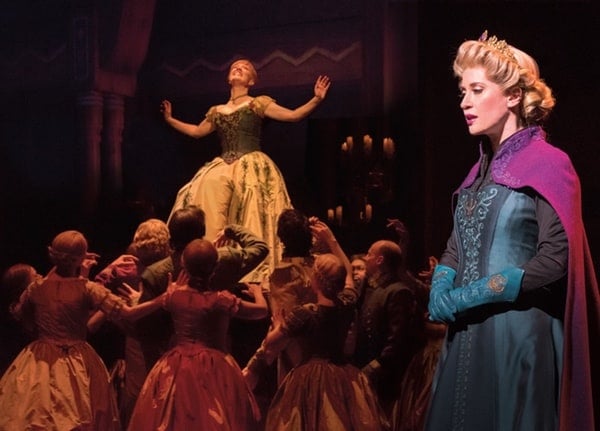 The sisters are just as you remember them; Anna (a terrifically spastic Patti Murin) is the off-beat redhead we come to know well, and Elsa (a powerhouse Caissie Levy) is the one with icy magical powers who remains more elusive by design.
Their parents separate them for Anna's safety before perishing at sea, and the orphaned sisters grow up in a quiet house behind closed doors.
Once she comes of age, Elsa is crowned queen — at what seems like a pretty sad party — and winds up setting off a perpetual winter when Anna asks for her blessing to marry a guy she just met.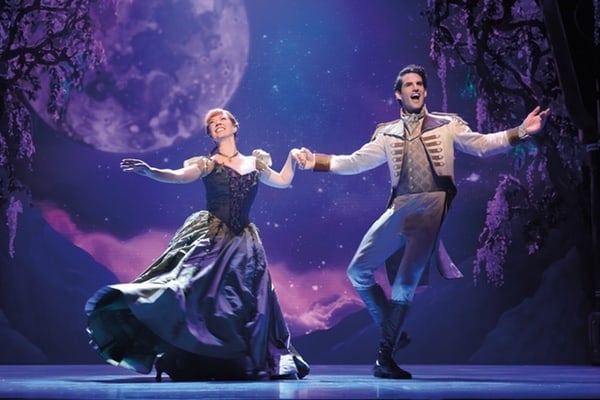 The stage adaptation stays mostly faithful to the 2013 movie, whose screenwriter and co-director Jennifer Lee wrote the musical's book, while songwriters Kristen Anderson-Lopez and Robert Lopez penned additional numbers.
Certain deviations make logistical sense (don't expect a giant snow beast to toss Anna and Kristoff out of Elsa's icy castle) while others, like Kristoff's unexplained relationship to the half-goblin 'hidden people' (the movie's lovable rock trolls) break some of the story's connective fibers.
A few special effects are sure to draw gasps, in particular Elsa's transformation into a glittery snow queen without any f**ks to give.
But the design team, including Christopher Oram on scenery and costumes, Natasha Katz on lighting, and Finn Ross on video, seem to be trying something new every few scenes, from life-like icicles on a perilous bridge to crystal beaded curtains that look more Donna Summer at the disco than Elsa's grand ice palace. Even backdrops shift from postcard naturalism to comic-book exaggeration.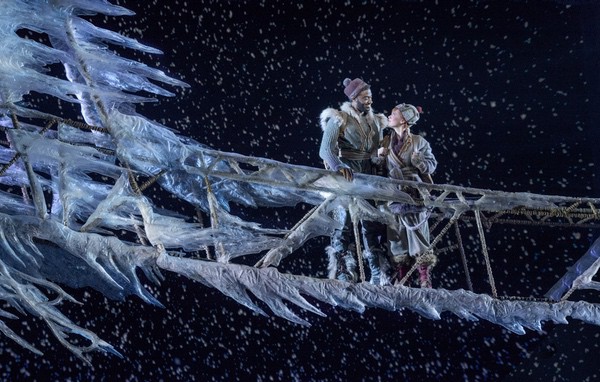 Disney's high bar for imaginative excellence, set by Julie Taymor's The Lion King, which just surpassed 20 years on Broadway (!), is a tough one to reach for. And with its beloved titles, knocking it out of the park artistically hardly matters to Disney's commercial Broadway success (just ask the packed houses over at Aladdin). But Frozen asks for suspensions of disbelief even a child might question. After a whole act's worth of climbing up a mountain, how does everyone simply turn around and find themselves at the palace gates?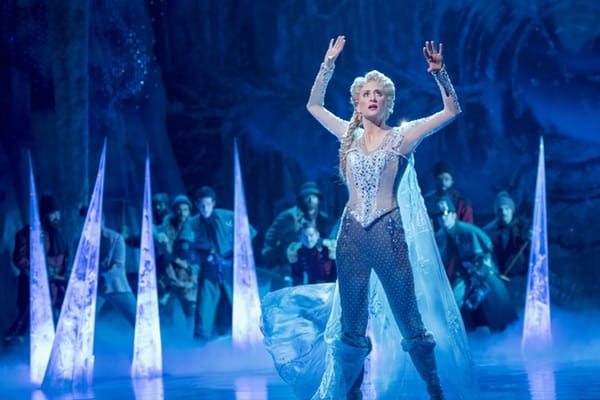 No matter. Frozen's target audience is sure to enjoy it all the same, and its messaging remains on point for a new generation of Disney fans, including the production's embrace of diverse casting. If audiences come away with a bit more courage to be themselves, and the wisdom to love those they trust while letting the rest fall into place, that's enough to thaw what frost it may have caused.
Recent theatre features…
Jimmy Buffett Serves up 'Margaritaville' on Broadway, Tequila Goggles Sold Separately: REVIEW
Liberal Guilt Gets an All-White Canvas in Joshua Harmon's 'Admissions': REVIEW
In Stunning New Play 'queens,' Coming to America and Learning to Let Go: REVIEW
Jomama Jones Is a Spiritual Mother for the Moment in 'Black Light' at Joe's Pub: REVIEW
An Outdated Rerun in Off-Broadway Bow of 'Jerry Springer: The Opera': REVIEW
Eve Ensler Returns With Breathtaking Solo Show 'In the Body of the World': REVIEW
'Cruel Intentions: The Musical' Is a Wicked Delight for '90s Lovers: REVIEW
How to Save Civilization from Certain Disaster? Take a Cue from 'SpongeBob' on Broadway (Yes, Seriously): REVIEW
In Broadway Revival of 'Once on This Island,' a Modern Fable, Beautifully Told: REVIEW
Follow Naveen Kumar on Twitter: @Mr_NaveenKumar
(photos: Deen van Meer)