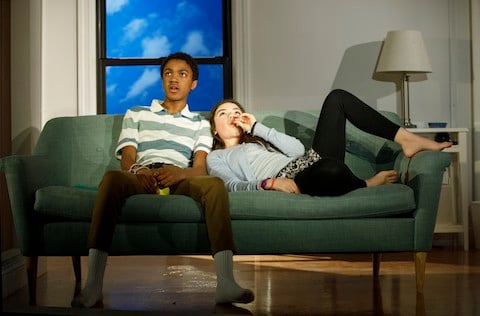 "If this has happened before, why would everybody be acting so shocked?"
"I cried more when my dog died. Does that make me a bad person?"
Julie and Zander, two 13-year-olds whose school just lost nine students to a mass shooter, have some simple questions. They're not the sort we hear on the news; some we may not even feel comfortable asking ourselves. But This Flat Earth, a poignant and distressingly timely new play by Lindsey Ferrentino, takes on the question of how kids and parents navigate catastrophe's aftershocks with an illuminating — and refreshing — frankness.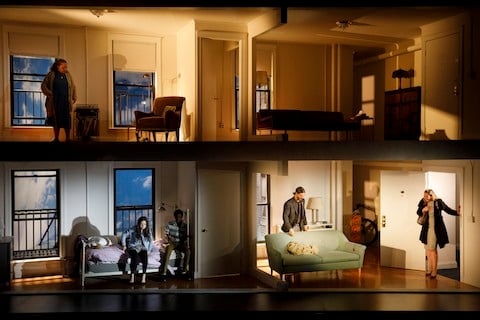 On the main stage at Playwrights Horizons, where director Rebecca Taichman's intimate production opened last night, you can practically feel the fog that descends with news of one school shooting after another lift to reveal the everyday lives left behind, irrevocably changed but in some ways just the same.
We're looking in on two modest apartments, on a hill above a small New England town (a two-tier set by Dane Laffrey). Julie (Ella Kennedy Davis) and her dad (Lucas Papaelias) live below Cloris, an elderly widow and former cellist (Lynda Gravátt). On the bubble of becoming a hard-headed teenager, but still very much a child, one minute Julie needs her dad to name everything that goes bump in the night (starting with Cloris' cello recordings), the next she's indignantly insisting she's not sad (and why does everyone keep asking?).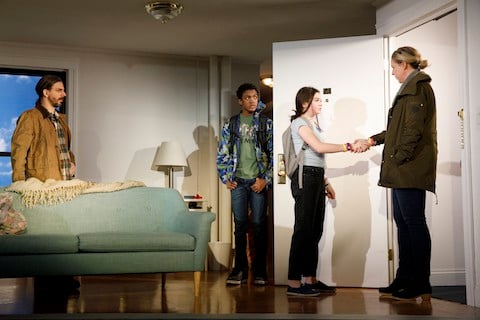 It is spooky that Cloris plays the cello, though, because Noelle, one of Julie's fallen classmates, did too. They weren't close, but it's clear Noelle inspired a typical adolescent mix of aspiration and jealousy in Julie, who even thrifted some of Noelle's clothes from goodwill (brands her widowed dad, who works at the water company, could never afford). When Noelle's mom (a deeply affecting Cassie Beck) shows up at their apartment, Julie's sure it's because she recognized her daughter's skorts (!) on Julie at the school memorial.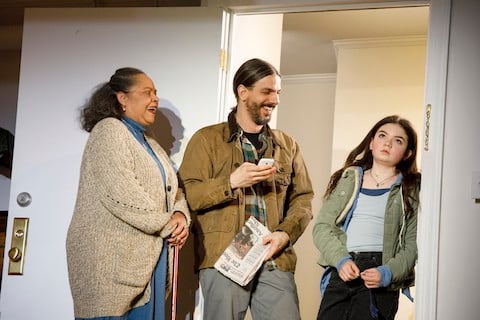 Ferrentino intuitively grasps the slippery ways kids (or anyone) might deal with collective trauma — learning to play music or watching scary movies, behaving as normal between constant reminders of real horrors they have to learn to face. Ever since Zander instinctively clasped Julie's hand on their way out of school that day, he's been fumbling to figure out if there's more than friendship between them — with typically cringe-worthy teen moves (not the yawn stretch over the shoulder, Zander!).
The play's mix of perennial school-day dilemmas with a shooting's tragic aftermath draws us closer to imagining what often feels so unimaginable. Even as the voices of young activists from Stoneman Douglas High, where 17 people were shot not two months ago, have sparked unprecedented national conversation, we can still only guess at their inner lives — or those of surviving parents — when the cameras are off.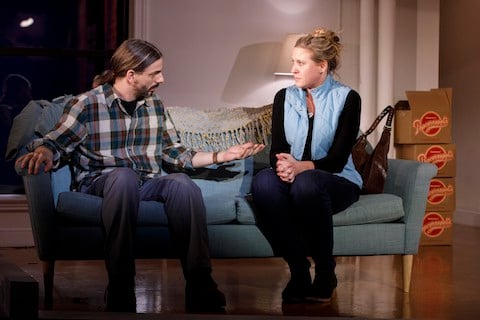 Lisa, Noelle's grief-stricken mother, clings steadfast to her role in the school community, one that's defined her and provides purpose, even with her daughter gone. Beck's intricate performance reveals the varied little cracks in a broken woman who might still be considered put-together.
"So why don't the grownups just fix it?… I just don't see why I should go back til it's fixed," Julie says when her school finally reopens. As usual, she has a point. Maybe the play's most devastating insight is that kids are learning early and often that adults don't always have the answers — even, and especially, when lives are at stake.
Recent theatre features…
Get in, Losers: The 'Mean Girls' Musical Is Fun as Hell: REVIEW
In 'Three Tall Women' and 'Yerma,' Stunning Portraits of Women on the Verge: REVIEW
Chris Evans and Michael Cera Are Men in Uniform in Kenneth Lonergan's Superb 'Lobby Hero': REVIEW
Andrew Garfield and Nathan Lane Star in Electrifying 'Angels in America': REVIEW
A Slushy 'Frozen' Opens on Broadway: REVIEW
Jimmy Buffett Serves up 'Margaritaville' on Broadway, Tequila Goggles Sold Separately: REVIEW
How to Save Civilization from Certain Disaster? Take a Cue from 'SpongeBob' on Broadway (Yes, Seriously): REVIEW

Follow Naveen Kumar on Twitter: @Mr_NaveenKumar
(photos: joan marcus)