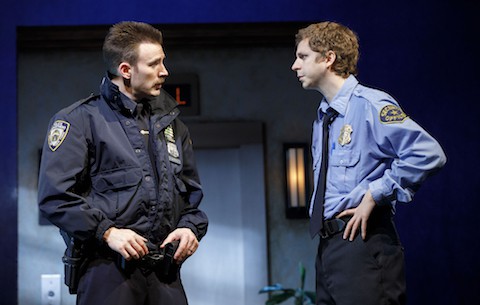 The 'oohs' and 'awws' coming from the Helen Hayes Theatre aren't just for Chris Evans' thick porn 'stache or Michael Cera's eternal baby face. Second Stage Theatre's high-voltage revival of Kenneth Lonergan's Lobby Hero, which opened in the company's new Broadway home last night, lurches up like a shockingly current morality tale — despite being set at the turn of the previous century. Excuse fans their gasps and starts.
Set in the modest lobby of a high-rise apartment building, Lonergan's 2001 play presents a kind of microcosm of law, order, and personal responsibility — under the guise of what seems, on its face, like a workplace sex comedy.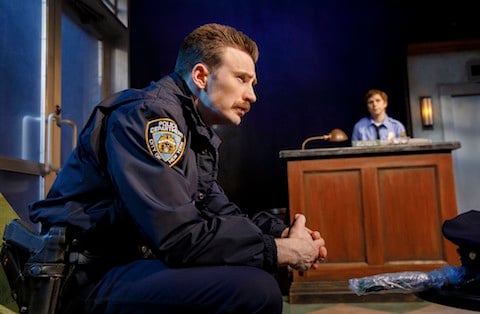 Cera, playing to type and perfectly cast, is Jeff, the building's night-shift security guard, who was kicked out of the Navy for smoking pot and needs a steady gig to move off his brother's couch. Checking in for nightly rounds, Jeff's supervisor William (Atlanta's Brian Tyree Henry) seems inscrutable. But in the tedium of quiet, overnight hours, William confides in Jeff that his brother's been arrested for an awful crime — and he gave William as a false alibi. As a man tasked with enforcing the rules, William doesn't want to lie to the police; as a Black man, he knows the system is rigged against his brother.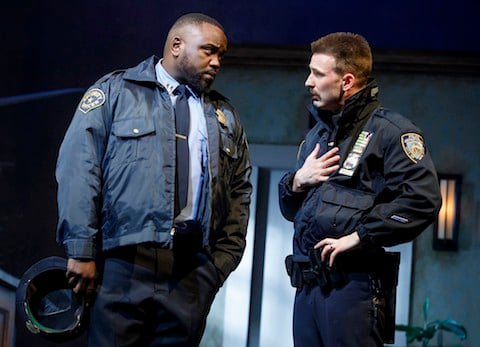 Evans makes a credible Broadway debut as Bill, a swaggering cop with a wandering libido that leads him to the building's 22nd floor for regular visits to a randy tenant. His partner Dawn (Bel Powley), a rookie on the force, waits down in the lobby with Jeff, her not entirely professional admiration for him souring by the minute. That's all the better for Jeff, who's weak in the knees with lady cop fantasies.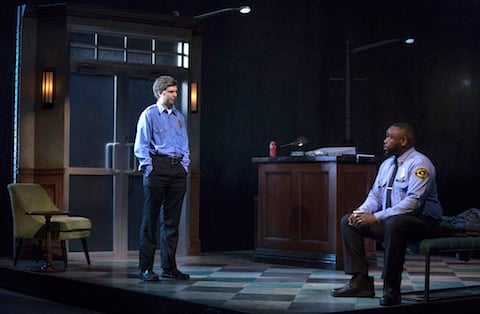 Director Trip Cullman's production, compactly staged on a pivoting set by David Rockwell, leans into the play's near-sitcom setup, without sacrificing the complexity of its questions about human nature. Like Lonergan's 1996 three-hander This Is Our Youth, which has been a revolving door for young Hollywood from Jake Gyllenhaal to Kieran Culkin (with whom Cera starred in the recent Broadway production), Lobby Hero shifts and expands to accommodate marquee stars, a mark of its staying power.
Henry, a theatre vet (and original cast member of The Book of Mormon), is a clear standout, grounding his performance with sharp timing and subtle shades of personal color. Jeff, meanwhile, is signature Cera, all lumpy insecurity and indecision until his ass is held over the fire.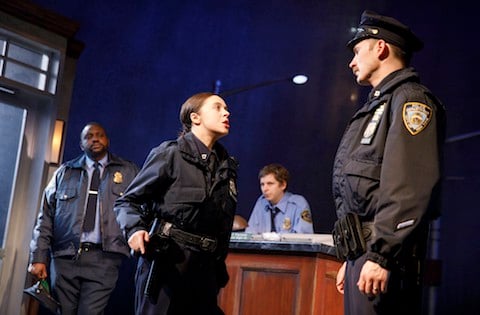 Though Evans disappears into the role (with the help of some exceptional '90s grooming), Bill feels somewhat less palpably human than the others — a viable choice for a uniformed lothario, but one with few dividends. Powley, who broke out on screen in 2015's The Diary of a Teenage Girl, faces the toughest balancing act as the locus of the story's timely gender politics — a woman who maybe does more than just play along with her superior's sexual overtures, and gets burned either way. Some nuances of her situation wind up shuffled in with the rest of the action, when they might have been more carefully explored through an updated lens.
Still, the brilliance of Lobby Hero's ultimate faceoff — between private integrity and public duty, dressed in uniforms to match — has only grown more thought-provoking with distance.
Recent theatre features…
Andrew Garfield and Nathan Lane Star in Electrifying 'Angels in America': REVIEW
A Slushy 'Frozen' Opens on Broadway: REVIEW
Jimmy Buffett Serves up 'Margaritaville' on Broadway, Tequila Goggles Sold Separately: REVIEW
Liberal Guilt Gets an All-White Canvas in Joshua Harmon's 'Admissions': REVIEW
An Outdated Rerun in Off-Broadway Bow of 'Jerry Springer: The Opera': REVIEW
'Cruel Intentions: The Musical' Is a Wicked Delight for '90s Lovers: REVIEW
How to Save Civilization from Certain Disaster? Take a Cue from 'SpongeBob' on Broadway (Yes, Seriously): REVIEW
In Broadway Revival of 'Once on This Island,' a Modern Fable, Beautifully Told: REVIEW
Follow Naveen Kumar on Twitter: @Mr_NaveenKumar
(photos: joan marcus)