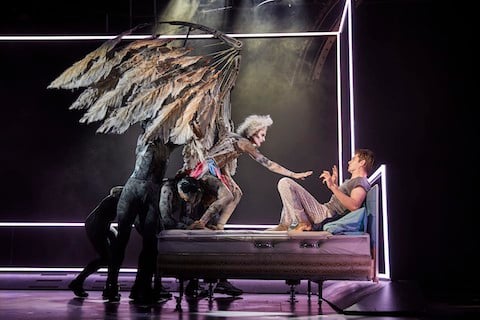 The great whoosh echoing off the pavement of 52nd Street signals a second coming.
Though it's been 25 years since Angels in America first premiered on Broadway, winning the 1993 Drama Pulitzer and Best Play Tony Award, the primal urgency of Tony Kushner's two-part epic feels almost overdetermined. The deadliest days of the AIDS crisis may be in our rearview, but Kushner's 'Gay Fantasia on National Themes,' as it's subtitled, imagined an America reckoning with itself where there had been none like it before.
The magnificent new production that opened last night at the Neil Simon Theatre arrives colored by hindsight, through the visionary, outsider perspective of Marianne Elliott, two-time Tony winner and frequent director at London's National Theatre where it originated last summer. Blurring the context of time and place, Elliott's staging makes a striking visual case for the timelessness of Kushner's cosmic and moral themes — even if it sometimes comes at the expense of the play's grounding in flesh and blood.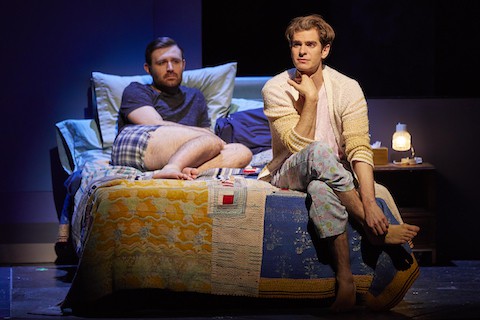 Part one, Millennium Approaches, lays the story's earthly foundations — who's in love, who's sick, who's a jerk, and who simply cannot bear to face themselves. Though their relationships are already ticking bombs when we meet, chemistry between Prior and Louis and Harper and Joe doesn't seem likely cause for explosion here. Mortality is as certain as it gets, but sex and love take a specific kind of alchemy.
Andrew Garfield is extraordinary as Prior Walter, the tart, endearing eccentric turned prophet whose lover, Louis (James McArdle), abandons him as Prior faces a battle with AIDS. The soul of Elliott's production, Garfield's vibrant, sensitive turn is a knockout. McArdle faces the challenge of arousing sympathy and loathing for Louis in equal measure, a balancing act he manages reasonably well. (When Prior tells Louis, "It's like the idea of crying when you do it," it's maybe too easy to see what he means.) But McArdle's performance lacks a kind of carnal energy, particularly in his jump from one hunky screen star to another, when he falls into bed with Lee Pace as Joe Pitt.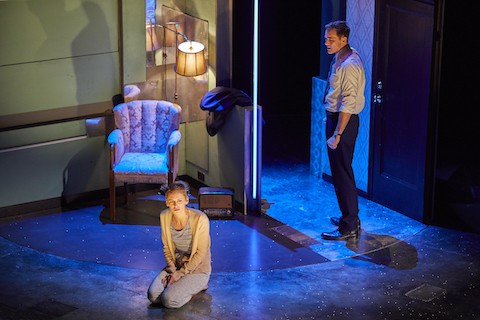 Pace, last on Broadway in The Normal Heart, is too even-keeled even for Joe, a closeted judge's clerk who eventually drops his temple garments for Louis. (Joe and his wife Harper are Mormons.) Joe's arc from buttoned-up closet case to naked, raving lover on the beach is one of the play's most drastic, undersold here by Pace. Joe's disconnect from Harper, at least, is inherent to their relationship. Denise Gough (electric last fall in People, Places, and Things at St. Ann's Warehouse) is all jangling nerves as Harper, off her hinges from the start. Though this leaves slightly less room for her to spin out, Gough's every emotional turn is as deeply felt as Pace's is obscured and out of reach.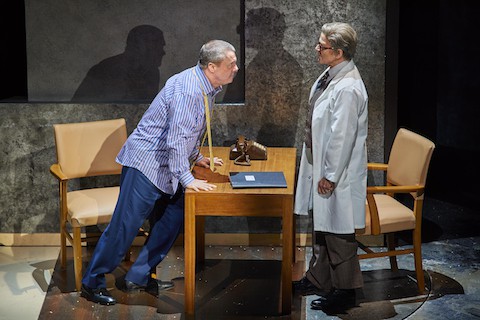 Nathan Lane, who makes every character his own divine beast, harbors a certain softness behind the bristle of Roy Cohn (a real-life mentor of Donald Trump), causing slippery shifts in the balance of sympathies and casting his character's fall in an unexpected light. Susan Brown is excellent as Roy's frequent sparring partner, often in the guise of Soviet spy Ethel Rosenberg, as is Nathan Stewart-Jarrett as Belize, Roy's nurse, Prior's ex, and the story's emblem for emotional labor.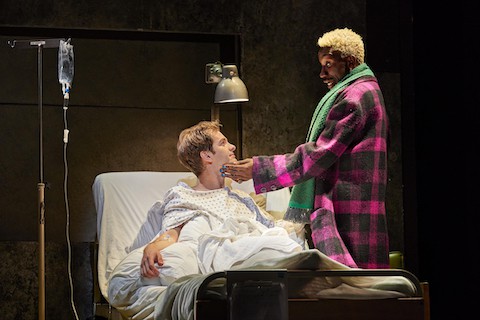 Elliott's staging of part one, across a series of turntables with half walls of curiously mismatched textures, makes quick work of moving between scenes, but resists grounding the story in a tangibly recognizable world. Shifts between the characters' own realities and fantasies are so subtle as to be almost imperceptible. Aside from a wire trash can or two, very little about Ian MacNeil's scenic design suggests New York City, and the modern to period-neutral costumes (designed by Nicky Gillibrand) likewise blot out the context of time. Even the looming shadows cast by Paule Constable's stark lighting defy natural settings.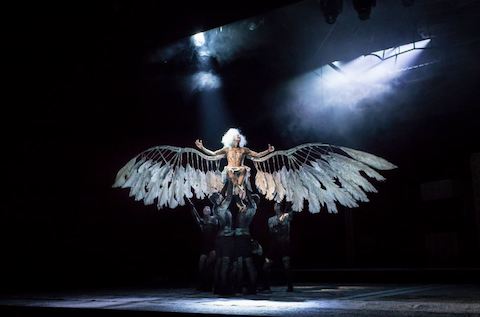 This emphasis on Angels' enduring, epic quality certainly pays off, particularly in part two. As Kushner's fantasia sprawls and unravels, the wholly cosmic atmosphere Elliott creates with Perestroika feels more visually assured. By the time a flash heralds the angel, beautifully and brilliantly conceived as a sort of scorched Lady Justice manipulated by living shadows — be prepared to ascend.
Recent theatre features…
A Slushy 'Frozen' Opens on Broadway: REVIEW
Jimmy Buffett Serves up 'Margaritaville' on Broadway, Tequila Goggles Sold Separately: REVIEW
Liberal Guilt Gets an All-White Canvas in Joshua Harmon's 'Admissions': REVIEW
An Outdated Rerun in Off-Broadway Bow of 'Jerry Springer: The Opera': REVIEW
'Cruel Intentions: The Musical' Is a Wicked Delight for '90s Lovers: REVIEW
How to Save Civilization from Certain Disaster? Take a Cue from 'SpongeBob' on Broadway (Yes, Seriously): REVIEW
In Broadway Revival of 'Once on This Island,' a Modern Fable, Beautifully Told: REVIEW
Follow Naveen Kumar on Twitter: @Mr_NaveenKumar
(photos: brinkhoff & mögenburg, helen maybanks)