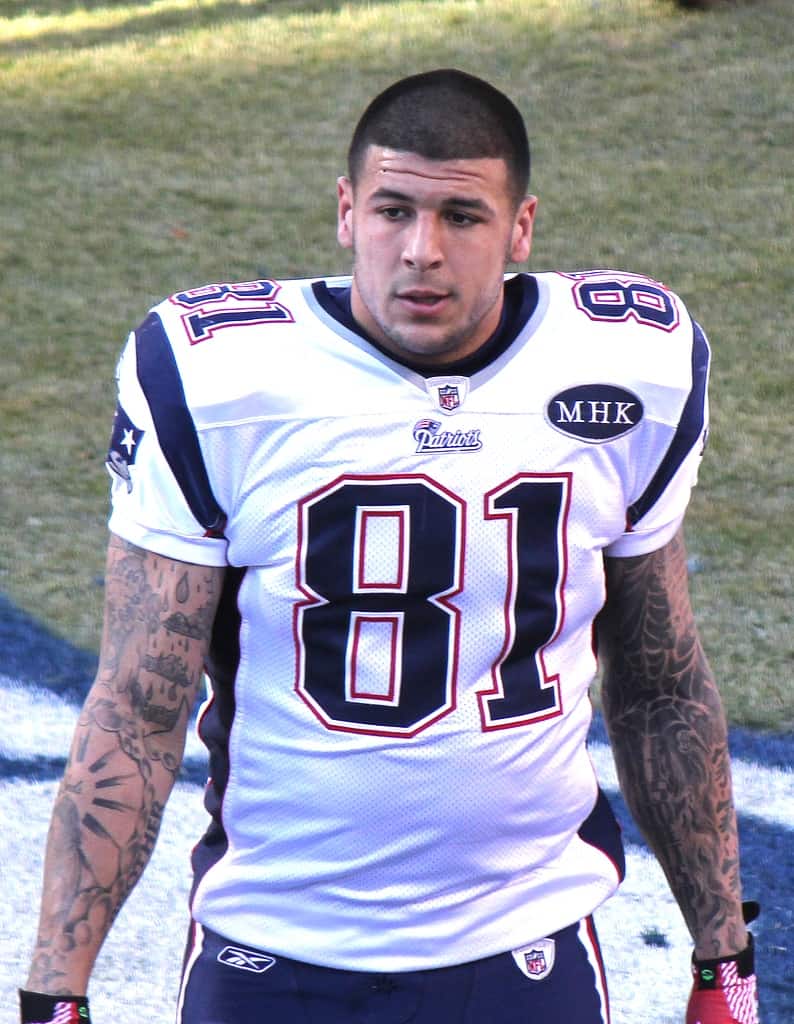 The late former NFL player Aaron Hernandez' gay lover speaks out about their relationship in a new profile in the Boston Globe. Hernandez, who was convicted of murdering Odin Lloyd in 2013, killed himself in his prison cell in 2017.
Dennis SanSoucie told the paper that his relationship with Hernandez began in middle school and continued through high school. Their parents had known each other. SanSoucie's father Tim had once been on the receiving end of a punch from Hernandez's father when Tim was coaching their sons' youth tackle football team.
In high school Dennis SanSoucie and Aaron Hernandez had become something of a phenomenon on the football team. SanSoucie was the quarterback and Hernandez broke a Connecticut high school record by catching 67 passes from SanSoucie.
SanSoucie told the Globe that they got high on marijuana often, and strove to hide their relationship: "Me and him were very much into trying to hide what we were doing. We didn't want people to know."
The profile also reveals that Hernandez's family, particularly his father, was highly homophobic, and objected when Aaron came home one day as a young student and said he wanted to be a cheerleader.
'Faggot' was used all the time in our house," said Hernandez's brother Jonathan. "All the time. Standing. Talking. Acting. Looking. It was the furthest thing my father wanted you to even look like in our household. This was not acceptable to him."
SanSoucie is now an out gay man, according to the profile, and  believes Hernandez would be proud of him for talking about their relationship: "I really truly feel in my heart I got the thumbs-up from him."
Shayanna Jenkins-Hernandez, Hernandez's fiancee, wrote about rumors he was gay in the foreword to a book published in August by defense attorney Jose Baez.
Wrote Jenkins-Hernandez, via the Boston Herald: "There has been much speculation about Aaron's sexuality since his death. I can say this: Aaron was very much a man to me. I saw no indication that he was gay or homosexual. I wish I had known how he felt, just so we could have talked about it. I wouldn't have disowned him. I would have been supportive. I can't fault him if he was feeling that way. When you love someone so much you just want to be there to support them. The fact that he felt he couldn't come out to me or he couldn't tell me these things hurts, because we had that bond. I've accepted that he may have been the way he was said to be, or that it may not be true. Regardless, I won't know."
In an Oxygen network special which aired in March, Aaron Hernandez Uncovered, defense attorney George Leontire said the former NFL player was tortured over the fact he was gay,
Said Leontire: "Aaron and I talked about his sexuality. This man clearly was gay. [He] acknowledged it. Acknowledged the immense pain that it caused him…I think that he also came out of a culture that was so negative about gay people that he exhibited some self-hatred."