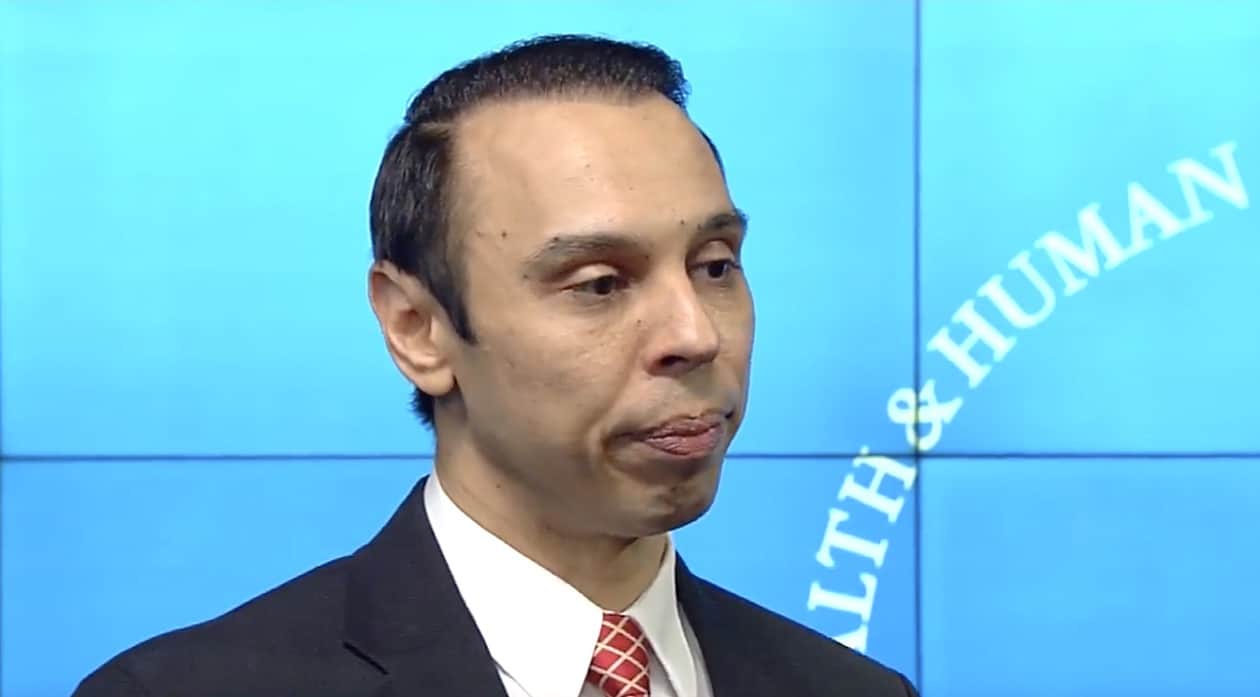 Roger Severino, a former executive at the anti-LGBTQ Heritage Foundation, is the lead figure behind the Trump administration's push to legally erase transgender people.
The plans are the latest, and most draconian, of a series of efforts the Trump administration has been making to remove and restrict the rights of transgender individuals, including military service, federal prison rights, health care, schools, the CDC, the judiciary, and more.
According to the memo seen by the NYT, the HHS proposes that "Sex means a person's status as male or female based on immutable biological traits identifiable by or before birth. The sex listed on a person's birth certificate, as originally issued, shall constitute definitive proof of a person's sex unless rebutted by reliable genetic evidence."
Right Wing Watch reports: 'The effort is being led by Roger Severino, who has taken the anti-LGBT agenda of his former employer, the Heritage Foundation, into the Trump administration as director of the civil rights division at HHS. When he was named to that position, a dozen U.S. senators objected, citing Severino's "long history of making bigoted statements toward lesbian, gay, bisexual, and transgender people and attacking women's access to health care services and reproductive rights." One of Severino's former colleagues at the Heritage Foundation, Ryan Anderson, is at the forefront of the Religious Right's anti-trans crusade. Anderson's latest book is "When Harry Became Sally: Responding to the Transgender Moment." Anderson argues that gender cannot be severed from biological sex, and that "taking our sexual embodiment seriously in public policy is not discriminatory."'
Severino in 2016 accused the Obama administration of attempting to "coerce everyone, including children, into pledging allegiance to a radical new gender ideology."
Lambda Legal added to statements from the ACLU and the Human Rights Campaign today with regard to the rumored Trump plans.
Diana Flynn, Lambda Legal Litigation Director, issued the following statement:
"Yesterday, transgender Americans received confirmation of what we had long suspected – namely, the Trump-Pence administration was literally trying to write them out of the law by defining them out of existence. This effort, spearheaded by anti-LGBTQ extremists in the U.S. Department of Health and Human Services (HHS), not only willfully ignores the long line of federal cases protecting transgender people but also inexplicably disregards the vast consensus of medical authority."
Yesterday's New York Times story was based on a draft memo that the newspaper reported has been circling since last spring. According to the story, in its memo, HHS proposed that for purposes of Title IX, "Sex means a person's status as male or female based on immutable biological traits identifiable by or before birth. The sex listed on a person's birth certificate, as originally issued, shall constitute definitive proof of a person's sex unless rebutted by reliable genetic evidence."
"If the New York Times story is accurate, the sheer breadth of what HHS is proposing is jaw-dropping. HHS would be calling on the federal agencies that enforce parts of Title IX – including the Departments of Labor, Justice and Education in addition to HHS – to accept its completely arbitrary definition of what constitutes a person's "sex" for purposes of applying federal antidiscrimination law in aspects of life ranging from education to employment to health care.  This is clearly another ideologically-driven attempt by the Trump administration to marginalize transgender people and force them into the shadows. They have neither law nor fact on their side, and we will not accept this shameless attempt on the part of our government to erase the very existence of transgender members of our community."
"Let us be clear:  For years, courts across the country have recognized that discriminating against someone because they are transgender is a form of sex discrimination, full stop. If this administration wants to try and turn back the clock by moving ahead with its own legally frivolous and scientifically unsupportable definition of sex, we will be there to meet that challenge."