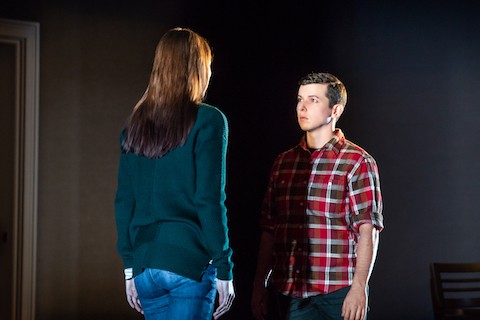 Sexual psyches are built on formative experience. From playground games and adolescent fumblings to the many crossroads where cultural restrictions clamp down on our natural impulses. Queer people can spend whole lifetimes trying to wrestle free from gendered expectations, or cope with the shame of doing so.
Plot Points in Our Sexual Development, a new play by Miranda Rose Hall, opened off-Broadway tonight at a moment when dangerous legislation is attacking the legitimacy of trans lives. In a swift and affecting 60 minutes, Hall crafts a powerful demonstration of how hard we often must fight to queer our own identities in the context of oppressive social norms.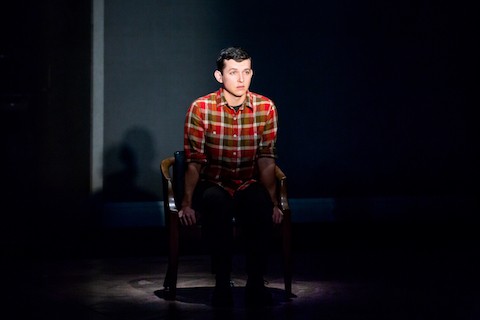 Theo (Jax Jackson) and Cecily (Marianne Rendón) are sharing pivotal moments in their sexual histories, seated at the outset and facing the intimate audience of Lincoln Center's Claire Tow Theatre. As they alternate turns in the spotlight, we learn how they first discovered what genitals are and what they're meant for, who has which ones and where they go, whom and what sort of contact boys and girls are supposed to like. Tucked inside each confession are insights as to how our culture indoctrinates, manipulates, and shames us about sex in ways both subtle and insidious.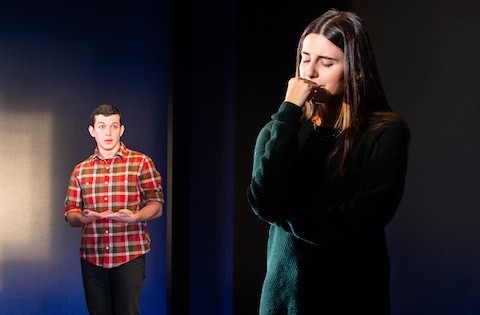 Some of the cruelest, most cutting remarks come from other kids who do the work of spreading and enforcing social conditioning. Like the boy who told Theo (transmasculine now, presenting as a girl back then) that sex just wouldn't "work" with them after he pressed his genitals to Theo's and nothing happened. "I am literally in a literal closet," Theo recalls. "I wanted to scream and rip him to shreds."
Or take the teenage girl cousin who mounted Cecily at a sleepover and told her that what she needed to be cool was "a super hot boyfriend with a super hot cock" and rubbed up against her before pinching her thigh and telling her not to be a pervert. ("Kids are lunatics," Cecily tells us.)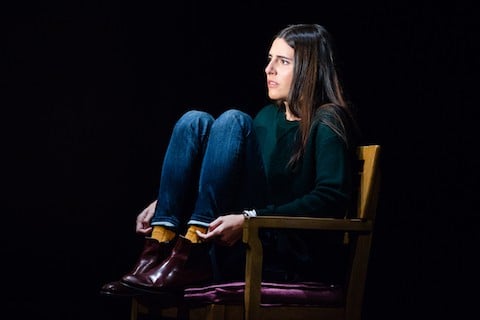 Jackson and Rendón deliver frank, heartfelt performances under Margot Bordelon's crisp direction. As the two characters' collective 'plot points' grow more mature, the production pivots them into conversation with each other from addressing the audience. We arrive at their relationship with the context of what made them who they are as sexual beings, a more intimate understanding than knowing how they met, though we get a bit of that too.
If the play's dramatic conflict ultimately seems slight (Cecily and Theo are lovers trying to reconcile what they each want from sex), the depths plunged by Hall's play present a bone-deep counterargument to the absurdity of legislating gender as binary or biological. It's hard enough for each of us to live in our skin and connect with others, sifting through and blocking out what the culture demands from us in order to uncover what the hell we want ourselves. No government could never negate the natural human process of figuring out how to feel at home in our own bodies. Laws, or the lack of their protection, can certainly make doing so even more difficult. But we'll always find our way back to ourselves.
Recent theatre features…
The Legacy of Gloria Steinem Burns Bright in 'Gloria: A Life' Off-Broadway: REVIEW
Stockard Channing and Glenn Close Make Magic of Maternal Strife Off-Broadway: REVIEW
Gay Romance Blooms Atop a Baby Grand in New Musical 'Midnight at the Never Get' — REVIEW
Jomama Jones Is a Spiritual Mother for the Moment in 'Black Light' — REVIEW
'What the Constitution Means to Me' Is the Best Political Play of the Trump Era: REVIEW
Trans Representation Comes at a Price in 'The Nap' on Broadway: REVIEW
Dangerous Nostalgia Gets a Glow Up in 'Pretty Woman: The Musical' on Broadway: REVIEW

Follow Naveen Kumar on Twitter: @Mr_NaveenKumar
(photos: jeremy daniel)