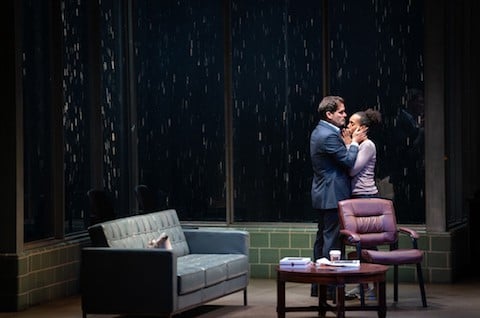 An elder black lieutenant is dressing down a distraught mother at a police station in the middle of the night. "I'll tell ya — two minutes with you, I know your whole adult life," the cop (Eugene Lee) tells the light-skinned black woman, played by Kerry Washington. His presumptions are based on the proximity to whiteness that being married to a white man provide her. By now, the audience at American Son, which opened at Broadway's Booth Theatre tonight, has spent over an hour in her company and cannot claim any such familiarity with her life.
The most common and deadly pitfall of any drama that attempts to address social ills — as American Son so bluntly does with racism and police brutality — is the failure to root polemics in believable human drama. A noble-minded Broadway debut from Miami playwright Christopher Demos-Brown, directed by Broadway vet Kenny Leon, American Son is an Issue Play with as many holes in its center as the box of donuts on the table (because, yes, police just really like them!). It is a blunt, and frankly unsophisticated, primer on a deeply urgent crisis that blandly panders to those without skin in the game.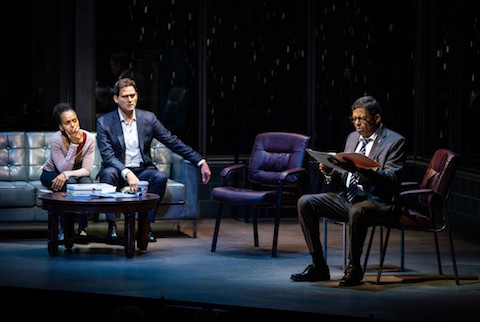 When lights come up on a black woman in a police station, the pit in her gut is one any mother can imagine. But there is particular chill to the dread felt by a mother whose son is 6'2", 185 lbs, with cornrows and even fair-black skin. She fought with him earlier that evening; he drove off and hasn't returned home. A phone call to the police revealed his car had been involved in "an incident," so here she is pleading for details and continuing to fill his voicemail box.
Nearly every turn the story takes from here is grossly overdetermined, starting with the glib young officer (Jeremy Jordan) who patronizes her and spews casual racism as soon as she's out of earshot. That Demos-Brown describes this character in the script as someone who is "always trying to do the right thing" but "often says the wrong thing at the wrong time" betrays the playwright's keen lack of insight, disguised behind an epigraph by Ta-Nehisi Coates. It may feel unfair to point to the limits of his subjectivity as the white, 54-year-old male author of a play about race, but what does it say that he preemptively excuses his own character's racism before the play even begins?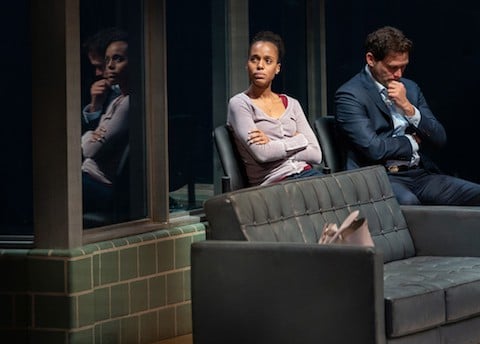 Totems of their skin colors, Washington's character and the missing boy's father (Steven Pasquale) engage in a fraught tug-of-war that casts their unseen 'American Son' as a nexus of the country's struggles with racial difference and class disparity. Never mind that it's never really clear what happened to their marriage or why they haven't talked about it until now. Instead, rudimentary arguments about respectability politics and the pressures of being "the face of the race" take up any air that might have signaled living, breathing characters.
A more adept stage actress might have had a better chance at lending dimension to Demos-Brown's flat central figure, but Washington's performance strikes the only note that's called for with a numbing monotony. Pasquale, whose character also just so happens to be an officer of the law described as having "obvious contained power" that "when pushed can explode," fares a bit better. It doesn't help. Did I mention that it's also a dark and stormy night?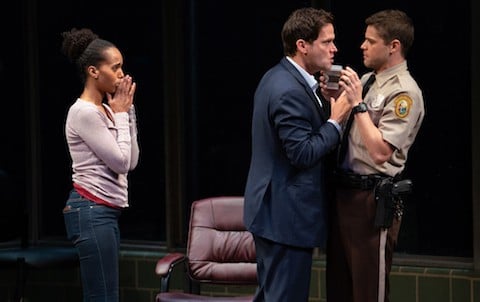 Perhaps some Broadway patrons will feel as though they've been awakened here, by alarm bells that somehow escaped their ears until now. For this, and for having witnessed something vaguely suggestive of black pain, American Son also gives its audience a pat on the back. But anyone prepared for a deeper understanding of the truth need only open their eyes once they step back outside.
Recent theatre features…
Michael Urie and Mercedes Ruehl Lead Transcendent Broadway Revival of 'Torch Song': REVIEW
Proof We #WontBeErased in 'Plot Points in Our Sexual Development' Off-Broadway: REVIEW
The Legacy of Gloria Steinem Burns Bright in 'Gloria: A Life' Off-Broadway: REVIEW
Stockard Channing and Glenn Close Make Magic of Maternal Strife Off-Broadway: REVIEW
Gay Romance Blooms Atop a Baby Grand in New Musical 'Midnight at the Never Get' — REVIEW
Jomama Jones Is a Spiritual Mother for the Moment in 'Black Light' — REVIEW
'What the Constitution Means to Me' Is the Best Political Play of the Trump Era: REVIEW
Trans Representation Comes at a Price in 'The Nap' on Broadway: REVIEW

Follow Naveen Kumar on Twitter: @Mr_NaveenKumar
(photos: peter cunningham)