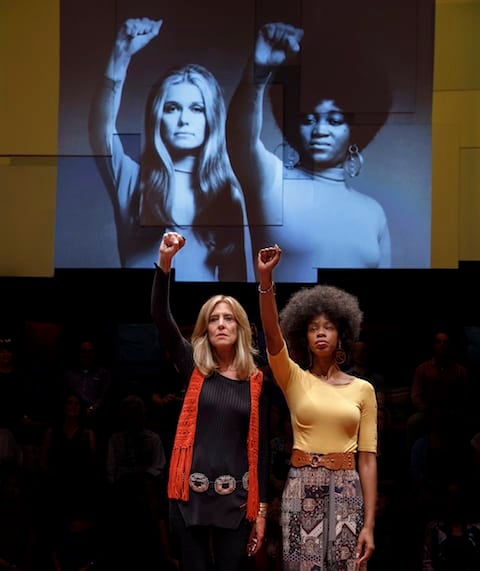 A talking circle for the resistance is happening at the Daryl Roth Theatre, where Gloria: A Life, a bio play about America's most famous feminist, opened off-Broadway tonight. On the evening I attended, the discussion was led by Ms. Steinem herself, whose entrance drew tears from a shocked crowd seated all around the stage.
This was not going to a conventional talk back, we were told. We had witnessed a luminous Christine Lahti enact one of the most extraordinary lives of the 20th century, and now we were invited to participate in the second act. The result was an outpouring of admiration for the play's subject, as well as anguish, fear, and fury at the current state of affairs from a decidedly progressive audience. There was also reason to hope.
.@GloriaSteinem surprised tonight's audience of GLORIA: A LIFE to lead a 2nd act talking circle, saying "Our ability to decide over our own bodies is the basis of democracy." pic.twitter.com/dYEnFneFtI

— Naveen Kumar (@Mr_NaveenKumar) October 18, 2018
That came from Steinem herself, who frequently assumed the role of comforting distraught viewers who expressed near panic about America's present and future — having just seen on stage how far we'd come in the past. Through tears, a 24-year-old female journalist shared that, as a sexual assault survivor, she had felt triggered by the confirmation of Brett Kavanaugh following credible accusations of attempted rape. Steinem replied that she and the tearful audience member need each other; she needs young women to continue the fight when she's gone, and a new generation of feminists needs Steinem to remind them of a time when things were far worse.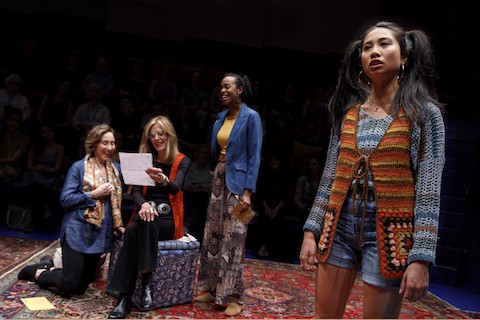 Later on across the room, another woman reporter stood up and shared how traumatic it can be to cover the news at a time when exposing assault has become such a big part of the job. Speaking directly to her distraught colleague on the opposite side of the stage, she offered to keep in touch so they might find solace in solidarity.
A woman who looked to be in her 60s recalled that she had never considered any limitations to what she could achieve because of her sex. Only over the past couple of years did she reflect back and realize what a privilege that had been — and that she had Steinem to thank for it. She didn't seem to have imagined ever having the chance to do so in person.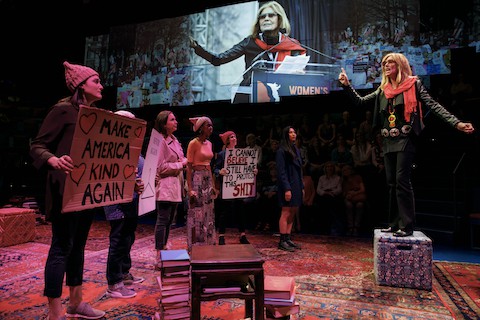 The sweep of Steinem's legacy is the subject of Emily Mann's play, directed with an earnest warmth by Diane Paulus. From her Smith College days and her ascension as a journalist to her rallying activism and the founding of Ms. magazine, Mann's story rides the swell and crest of second wave feminism with occasional detours into Steinem's private life. Most touching is Steinem's caregiving relationship with her mother, a former journalist who married the wrong man and became a near-invalid from medication prescribed for what was then presumed to be a nervous breakdown. Only after her mother's death did Steinem realize she was living the life her mother never could.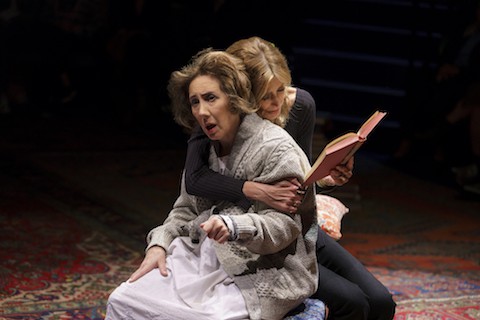 A diverse ensemble of women play various roles in Steinem's life, from men who tried to keep her down to fellow trailblazers like Dorothy Pitman-Hughes and congresswoman Bella Abzug. If Gloria presents an uncomplicated view of an undoubtedly complex woman, such freedom from ambivalence works to unite viewers behind a common cause that's urgent as ever. Not that many in the audience seemed to need convincing.
What we left with was fuel. It was as though we'd warmed our hands around a glorious flame and were ready face the cold once more. The worst times always come after victory, Steinem told us, but we are in the majority. Don't worry about what you should do, she said — do what you can do. We each took a pledge to do one outrageous thing the very next morning, before heading back out into the night.
Recent theatre features…
Stockard Channing and Glenn Close Make Magic of Maternal Strife Off-Broadway: REVIEW
Gay Romance Blooms Atop a Baby Grand in New Musical 'Midnight at the Never Get' — REVIEW
Jomama Jones Is a Spiritual Mother for the Moment in 'Black Light' — REVIEW
'What the Constitution Means to Me' Is the Best Political Play of the Trump Era: REVIEW
Trans Representation Comes at a Price in 'The Nap' on Broadway: REVIEW
Dangerous Nostalgia Gets a Glow Up in 'Pretty Woman: The Musical' on Broadway: REVIEW
New Musical 'Be More Chill' Is Like an Incel's Answer to 'Mean Girls': REVIEW
New Go-Go's Musical 'Head Over Heels' Is a Goddamn Queer Delight: REVIEW
Get in, Losers: The 'Mean Girls' Musical Is Fun as Hell: REVIEW

Follow Naveen Kumar on Twitter: @Mr_NaveenKumar
(photos: joan marcus)