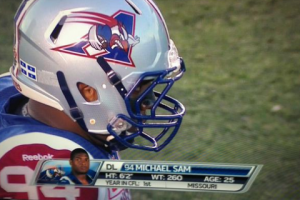 Michael Sam has announced he's leaving the world of pro football, citing concerns with his mental health.
"The last 12 months have been very difficult for me, to the point where I became concerned with my mental health," wrote Sam on Twitter last night. "Because of this I am going to step away from the game at this time."
"I thank the Alouettes for this opportunity and hope to be back on the field soon," he continued. "Thank you for all your understanding and support."
Sam, who joined the Canadian Football League's Montreal Alouettes this summer, made his on-field debut with the team last week. Back in June, Sam left the Alouettes' training camp and returned to his native Texas for "personal reasons."
A short time later, Sam's fiancé Vito Cammisano (engagement ring noticably absent) launched his own vlog.