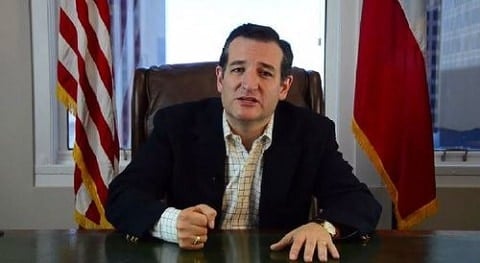 In an interview with Newsmax last weekend, clearly confused Republican presidential hopeful Senator Ted Cruz said that "liberal fascist" gay rights advocates should be allowed to discriminate against Christians
"God's candidate" Cruz gave the interview while in Iowa for a Rally for Religious Liberty, , reports Think Progress.The rally highlighted the put-upon Christians who have faced legal consequences for refusing service to same-sex couples.
Speaking with Newsmax's Ed Berliner, Cruz – who claims he thinks "we should love everybody" – said:
"Imagine if this were inverted. Imagine if there were a gay florist — now I know that's hard to imagine, a gay florist — but…imagine if two evangelical Christians came to a gay florist and they wanted to get married, and the florist said, 'You know what? I disagree with your faith. I have problems with your faith.' You have no entitlement to force that florist to provide flowers at the Christians' wedding. We are a pluralistic nation that tolerates diversity."
He added that Christians are facing "intolerance" and persecution because they want to force their definition of marriage onto the nation, a position which is "profoundly inconsistent with who we are as Americans."
Watch the interview below.
https://youtu.be/x26_NhVoEy0