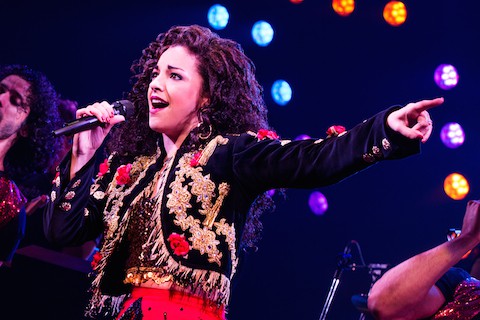 Gloria Estefan, that queen of '90s dance-floor earworms, is back to her sequined, conga-leading ways — this time on Broadway in the new musical On Your Feet!, which opened last night at the Marquis Theatre. Produced by the Estefans (that's Gloria and Emilio) and featuring tunes written by the husband-and-wife duo (old hits plus a few originals), the relentlessly wholesome and not-at-all-impartial bio-musical tells of the couple's rise to fame — from their Miami club-circuit beginnings to international stardom.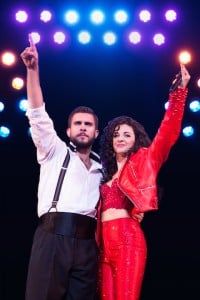 It's true that said old hits will lodge themselves into your head for hours (perhaps even days), but you'll be forgiven for not remembering much else about the show. Under the direction of Jerry Mitchell (Kinky Boots) and choreographed by Sergio Trujillo (Jersey Boys), it is decidedly more Disney Channel-sweet than E! True Hollywood Story-scandalous.
Born in Havana and whisked to Miami at the onset of the Cuban Revolution, the young Gloria we meet is filled with pride for her homeland and an irrepressible love of music. When her father gets stationed in Vietnam, he plays cassettes of her songs for his comrades, and she can hardly make it through Miami's quaint town square (yes, apparently) without igniting a group number.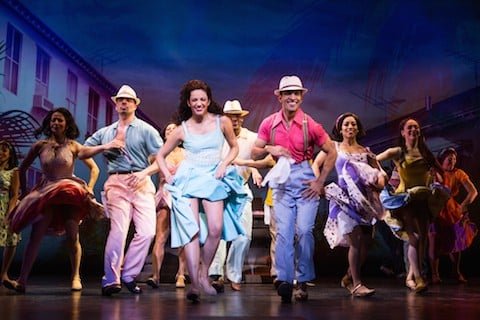 In her late teens, Gloria (played with vigor by Ana Villafañe for the rest of the show) meets Emilio (Josh Segarra, more on him later) and takes up singing with his band, which eventually becomes the Miami Sound Machine. They record singles, hit the pavement to get their songs played in clubs, and before you know it, Gloria is out front and they're on a world tour.
If you lived through the early '90s (or have visited Gloria's Wikipedia page recently), you know that she was in a collision on her tour bus and suffered a devastating spinal injury, from which it took her nearly a year to recover. The accident, along with a brief (and relatively unexplained) estrangement from her mother, is the only major adversity the pair faces in the musical's plot. The book by Alexander Dinelaris (who also penned The Bodyguard Musical) has moments of enjoyable humor, and sometimes speaks with a knowing tone that counteracts the Estefans' uniformly cheesy lyrics.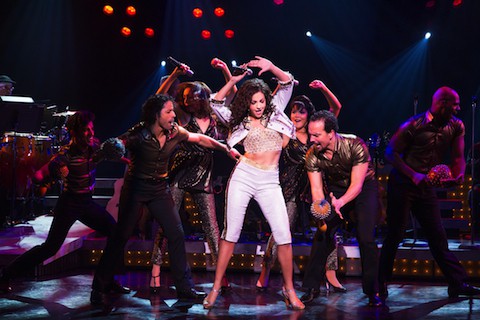 But really, On Your Feet! is an unabashed brand endorsement, one that reaches its pinnacle when a suit from Estefan's record label proclaims, "Madonna doesn't have this kind of contract!" (Or maybe it's when fans materialize to read their own letters. In any case.) While Gloria and Emilio's on-stage relationship is actually rather sweet, they are not real characters (who, presumably, might have a few flaws). She's smart and ambitious and a consummate daddy's girl! He's charming and, well, has an accent! While endearing at first, Segarra's Cuban tongue is borderline clownish, and perhaps more regrettably, eventually interferes with his singing.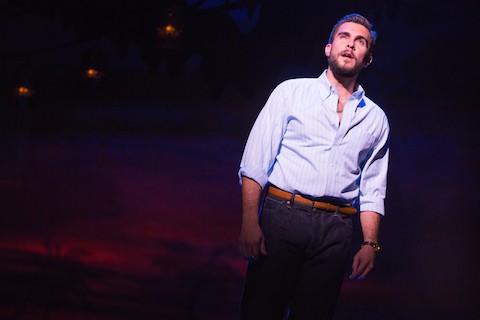 That artists telling their own story would be blind to their personal shortcomings, mistakes, and vulnerabilities (or simply reluctant to share them with their fans) is understandable. Unfortunately, it's just not all that interesting.
Recent theatre features…
The Royal Family Comes to Broadway in 'King Charles III:' REVIEW
Keira Knightley Stars in Stunning Production of 'Thérèse Raquin' on Broadway: REVIEW
Matthew Broderick and Annaleigh Ashford Bring Canine Comedy 'Sylvia' to Broadway: REVIEW
Topher Payne's 'Perfect Arrangement' Takes on Govt's Anti-Gay Witch-Hunt: INTERVIEW
Clive Owen Stars in 'Old Times' on Broadway and 'Cloud Nine' Comes to Atlantic Theatre Co.: REVIEW
'Spring Awakening' Couples Sign Language with Sexual Discovery on Broadway: REVIEW
Follow Naveen Kumar on Twitter: @Mr_NaveenKumar (photos: matthew murphy)