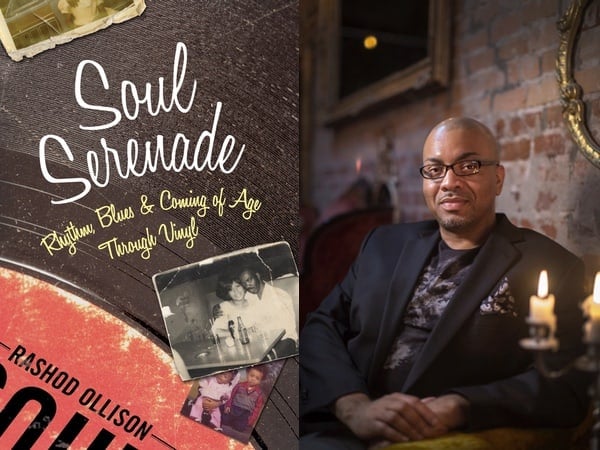 TowleREAD is a regular audio feature in which LGBT authors read from their works. For this week's TowleREAD audio selection, we return to the memoir, and bring you a very special excerpt from Rashod Ollison's new book Soul Serenade: Rhythm, Blues & Coming of Age Through Vinyl, a book that is as much about music as it is about the coming-of-age of a kid becoming in touch with his sexuality.
Ollison sets up his reading for us:
Soul Serenade: Rhythm, Blues & Coming of Age Through Vinyl is a memoir about my formative years in central Arkansas, starting in 1983 when I was six and my parents bitterly divorced and ending in 1996, the year I graduated high school and my father died.   There are flashbacks to the years of my parents' childhood, giving context to the patterns of abuse and abandonment I saw growing up. Using literary devices such as dialog and magical realism, I evoke those years when soul music was a safe harbor for me.
In this excerpt, I'm in the fourth grade. My mother, two sisters, Dusa and Reagan, and I have moved out of the projects and into a new home. I start a new school, where I'm bullied and called a "faggot."   Finding no comfort or consolation  at home after I share the incident with my teenage sister, Dusa, and later my mother, I retreat into a record by Chaka Khan, whose voice for me embodies defiance. I begin to engage music in a different way.
Listen:
[soundcloud url="https://api.soundcloud.com/tracks/249078422?secret_token=s-OFqZN" params="auto_play=false&hide_related=false&show_comments=true&show_user=true&show_reposts=false&visual=true" width="100%" height="450″ iframe="true" /]
Rashod Ollison is an award-winning pop music critic and culture journalist. He has been a staff critic and feature writer for the Dallas Morning News, Philadelphia Inquirer, Journal News (Westchester, New York), Baltimore Sun, and Virginian-Pilot. He also wrote a music column for Jet magazine. A native of Little Rock, Arkansas, Ollison lives in Virginia Beach. Follow him on Twitter at @rashodollison. Visit his website at rashodollison.com.
Soul Serenade: Rhythm, Blues & Coming of Age Through Vinyl is available here.
You can also buy any of the books we have featured on TowleREAD in our store.
CHECK OUT THESE RECENT TOWLEREADS

: