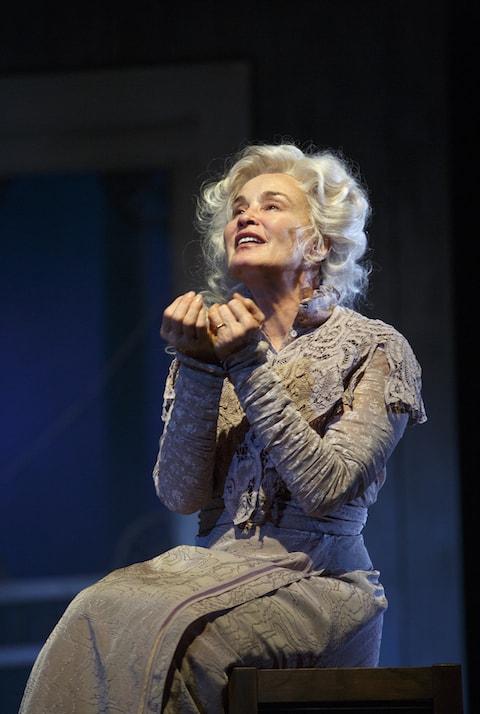 Rarely do audiences get to witness a performance so rich and fully realized that it's hard to imagine anyone else has ever played the part. Jessica Lange is delivering just such an indelible, knockout performance in Roundabout Theatre Company's handsome revival of Eugene O'Neill's Long Day's Journey Into Night, which opened last night at the American Airlines Theatre.
Countless other women have taken on Mary Tyrone since the 1956 premiere of O'Neill's insular yet epic family drama, which finds a matriarch unraveling in the company of family over the course of a single day. (Vanessa Redgrave did it last on Broadway in 2003, and Katherine Hepburn on screen in 1962, just to name two.) But Lange, who previously played the role on the West End in 2000 and has grown into it with stunning complexity, lays a claim that's likely to be remembered for some time.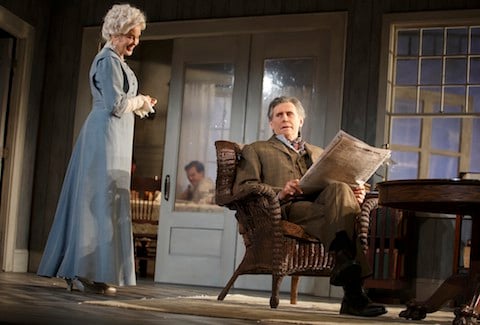 Director Jonathan Kent's revival of O'Neill's ode to regret otherwise has much to recommend its nearly four-hour runtime (hey, "long" is in the title). That includes a beautiful physical production, with a forced-perspective set by Tom Pye of the Tyrones' modest summer home, on a Long Island so eerily foggy, it might as well be their old country of Ireland (the atmospheric lighting is by Natasha Katz).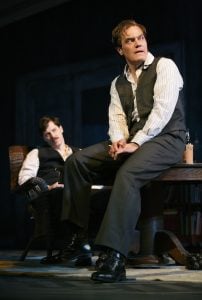 The rest of the mostly marquee-name cast is also a draw, including Michael Shannon, whose robust take on elder son James, a second-rate Broadway actor and cynical drunk, is another highlight. Gabriel Byrne seamlessly inhabits the miserly, land-grabbing head of the family, a part the Irish actor seems born to play. Broadway regular John Gallagher, Jr. does a fine job as the younger dilatant Edmund; and in another production, surrounded by fewer heavy-hitters, he may have seemed less out of his depths.
But while these men may dread the moment she walks into the room, it's Mary whose presence we come to relish. (When Lange leaves the stage for long stretches, the production sometimes drags, or at the very least, shows its duration.) Mary's slow, inevitable descent back into her opiate addition is the journey in the play's title — and it's Lange who propels the production with her mesmerizing performance.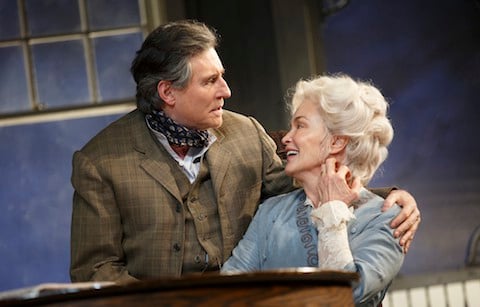 Anyone who has a mom (Hi, Mom!) or any kind of family at all will recognize the cycles of regret, blame, denial, and guilt that whir incessantly throughout O'Neill's drama, a mark of its brilliance and one of the reasons for its longevity. At the center of them is Lange's Mary, a mercurial mix of opposites — by turns vain and insecure, doting and spiteful, wistful and neurotic, lonely and selfish, the contradictions only continue to multiply. Shifting among them all, Lange makes music of O'Neill's prose, with a wide-ranging vocal register that seems to have a key for every shade of emotion.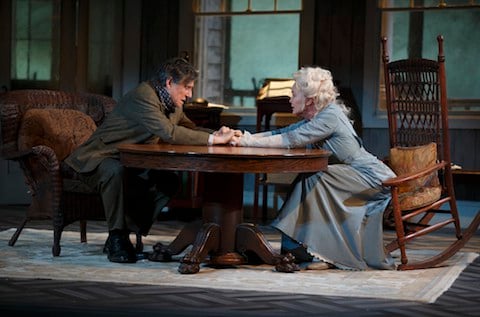 Mary may be off her rocker (really — at one point, she literally falls off her rocker), but Lange's take is so real as to lay bare the most primal aspects of being human, sometimes all at once. Whether Lange's performance feels too close to home or helps you realize your family isn't so effed up after all, it's not one you're likely to forget any time soon.
Follow Naveen Kumar on Twitter: @Mr_NaveenKumar (photos: joan marcus)