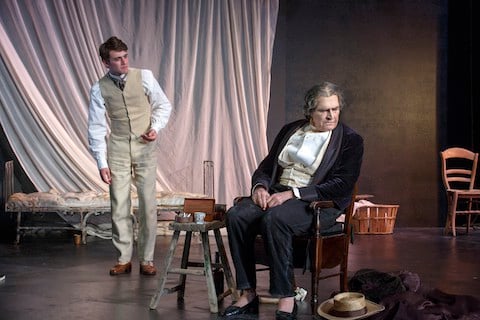 It's a strange and unfortunate disconnect that David Hare's 1998 drama about the downfall of Oscar Wilde, The Judas Kiss, which opened at the Brooklyn Academy of Music May 17, lacks the delights of its subject's revered plays.
Starring a frowny and frumpy Rupert Everett as the infamous aesthete, the revival delivers neither weightless comedic banter nor thrilling tragic conflict. In its account of the moments before Wilde's arrest and of his subsequent exile, the drama maintains a middling tone and keeps the stakes at a low simmer. The one aspect of director Neil Armfield's staid production likely to raise the pulse is its prolonged stretches of male nudity, one thing Wilde himself might have enjoyed about watching this take on his life.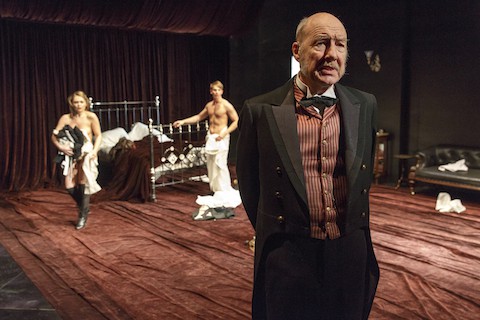 The production, previously staged at London's Hampstead Theatre in 2012, starts out, at least, with a bang. Lights come up slowly on a young, naked couple enthusiastically getting it on. After an interruption, we find out they're a serving boy and a maid taking advantage of the bed in a hotel room they're supposed to be readying for Mr. Wilde. The author is in the midst of the public disgrace that ruined his life and career, facing a trial for indecency (read: homosexuality) and the prospect of immediate imprisonment.
Ever devoted to decadence, Wilde resigns to relishing the present moment — chugging wine, sitting down to lunch, quarreling and canoodling with his young lover, Lord Alfred Douglas, a.k.a. Bosie (Charles Rowe) — all while a mob gathers outside and his arrest seems imminent. His supporters take different sides in Oscar's fight-or-flight decision, with Bosie insisting he may be able to help if Wilde stays, as his father is the writer's adversary in court, while Wilde's former lover and trusted friend Robert Ross (Cal MacAninch) pleads that he escape to France on the next train.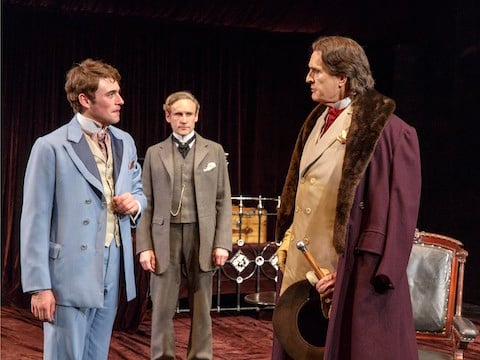 He misses his chance, and the second act finds Wilde in exile following two years of imprisonment. He and Bosie are in Naples, where they're low on money but rich in man candy (see: Bosie's Italian lover who roams the stage naked for no less than half an hour). Oscar isn't writing and can hardly get up from his chair, where Everett thanklessly spends nearly the entire act. Bosie is as selfish as ever; Ross shows up to tell Wilde his family is done waiting for him.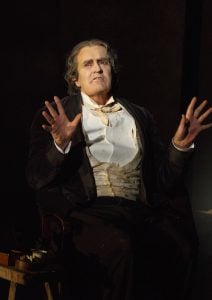 To anyone who hasn't seen the actor recently, Everett is somewhat unrecognizable — which may explain how seamlessly he slips into role you might not have imagined him playing in his heyday. While he creates a robust character and delivers a few pithy lines with panache, this is not a portrayal that lends emotional transparency to a renowned literary mind. Despite occasional outbursts of genuine feeling, Everett's Wilde seems remote, more put-on (like his affected inhales between lines) than lived in. Rowe's one-note performance as his young sparring partner doesn't help, nor does the fact that they seem anything but in love.
In a characteristically tepid outburst near the conclusion, Bosie threatens Wilde with obscurity, warning that he'll be forgotten if he doesn't stand up for his convictions. Obviously, we know this was not the case — I don't think this production will escape that fate.
Follow Naveen Kumar on Twitter: @Mr_NaveenKumar (photos: richard termine)