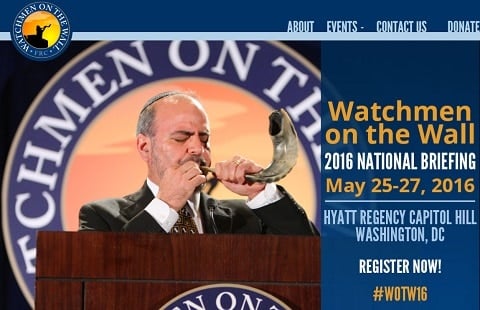 In Washington, D.C. this week and have some time on your hands? How about hate group Family Research Council's (FRC) annual Watchmen on the Wall National Briefing, a who's who of anti-everything religious right activists.
FRC head honcho Tony Perkins, usually relatively quiet on Twitter, has gone into overdrive promoting the highly profitable conference which will include contributions from the likes of – deep breath – Phil Bryant, Anne Graham-Lotz, Bob Emrich, Pastor Garrett Booth, Pastor Charles Flowers, Perkins himself and many, many others.
Paul, an educated man, said if we are to be truly wise in the sight of God, we will be foolish in the eyes of man. -> 1 Cor 3:18-20

— Tony Perkins (@tperkins) May 24, 2016
It's a fairly packed schedule today and Friday so here's our handy guide to your most entertaining options:
Thursday
6 a.m. – MORNING PRAYER FOR LADIES with Traci Alexander, Founder, Trumpet and Torch Ministries*
8.40 a.m. – INVOCATION AND WELCOME REMARKS with Tony Perkins
9.20 a.m. – THE URGENCY TO REACH THE LOST with Anne Graham Lotz
DEVELOPING SERMONS ON MORAL ISSUES with Dr. Ron Johnson, Jr. at 3.30 p.m. also seems like a good bet.
Talking now with @cvpayne on @FoxBusiness about NYC's 31 different gender identities. https://t.co/3oEsSAO29f

— Tony Perkins (@tperkins) May 24, 2016
Friday
11.10 a.m. – THE "701 PROJECT":  A Strategic Plan to Mobilize Christian Voters in Battleground States with Bill Dallas, CEO, United in Purpose
1.10 p.m. – THE POWER OF AN AWAKENED AND ENGAGED CHURCH with James Robison, Founder and President, Life Outreach International
And finally, not to be missed: CLOSING REMARKS AND PRAYER with Tony Perkins (1.55 – 2.00 p.m.)
#Marriage is the grimy & gritty exposure of the worst of you, and the glorious withdrawal of the very best of you: https://t.co/nRI7x3lf6X

— Watchmen on the Wall (@WatchmenPastors) May 10, 2016
The early close leaves you enough time to pop into the Human Rights Campaign to collect a free bumper sticker and head over to Number Nine on P Street for happy hour.
See you there…