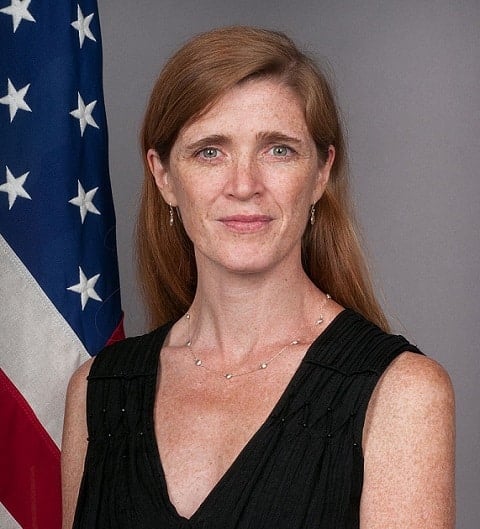 Activists from around the world including U.S. Ambassador to the United Nations Samantha Power (above) gathered at the White House last week for a discussion on global LGBT rights.
Other attendees included Eric Gitari of Kenya's National Gay and Lesbian Human Rights Commission, Asia-Pacific Transgender Network Chair Abhina Aher, U.S. Agency for International Development Administrator Gayle Smith, OutRight Action International Executive Director Jessica Stern, and gay Syrian refugee Subhi Nahas.
Historic day: @UN Human Rights Council just created 1st-ever position at @UN to fight LGBTI discrimination & violence. #ArcOfHistory

— Samantha Power (@AmbPower44) June 30, 2016
Earlier this year, Nahas – who fled Syria because of extremist militias and family issues – spoke to the UN about the dangers LGBT people living under the yoke of the Islamic State face everyday.
At last week's "dialogue," reports the Washington Blade, Power and Smith spoke about the White House's efforts to promote LGBT rights abroad in the wake of President Obama's 2011 directive to agencies that carry out American foreign policy.
5yrs ago when @POTUS issued historic directive on intl LGBT rights, cld not have imagined progress since. My rmks: https://t.co/GsdlOjuirs

— Samantha Power (@AmbPower44) June 30, 2016
"This presidential memorandum sets out to end the 'no-go zones' and to expand enjoyment of rights in a deep, deep way," said Power. "We have been implementing it, also in a deep way."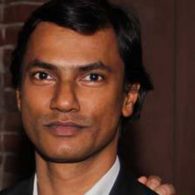 Smith also addressed the murder of Xulhaz Mannan (right) a prominent Bangladeshi activist who was hacked to death by members of al-Qaida last April. Mannan, she said, "was brutally murdered in an act claimed by terrorists. He was killed because he believed that every person – no matter who they loved or prayed to, no matter what they looked like or what class they were born into – deserves to be treated with respect and dignity. And he was willing to fight for that belief."
Power added that consensual same-sex sexual acts are criminalized in more than 70 countries worldwide. "We should all be able to love openly without hiding in the shadows," she said. "Nobody should ever have to have that voice in their head. We've got to eliminate the 'no go zones' once and for all."
You can read Powers' full speech here.