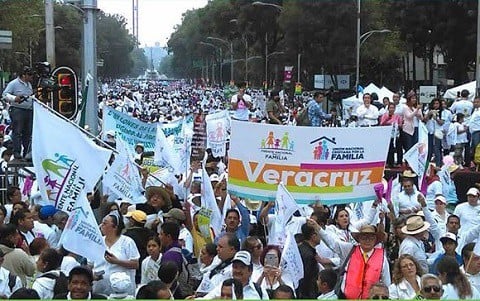 Prior to last weekend's march in Mexico City against same-sex marriage, LGBT activists in Mexico outed four priests they allege are in same-sex relationships.
Attended by an estimated 80,000 people, the march last Saturday was "organized by Catholics and the ultra-conservative National Front for the Family," according to Telesur.
Commenting on the outings, Cristian Galarza, an organizer for the National Pride Front said "Everyone deserves the right to be in the closet but when you come out and condemn homosexuality, condemn gay marriage, and try to influence a secular state, you've lost the right to the closet."
Insisting that they "respect" LGBT people, Magdalena Ibarrola, one of the Mexico City protesters said "we're not in favour of the government imposing an ideology that does not match up with reality." She added that gay adoptions are harmful and corrupting for children.
Responding to the outings, LGBT rights group All Out's Enrique Torre Molina said:
"They can spin it anyway they want, but they're ultimately using someone's sexual orientation as a tool against that person, which is exactly what the LGBT movement is not about. If anyone knows how tough it can be to have your sexual orientation used against you, it is a gay or lesbian person."
Earlier this year, Mexico's President Enrique Peña Nieto presented legislation in favor of same-sex marriage after a 2015 supreme court ruling saying it was unconstitutional to refuse gay couples the right to marriage.
Last week, Father Hugo Valdemar, the spokesperson of Mexico's Catholic church accused the country's anti-discrimination watchdog, Conapred, of persecution.
Watch a report on proposals for same-sex marriage in Mexico below.
(Image via Twitter)