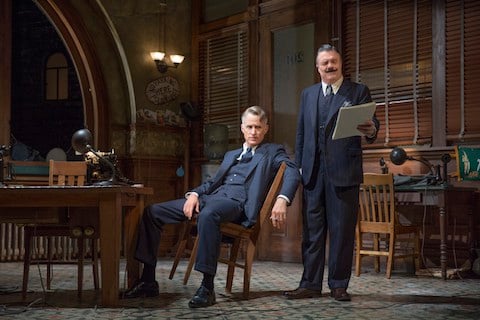 If you haven't hit peak tolerance for press-fueled political farce, you can shell out to see how much — and how little — has changed in The Front Page, which opened at the Broadhurst Theatre October 20. Featuring a Garry Marshall-level array of A-list stage names, director Jack O'Brien's handsome revival of Ben Hecht and Charles MacArthur's 1928 comedy in some ways could not be better timed.
In others, the timing couldn't be worse.
Considering how much tabloid fodder a certain wigged, rotten tangerine has provided this election, the old-school classic about wisecracking newspapermen and crooked pols seems perfectly apropos.
In fact, what a spectacular relief it is to laugh at John Goodman's incompetent sheriff, who basically hands his gun to a murderer on death row, allowing him to shoot his way out of jail. And morbid pleas from reporters to move the execution up so they can make deadline are almost charming, particularly coming from a brilliant Dylan Baker.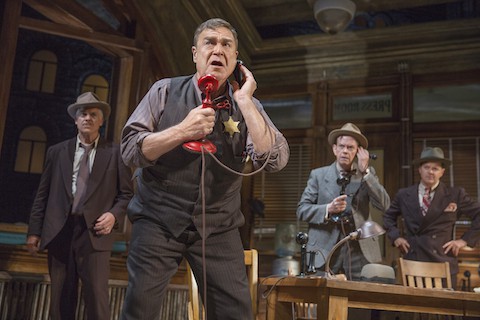 But you may forgive the audience for (twice) applauding the entrance of one actor (Jefferson Mays) when they thought he was another (Nathan Lane, who finally shows up midway through, to deliver just the kind of madcap performance expected of him). Yes, the good old days involved a lot of middle-aged white men, all crowded into the room where it happens.
Therein lies the rub.
It's unfortunate that the play's setting necessitates an all-white cast at a time when an ensemble this big without a single colored face glares like high beams in the opposite lane — all you want to do is blink it away with excuses based on the material.
It so happens that "the colored vote" is what's at stake for the pols: The escaped murderer, also an alleged Bolshevist, shot a Black cop; hanging the killer will restore "law and order" and win the mayor the Black vote.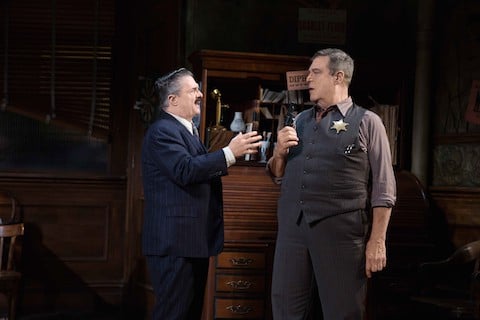 Though the plot's resonance with modern times is startlingly clear, this is borderline screwball comedy — the only balm here is that we're laughing instead of banging our heads against our laptops. Don't expect profound takeaways.
His Girl Friday, a classic 1940 film adaptation of the play, subs in Rosalind Russell for the journo played here by (the equally ravishing) John Slattery, adding both a strong, if not altogether unproblematic, female character and a romantic relationship to the center of the plot.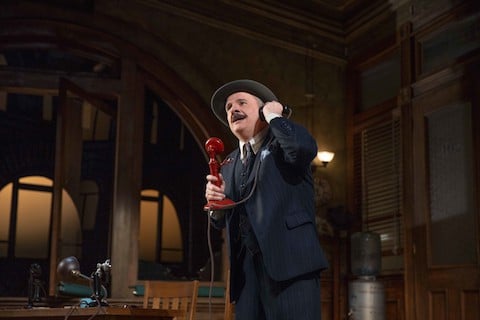 But the women in Hecht and MacArthur's play either dote, nag, weep, or "squawk." If they're not turning tricks like Mollie (a woefully underserved Sherie Rene Scott), they're wringing their hands then popping their heel in a kiss like Peggy (a flat Halley Feiffer) or scolding like her mother (Holland Taylor, doing the best with what she's got). O'Brien does little to lend nuance to these pivotal characters, and without it the play has no heart.
The misogyny at the core of The Front Page is casual at first — one newsman's recurring mock prissy voice, another's talk of his ugly but just-good-enough wife. By the end, after every fleeting reference to a woman piles up drenched in resentment, it's simply exhausting. Especially if you've been reading, you know, the actual front page.
You can keep the good old days, boys. This historic election can't come soon enough.
Follow Naveen Kumar on Twitter: @Mr_NaveenKumar (photos: julieta cervantes)