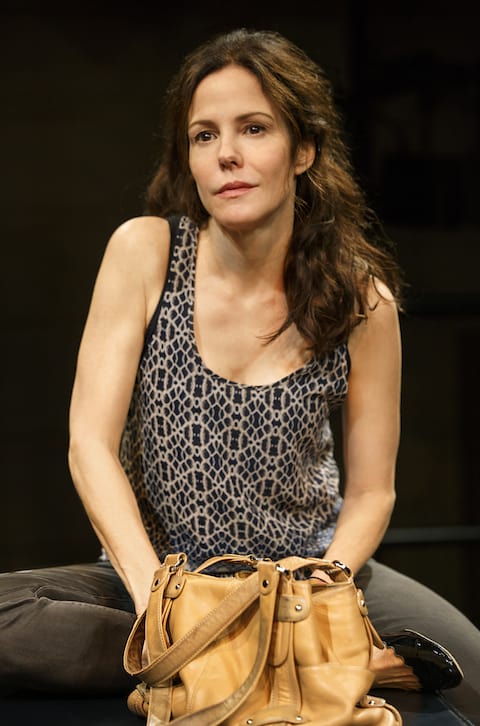 If a stranger came up to you from behind, kissed your neck (!), and tried to engage you in conversation, you'd probably turn and walk run in the opposite direction, thinking, So this is what it's like to meet Donald Trump. That the stranger in this case is a petite woman, planting a smooch on a much older and unsuspecting man makes the scenario less creepy than it might otherwise be.
When the lights flip up on Heisenberg, which opened at the Friedman Theatre last night, Mary-Louise Parker is already offering a frenzied apology for her character's crazy behavior, which only grows more extreme as the scene goes on. Alex (Denis Arndt), a 75-year-old Irishman, isn't easily moved, but even his first impulse is to swat Georgie away like a gnat and return to sitting alone in peace.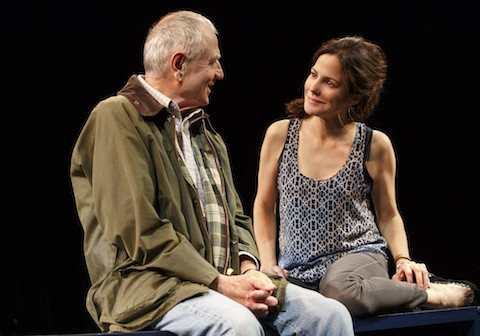 Simon Stephens' two-hander, which Manhattan Theatre Club first staged off-Broadway last season, follows the unlikely connection that forms between Georgie and Alex after this initial encounter. Director Mark Brokaw stages the 80-minute production like a rehearsal, with the actors essentially in plainclothes, confined to a slender strip of playing space with only a couple of chairs and tables. (Audiences are seated on risers at the back of the stage as well).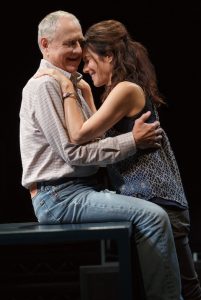 It's almost as though we're gathered to watch two atoms collide in a controlled environment. This is no coincidence.
You don't have to be a quantum physicist to appreciate Stephens' play; it certainly stands on its own. But its title steps from German physicist Werner Heisenberg's uncertainty principal, which basically states that the more accurately we know the position of something, the less certain we can be of its momentum, and vice versa.
It's tempting to think of the characters' positions here as their stages in life — Alex near the end, Georgie in the middle — and their momentum as how they move through it — Alex with relentless routine, Georgie with a wandering urgency. But, of course, they are not particles, and everything about being human and living in the world is uncertain, including how we collide and change one another.
Parker is in her sweet spot as an off-center, manic instigator who is as calculating as she is free-spirited. If Georgie just seems like a crazy, lonely soul at first, as her motives surface and the character clicks into place, the power of Parker's performance becomes clearer as well. Making his Broadway debut, Arndt is quietly brilliant, as Alex likewise shifts away from expectations to become something more surprising.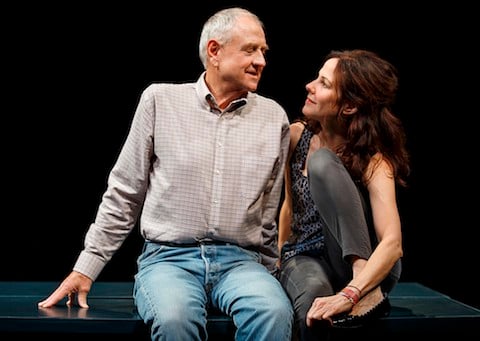 Stephens, who adapted the groundbreaking Curious Incident of the Dog in the Night-Time, is as attuned to the colorful oddities of human interactions as he is cerebral about their place in a larger cosmic puzzle. All the same, the connection between Georgie and Alex develops like any other, as much over banal conversations as moments of personal revelation.
As is the case with any experiment, the payoff is not immediate. If the play's first half feels less engaging because of how much remains unknown (Why is she low-key stalking him? Is everything she says a lie? What is the point of all this?), by the end it subtly poses much larger questions you're likely to think about for some time afterward.
Follow Naveen Kumar on Twitter: @Mr_NaveenKumar (photos: joan marcus)