Anton Chekov billed The Cherry Orchard as "a comedy in four acts." That label has been disputed since the play's premiere in 1904, when the legendary Konstantin Stanislavski insisted on directing it as a tragedy.
The Cherry Orchard's dynamic mash-up of genres is part of its lasting appeal. But Roundabout Theatre Company's jumbled revival, which opened last night at the American Airlines Theatre, is neither particularly funny nor affecting.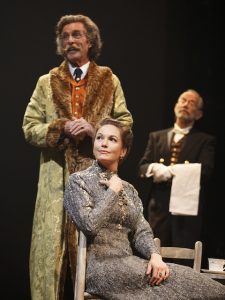 A new version of the script from Stephen Karam (whose Tony-winning play The Humans is currently running on Broadway) updates the dialogue into modern vernacular, making it relatively more accessible if sometimes anachronistic. The play is still set in Russia; based on the production's scattered aesthetic, the time period is intentionally less certain.
From the outset, it's clear that director Simon Godwin intends to milk Chekov's play for comedy, supplementing ironic and outright funny lines with pratfalls and sight gags worthy of a farce. But when the plot calls for an abrupt shift in tone, as it often does, emotions mostly fall flat.
Even in the hands of a star like Diane Lane, who made her Broadway debut in a 1977 revival of this play, Godwin's insistence on lightness glosses over any opportunity for depth. Lane's character Ranevskaya is an actress herself who seems to perform her own emotions in a state of delusion, but when she is struck by real sorrow — over the impending loss of her home, or the memory of her son's drowning — she's too much of a caricature for the audience to feel for her.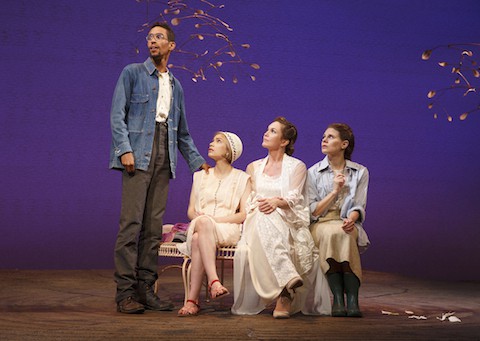 Godwin, a British director, highlights the play's parallels to American culture by adding an element of racial politics. The story of a broke aristocratic family losing its estate to the new-moneyed descendent of a former serf (or slave, in Karam's adaptation) takes on a different cast when that man is Black. Harold Perrineau (whom you may recognize from Baz Luhrmann's Romeo + Juliet) gives a standout performance, and the strategic casting of several other actors of color, including Tony winner Chuck Cooper, does set some of the play's themes in starker relief.
But this is only one of many conceits operating in the hodge-podge production, which changes its look and mood with each act. When Ranevskaya and her brother (played by John Glover) arrive at the estate with the rest of the family in act one, they have the canned jubilance of Capitol dwellers in the Hunger Games. Later on, the top of the second act takes a bizarre page from Moulin Rouge with an elaborate costume party. (The costumes, which seem to place the characters in different worlds from scene to scene, are by Michael Krass. The set, actually quite beautiful, is by Scott Pask.)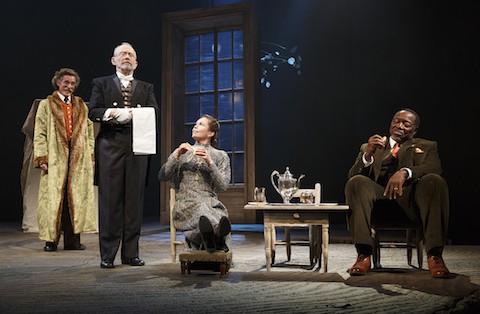 The real bummer, in the end, is that the production doesn't rise up to meet the caliber of its company, which includes Tavi Gevinson and Celia Keenan-Bolger, both solid as sisters Anya and Varya, and none other than Joel Grey, who has precious little to do and absorbs constant ridicule as the ancient servant Firs. The final tableau of Grey curled up alone on stage is devastating, but not for the reason it ought to be.
Follow Naveen Kumar on Twitter: @Mr_NaveenKumar (photos: joan marcus)