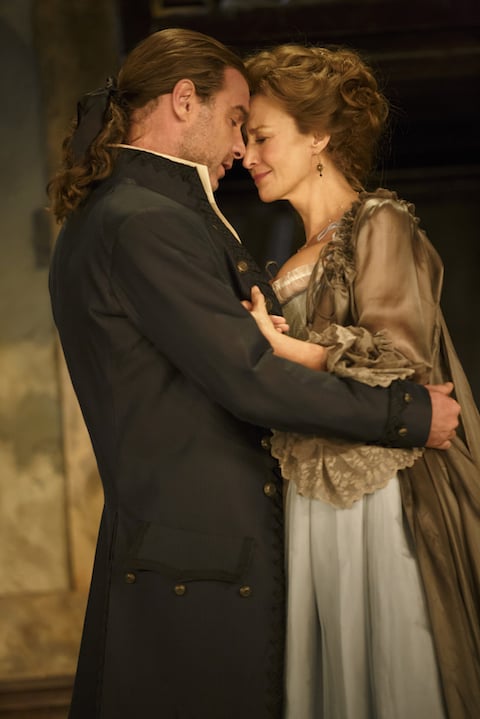 From the moment candle chandeliers descend over Josie Rourke's sumptuous production of Les Liaisons Dangereuses, which opened on Broadway last night, the Booth Theatre pluses with a kind of erotic energy rarely achieved on stage — or really, anywhere. Much credit for this is due to Liev Schreiber and Janet McTeer, two kinetic actors at the height of their careers whose onstage chemistry and mastery of their craft make this one of the most delectable nights of theatre Broadway has seen in years.
Of course there's also the fact that Christopher Hampton's 1985 play, adapted from Choderlos de Laclos' 1782 epistolary novel, is about seduction, manipulation, and betrayal in the salons of 18th-century Paris. All the same, salacious subject matter is no guarantee for a production as sexy or viscerally alive as this one, which transfers to Broadway from London's Donmar Warehouse.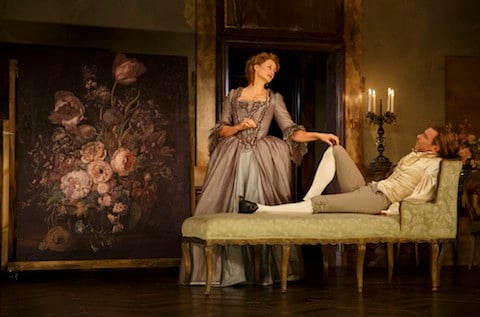 The infamous La Marquise de Merteuil and Le Vicomte de Valmont are hardly a likable pair — they make a sport of destroying others, relishing sex both for its pleasures and for its potential as a weapon for duplicity. And yet, there is something very seductive about breaking bad, and McTeer and Schreiber have us right in the palm of their hands. Rather than recoiling at their willful deceit, we become their eager co-conspirators — both because they make deception feel so delicious, and because we have a clear sense of what drives them to play wicked games.
McTeer, a Tony-winning British actress last seen on Broadway in Mary Stuart, delivers what feels like a definitive — and career-defining — performance. Her Merteuil is as wry and charming as she is cunning and imperious. McTeer pulses warmth into a cold-blooded character, commanding the stage even in repose — luxuriously draped, in Tom Scutt's lavish costumes, across various chaise lounges. Her every word crackles with fire, even as McTeer's delivery is as smooth and cool as ice.
Schreiber, a consummate theatre star now more often seen on screen, balances Valmont's magnetism and swagger with heart and subtle humor. In the actor's hands, Valmont is far more than a trifling ladies' man; he's a nuanced portrait of a libertine, chasing amusement and pleasure all the while running away from himself. You'll forgive Schreiber for negating any uncertainty as to the success of his conquests; it's impossible to imagine any living thing turning him out of bed.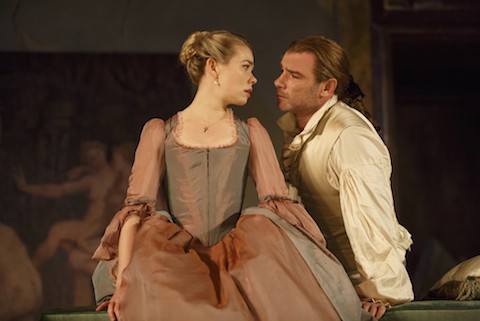 The vision of the play put forth by Rourke, now the artistic director at the Donmar, is both stunning and illuminating of Hampton's text. The shabby opulence of Scutt's scenic design contextualizes the play within the history of art and the French Revolution, with paintings in different popular styles leaning against walls, and others vertically stacked as though in storage. By the end, when only a large empty frame remains in the back, it's as though the players themselves have sprung from the canvas of a great work of art.
Given the artistry of Rourke's production, it's hardly an unworthy comparison.
Follow Naveen Kumar on Twitter: @Mr_NaveenKumar (photos: joan marcus)