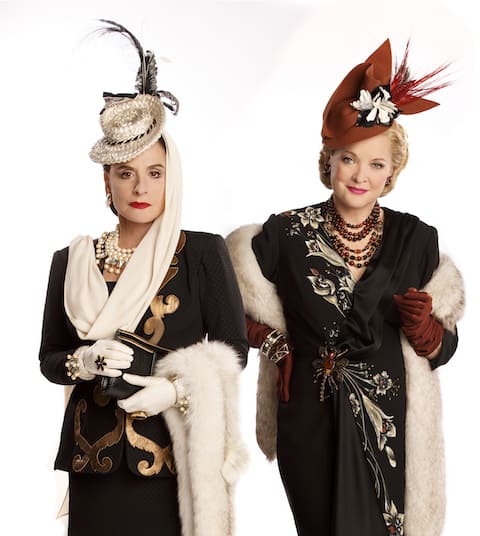 Makeup means many things to many women (and a little something extra to drag queens). But to Elizabeth Arden and Helena Rubenstein, night creams, lipsticks, and perfumes were the building blocks of empire.
War Paint, a new musical about their famed rivalry that opened at the Nederlander last night, pays due homage to the industry pioneers and offers a tandem vehicle for its marquee stars, Christine Ebersole and Patti Lupone, to dazzle audiences with the powerhouse performances for which they're known.  
But the beauty of War Paint — dutifully directed by Michael Greif on David Korins' chic Deco set, and lavishly outfitted by Catherine Zuber — only runs skin deep. This is not because the birth of the modern beauty industry, which finds women convincing other women that youth and beauty are for sale, is the stuff of fluff — or even for the faint of heart.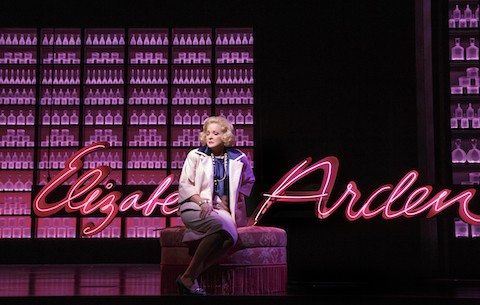 As the curtain goes up, a disembodied male voice calls out to a woman passing by, "You!"
"Me?"
"Yes, you. Not every woman is a natural beauty."
For a brief moment, the opening number, entitled "Best Face Forward," introduces the cultural pressures that drive customers through Elizabeth Arden's signature red door. But once we're inside, the game of one-upmanship that ensues between Arden and Ms Rubenstein takes off. The height of act one finds the women in court, having accused each other of false advertising; act two begins with the drama of…being required to print ingredients on their packaging.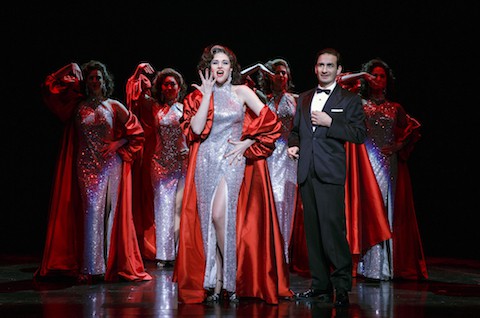 By the time Revlon shows up to send both companies under, it's hard to shake the feeling that you've been suckered into sitting through a particularly artful advertorial.
Rest assured, though, that War Paint's pretty packaging delivers on its core promise: knockout turns by Lupone and Ebersole.
As Rubenstein, a tenacious Polish Jew who rose from her shtetl to a Park Avenue penthouse, Lupone undoubtedly has the showier part. Firing off an abundance of sharp zingers (e.g. "There are no ugly women, only lazy ones") with an unbreakable will, Rubenstein's immigrant underdog is the one to root for. And Lupone's vocal prowess compels every spine in the room to stand at attention.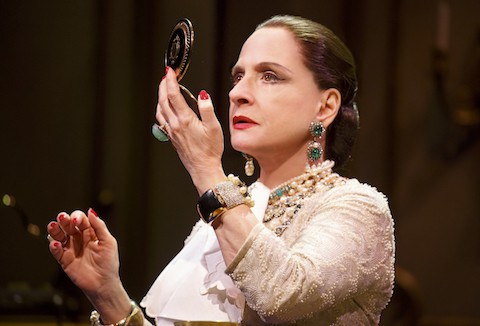 Ebersole is likewise a master of song, with a more intimate touch. Arden's backstory is necessarily less fraught — a blonde farm girl from Canada with a refined accent, her biggest setback in high society is getting denied admission to a social club for being nouveau riche. Like Rubenstein, Arden also has a bootstraps mentality she imparts on other women; as she tells one protégé, "You have the power to reinvent yourself and become anything you want to be. The first step? Your appearance."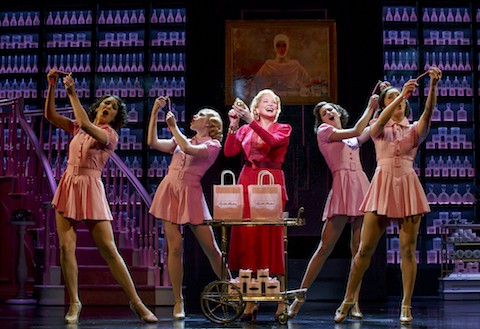 Though Arden and Rubenstein are fascinating figures, and their achievements ripe for exploration, the musical often gets bogged down in historical incidents that seem trivial, while skimming over the effects of the beauty industrial complex on legions of women. This is perhaps why the rich but less-than-resonant score by Scott Frankel and Michael Korie (the team behind Grey Gardens) often feels like it's trying to conjure up drama rather than express it, a similar shortfall of Doug Wright's pithy book.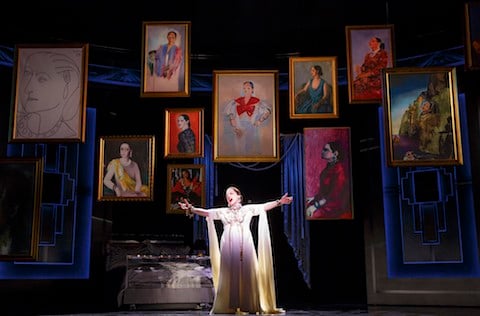 One might be delighted to learn that War Paint fails a reverse Bechdel test; on the surface, the musical is a win for women. It's also a drawn-out cat fight whose self-conscious interrogations of gender often ring tone-deaf.
When the women sing "If I'd Been a Man," they are genuinely wistful at the possibility. (Elizabeth: "A man can set aside his feelings, be a shark in business dealings… I, alas, am neither either-or, and so my guy walked out the door. Could I bear it more, if I'd been a man?")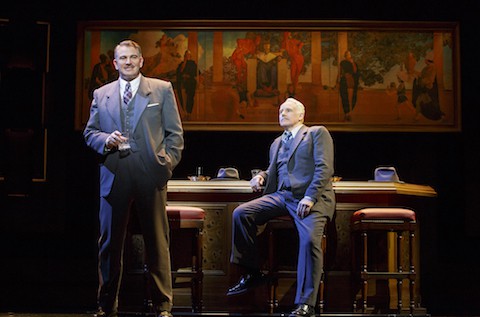 Their right-hand men (Douglas Sills and John Dossett), who each betray one woman to go work for the other, advise their bosses to get with the times by advertising on TV and selling cheaper products. When the women refuse, the men get a we-told-you-so number called "Dinosaurs" that lands with a thud.

"Did we make women freer, or did we enslave them?" Elizabeth sings in the final moments. It's the most interesting question of the night, one that War Paint — and its all-male creative team — spend precious little time trying to answer. I suppose if you want to know what a woman thinks, there's an easy way to find out: Ask one.
Follow Naveen Kumar on Twitter: @Mr_NaveenKumar (photos: joan marcus)