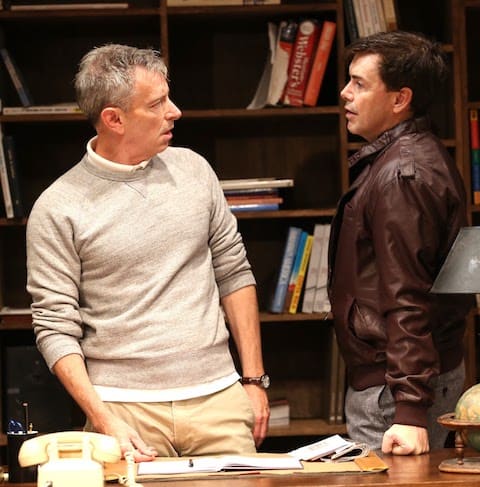 When an empty chair appears in the middle of Jody's map shop, he's a bit stumped. Carl, the eccentric gadabout to Jody's cerebral recluse in this platonic odd couple, says there's more where that came from. He's not kidding: By midway through Steven Dietz's 1993 two-hander Lonely Planet, which opened in a Keen Company revival off-Broadway on October 19, the stage of the Clurman Theatre looks like a game of chair Tetris.
It's a funny sort of sight gag until we realize the devastating truth: Each one belonged to someone they knew who's been claimed by a plague they hardly need to name.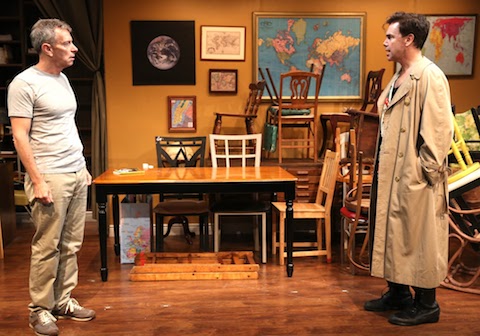 In the tradition of late 20th-century AIDS plays, Lonely Planet is no sweeping epic, like Tony Kushner's Angels in America, returning to Broadway this spring, nor does it assume the venomous urgency of Larry Kramer's The Normal Heart, last revived on Broadway in 2011. Dietz's play unfolds on a far more modest scale, offering an intimate look at how men grappled with the everydayness of suddenly living at death's door and the fear that they might be next.
The entry to Jody's quaint little shop (designed by Anshuman Bhatia) might as well be the gates of hell; his refusal to set foot outside is so complete he's been crashing in the back room. As lovingly embodied by Arnie Burton, Jody is hardly a portrait of paranoia; he's actually pretty even-keeled until provoked by Carl's stunt into facing the fears he's been so content to hide from.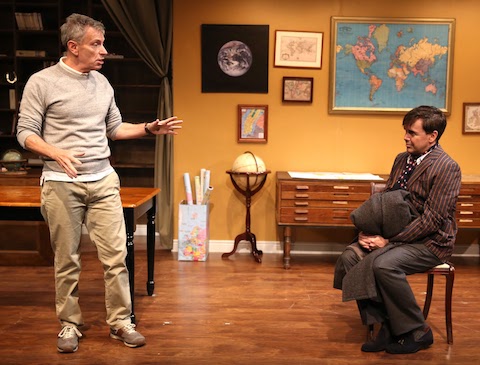 Though Carl is out on the front lines sorting dead men's belongings, his coping strategy involves a certain level of delusion as well. Exuberantly played by Matt McGrath, Carl waltzes in with fanciful stories of his workday in a carousel of careers — one day he's an art restorer, the next an automotive glass repairman or a university professor, and so on.
The two men are clearly best friends, but they don't really know much about each other's lives, a paradox they turn to ponder as the crumbling world outside draws them closer together. Burton, last seen off-Broadway juggling impressive double roles in The Government Inspector, maneuvers the breakdown of Jody's denial with a heartbreaking emotional clarity. His face-off with debilitating anxiety will undoubtedly feel familiar to many men, regardless of generation. Recently seen as a droll drag mother in The Legend of Georgia McBride, McGrath brings a grounded flamboyance to Carl, by turns the life of the party (such as it is) and the bearer of blunt truths.
As directed by Keen Company artistic director Jonathan Silverstein, Dietz's play remains quietly captivating in its simplicity, and the easy intimacy between Burton and McGrath is remarkably moving. Between its heavy influence by Eugène Ionesco's absurdist comedy The Chairs (1952) and its setting in a map shop (where maps are fixtures of what's known), the play's conceit can feel a bit overdetermined.
But its portraits of individual response to daily collective trauma could hardly be more relevant to 2017, nearly 25 years after the play's premiere. And as the theatre community was reminded by the death of composer Michael Friedman this fall, the reality of AIDS is hardly a distant memory, even for the relatively affluent. Each chair piled onto the stage has its own distinct personality; the overwhelming emptiness of them all evokes the ghosts of so many stories left untold.
Follow Naveen Kumar on Twitter: @Mr_NaveenKumar
(photos: carol rosegg)