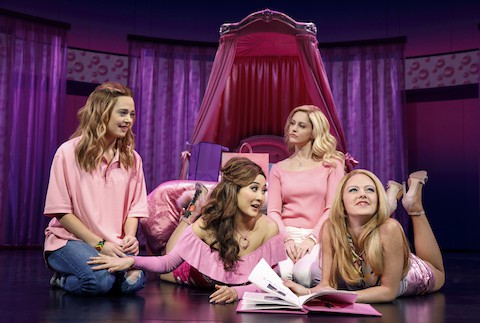 The kids at North Shore High have a cautionary tale, about that one time Regina George got hit by a bus. You may remember it from the 2004 touchstone of teen cinema; you may even insist you still fit into sizes 1, 3, or 5. At the August Wilson Theatre, where the wickedly entertaining Mean Girls musical opened last night, everyone's a freshman again and high school is just as you remember it.
Well, not exactly. Unless you graduated with Tina Fey, there were probably fewer spit takes.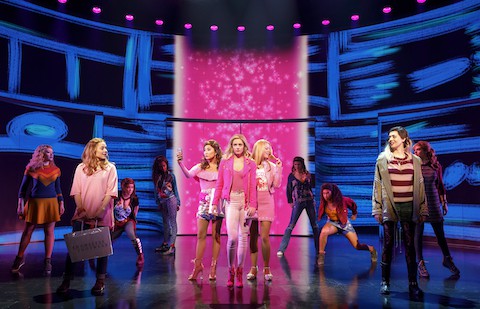 The SNL alum is the comedic linchpin behind this gleeful, hot-pink addition to Broadway's mixed bag of screen-to-stage adaptations. While her book for the musical retains many fan-favorite lines ('You go, Glen Coco!'), Fey also takes full advantage of the opportunity to pack new laughs into her best-loved work and freshen existing gags for the stage (watch for the Yorkie hand-puppet getting fresh with Kerry Butler's indelible 'cool mom').
The droll narration of class misfits Janis and Damian (Barrett Wilbert Weed and Grey Henson, both standouts) frames our tour through this familiar high school safari. That its queer characters are also its most self-actualized — and the ones telling the story — is our first indication that the musical intends to dig a bit deeper and reflect a wider array of experiences than the movie, if even with sporadic one-liners.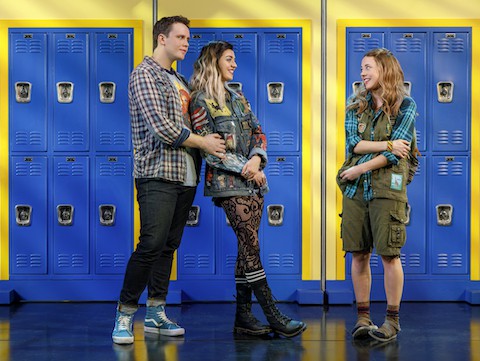 Cady Heron (Erika Henningsen), is still the new girl in school, via Kenya (and no, you can't just ask why she's white). The Plastics still rule the halls, under the vicious stilettos of Regina George (a powerhouse Taylor Louderman). Cady infiltrates the clique (at Janis and Damian's behest), tears Regina down, becomes queen bee, and disappoints everyone she cares about before learning to embrace every part of herself — including the badass mathlete.
In the musical's more in-depth look at the tangled origins of girl power, Regina's minions, the achingly insecure Gretchen (Ashley Park) and endearing imbecile Karen (Kate Rockwell), can hardly be considered 'mean' at all. Park's disarming confessional "What's With Me?" reveals the frantic scramble for self-worth underneath a lemming's loyalty. Rockwell's blank, guileless Karen is a delightful scene-stealer, with her own speciously feminist number about the virtues of dressing slutty on Halloween ('I can be who I wanna be… and sexy!').
As Damian, Henson boldy leads the company in big, old-fashioned Broadway-style numbers that find creative uses for cafeteria trays. And at opposing ends of the final showdown, Weed and Louderman belt the roof off with second act torch songs — though Regina feels a bit too plastic a villain to secretly root for until it's too late.
Director-choreographer Casey Nicholaw (The Book of Mormon), makes fluid work of the updated story with playful staging that includes a few campy and inspired sight gags (look out for that bus, Regina!). The creative team whips up a frothy mix of mid-aughts nostalgia with a present that feels as current as a status update, without going too overboard (don't worry, the Burn Book isn't on the Cloud). Eclectic teenage threads from designer Gregg Barnes achieve a sort of Delia's meets Topshop time warp. Even the PowerPoint-style transitions that take Scott Pask's semicircular set from one locale to the next feel comfortably retro.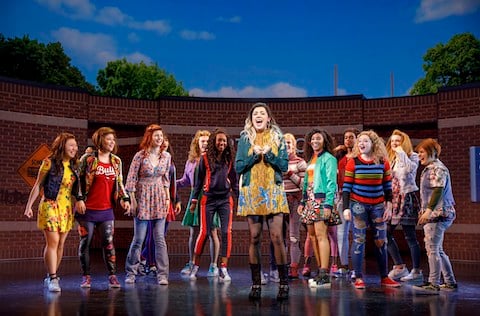 Though the score by composer Jeff Richmond (Fey's husband) and lyricist Nell Benjamin (Legally Blonde) acts as a decent vehicle for the cast's stellar vocals, the music is largely forgettable, even as it ricochets curiously from canned, standard melodies to quasi-calypso to schoolhouse pop-rock. Benjamin's lyrics serve a higher purpose in character-driven songs, but they're too often harmonic placeholders in broader numbers, like the first act closer with the refrain, "Fearless. Whoa! Whoa!"
Still, 'Girl World' 2.0 is a blast — and not just because it's one from the past. Whether your school days are far behind you or, like a fair portion of the show's target audience, stretched out before you like the plains of Africa, Mean Girls has life-long insights for the freaks, geeks, queen bees, and wannabes in all of us.
Recent theatre features…
In 'Three Tall Women' and 'Yerma,' Stunning Portraits of Women on the Verge: REVIEW
Chris Evans and Michael Cera Are Men in Uniform in Kenneth Lonergan's Superb 'Lobby Hero': REVIEW
Andrew Garfield and Nathan Lane Star in Electrifying 'Angels in America': REVIEW
A Slushy 'Frozen' Opens on Broadway: REVIEW
Jimmy Buffett Serves up 'Margaritaville' on Broadway, Tequila Goggles Sold Separately: REVIEW
How to Save Civilization from Certain Disaster? Take a Cue from 'SpongeBob' on Broadway (Yes, Seriously): REVIEW

Follow Naveen Kumar on Twitter: @Mr_NaveenKumar
(photos: joan marcus)