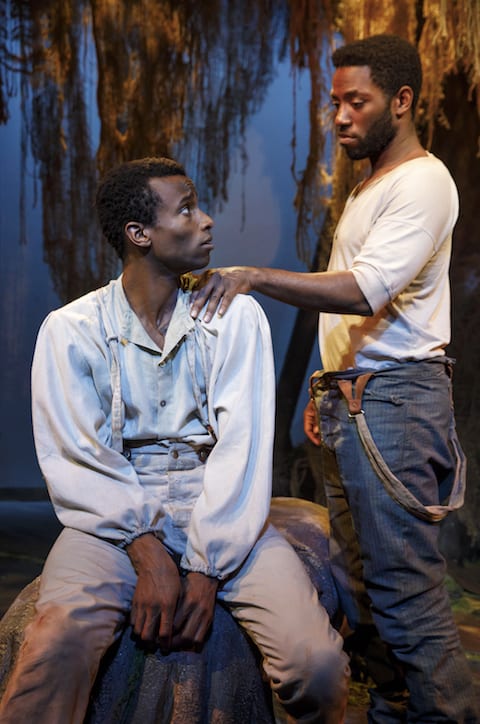 Two playwrights addressing the subjugation of Black bodies in America show how little has changed in more than a century, with bracing and powerful new plays that opened off-Broadway this week. The system of oppression that enslaves Black characters in Donja R. Love's Civil War-set Sugar in Our Wounds assumes a more amorphous shape on the present street corner of Antoinette Nwandu's Pass Over — but the men there are just as surely trapped.
Love's cruel fable, set at the base of a tree grown massive from the blood of those who've hung from its branches, is part of a trilogy the playwright describes as "a surrealistic voyage through queer love during pivotal moments of Black history." The first installment opened last night in a Manhattan Theatre Club production, directed by Saheem Ali, at City Center Stage II.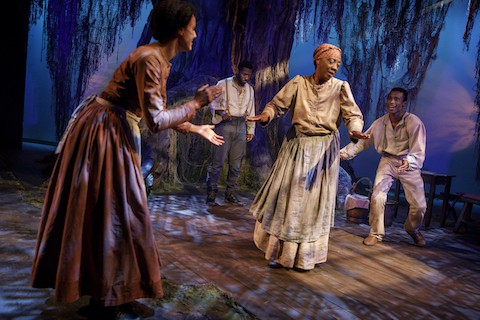 James (Sheldon Best) shares a small shack with Aunt Mama (Stephanie Berry) — neither his aunt nor his mama, but "probably older than God," so in charge all the same — and Mattie (Tiffany Rachelle Stewart), the light-skinned daughter of their master and another slave. The master's legitimate daughter, Isabel (Fern Cozine), a brutal beauty, is teaching James to read. When Henry (Chinaza Uche), a brawny runaway, shows up on the plantation, he and Henry quickly fall in love.
"It's uh beautiful thing ta know yaself," Aunt Mama tells James after she discovers his love for Henry, admitting she's kissed many women's lips. "And I ain't talkin' 'bout da ones on day face kneever." (Go off, Aunt Mama!)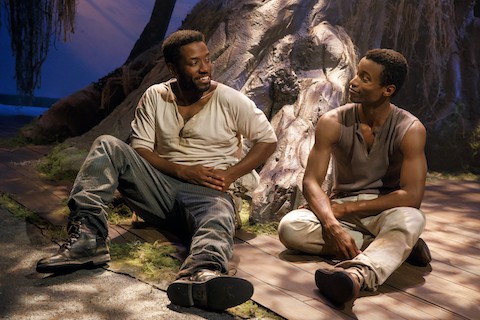 Love paints in broad strokes, but draws on Afrocentric narrative traditions to conjure a rich palette. His characters are near archetypes — naive James, shrewd Mama, noble Henry, vicious Isobel — but tenderly drawn. The ensemble buoys them with flesh and blood, rendering an unlikely romance all the more sweet and its harsh circumstance that much more painful.
That the play's outcome feels almost overdetermined only underscores the grace of James and Henry having found love in a hopeless place. "Turn dis ugly inta ya beauty," Mama tells them, speaking generations into the future.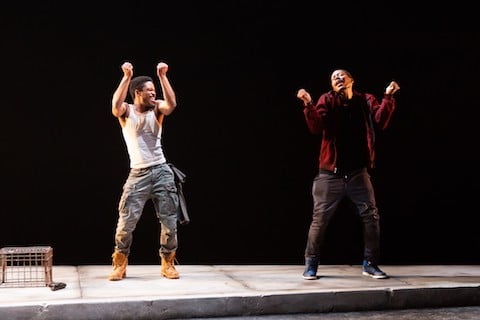 In the dreamscape of Pass Over, which opened at Lincoln Center's Claire Tow Theatre Monday night, Nwandu draws parallels between histories of persecution and perseverance, all within a freewheeling riff on Samuel Beckett's Waiting for Godot, sharply directed here by Danya Taymor.
For Moses (Jon Michael Hill) and Kitch (Namir Smallwood), two men whose days unfold on concrete under a streetlamp rather than moss beneath a tree, finding joy in everyday life means looking out for each other. They trade rapid-fire quips in a raw vernacular that borders on poetic, a style with echoes of Suzan-Lori Parks. (Moses: "man/ what'chu fixta do today/ man damn" Kitch: "man/ I'on know man/ what'chu fixta do" Moses: "got plans/ you feel me/ big ol plans" Kitch: "got plans to stand there/ stroke yo dick")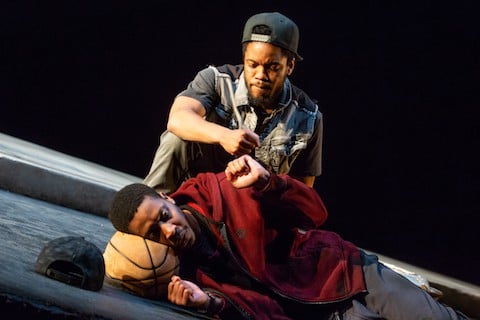 The two also share an intermittent determination to get off the block, or "pass over," and reach their full potential. They just as frequently put their hands up and freeze, quaking in fear, as cops patrol the street.
Instead of God, they're visited by polarized emblems of white authority, both played by a shiver-inducing Gabriel Ebert. The first wanders on in an ivory suit with a picnic basket, Little Red Riding Hood and the Big Bad Wolf in one, greeting their generous use of the n-word with a "gosh golly gee" sheen of wholesomeness and hospitality.     
"Who are you boy/ you goin somewhere?" is the police officer's refrain, though he already has his own answers: They're hoodrats, hardly human and headed nowhere — trapped by his perceptions as much as by his gun. Though Moses and Kitch are free men on the street, their circumstance is hardly a far cry from James and Henry's, though they're bonded by a different sort of love.
In the face of overwhelming injustice, it's fitting that Love and Nwandu both unleash forces of magic in their stories — the kind that defies the impossible, like a sort of wish-fulfillment, and the kind that startles you awake to see the world as it really is.
Recent theatre features…
The Grit and Heart of the 2018 Tony Award Winners Show Theatre Is More Relevant Than Ever: RECAP
Starry Broadway Revival of 'The Boys in the Band' Lends Gay History a High Sheen: REVIEW
Time's Up? Not So Fast: 'Carousel' Is Back on Broadway: REVIEW
Get in, Losers: The 'Mean Girls' Musical Is Fun as Hell: REVIEW
In 'Three Tall Women' and 'Yerma,' Stunning Portraits of Women on the Verge: REVIEW
Andrew Garfield and Nathan Lane Star in Electrifying 'Angels in America': REVIEW

Follow Naveen Kumar on Twitter: @Mr_NaveenKumar
(photos: joan marcus, jeremy daniel)