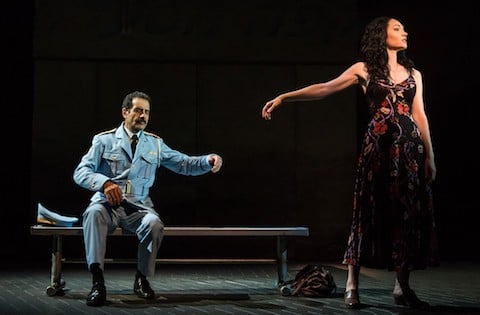 Grit and heart were the big winners at last night's Tony Awards — no more evident than when drama students from Marjory Stoneman Douglas High wowed Radio City with a heart-wrenching performance of "Seasons of Love" from Rent.
It was a fitting highlight to a night that saw The Band's Visit, a lyrical meditation on loneliness and connection, win a near-record breaking 10 awards, including Best Musical. In the night's biggest surprise, Once on This Island, a fable of love and resilience, upset lavish productions of problematic faves My Fair Lady and Carousel to win the musical revival category. And the 25th-anniversary production of Tony Kushner's Angels in America (full title: A Gay Fantasia on National Themes) also reigned, winning Best Revival of a Play and acting awards for Andrew Garfield and Nathan Lane.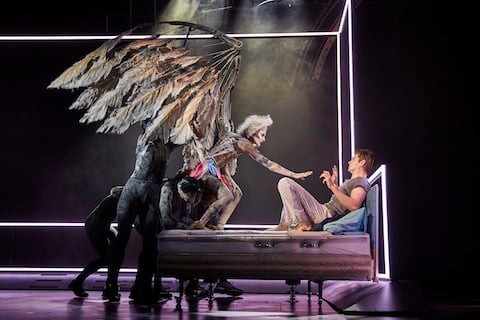 Sunday night's ceremony was a refreshing antidote to eyerolls that may have greeted the nominations, led by splashy commercial titles like Mean Girls and SpongeBob SquarePants: The Musical. But Tina Fey's teen comedy went home empty handed, and only one award, for Best Scenic Design, will head back to Bikini Bottom. One big name that did come out on top, unsurprisingly, was Harry Potter and the Cursed Child Parts 1 & 2, a stunning physical production of a middling nostalgic entry in the Potterverse, which won Best Play, Best Direction, and swept the design categories.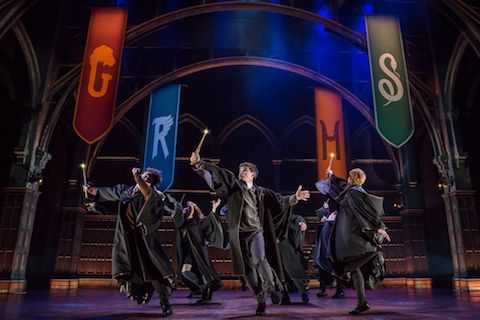 But it was the artists themselves, connecting the stories they tell on stage to the shit storm happening outside stage doors, who made their artform feel more vibrant than ever. Well, almost everyone. Harry Potter director John Tiffany somehow deemed it appropriate to stop the telecast and ask the audience to sing "Happy Birthday" to his boyfriend. (International diplomacy may be on its last gasps, but sure. Why not?)
Robert De Niro, on hand to introduce Bruce Springsteen's snoozy performance, gave CBS something to bleep out of the broadcast, said to thunderous ovation, "F*ck Trump. It's no longer 'down with Trump' — it's f*ck Trump!"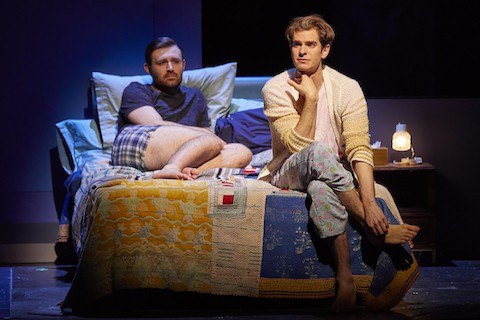 Others were less caustic though just as inspiring. Andrew Garfield, accepting Best Actor for his performance as Prior in Angels, dedicated his award to the sanctity of the human spirit. "It is a spirit that says 'no' to oppression, it is a spirit that says 'no' to bigotry, 'no' to shame, 'no' to exclusion. It is a spirit that says we are all made perfectly and we all belong," he said, adding, "I dedicate this award to the countless LGBTQ people who have fought and died to protect that spirit, to protect that message, for the right to live and love as we are created to."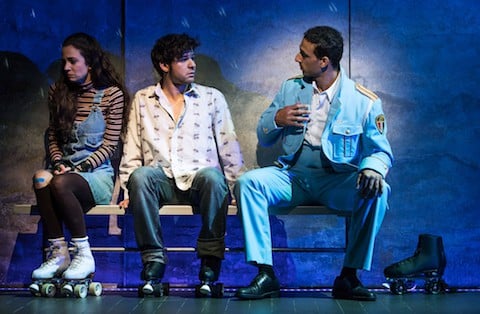 Ari'el Stachel, accepting for his featured performance in The Band's Visit, fought back tears explaining that he hid his Middle Eastern identity following September 11, encouraging people to embrace who they are: "Your biggest obstacle may be your greatest purpose." Lindsay Mendez, accepting for her featured performance in Carousel, offered a similar message, recalling early career advice that she change her name to sound less Latina: "Be your true self and the world will take note."
Also accepting for his performance in The Band's Visit, Tony Shalhoub choked up paying tribute to his ancestors who landed on Ellis Island. Director David Cromer related that musical's themes to the mental health crisis evidenced by recent high-profile suicides, urging those overwhelmed by loneliness and disconnection to reach out for help.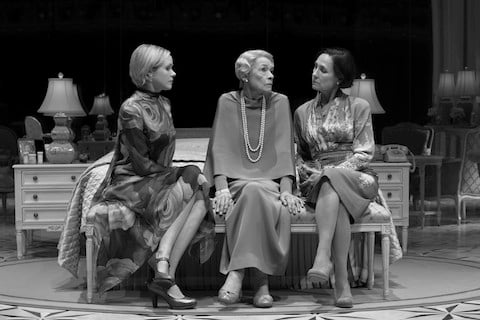 Former Labour Party MP Glenda Jackson put her gratitude most concisely, accepting the Best Actress award for her ferocious performance in Edward Albee's Three Tall Women: "There are people in this audience, in this country, in this city, from every other country in the world. And you, as always, are welcoming and kind and generous. America has never needed that more, but then America is always great."

Recent theatre features…
Starry Broadway Revival of 'The Boys in the Band' Lends Gay History a High Sheen: REVIEW
The Most Wig-Snatching Snubs and Surprises of the 2018 Tony Nominations
Time's Up? Not So Fast: 'Carousel' Is Back on Broadway: REVIEW
Get in, Losers: The 'Mean Girls' Musical Is Fun as Hell: REVIEW
In 'Three Tall Women' and 'Yerma,' Stunning Portraits of Women on the Verge: REVIEW
Andrew Garfield and Nathan Lane Star in Electrifying 'Angels in America': REVIEW

Follow Naveen Kumar on Twitter: @Mr_NaveenKumar
(photos: joan marcus, matthew murphy, brigitte lacombe)