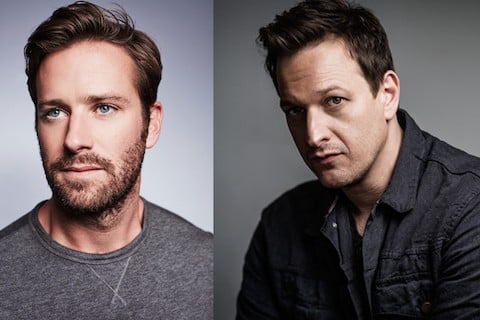 Armie Hammer and Josh Charles are horsing around, swatting at each other and throwing shapes with abandon, as the crowd titters in delight. A frame around the Helen Hayes stage bears a plaque classifying the species on display: Straight White Men, which opened there tonight.
Young Jean Lee's new play, the first by an Asian-American woman to reach Broadway, invites us to consider its subjects with a scrutiny they're rarely afforded — not as the standard by which difference is measured, but as compound constructs themselves: of whiteness, maleness, and heteronormativity.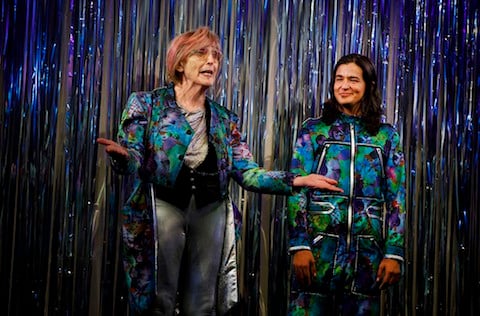 "As foreign as they are to us, we're gonna try to find some understanding for straight white men," Kate Bornstein, a non-binary performance artist, tells the audience in a pre-show speech with Ty Defoe, whose gender identity translates from the Ojibwe language to mean 'transcending gender.' "That's what we wish everyone would do for us."
Whether you're one of "us" or one of them, our hosts seem to say, it's our turn to look. The zookeepers have become the main attraction.
But the lifelike sounds and behavior exhibited by the bros assembled here (Hammer and Charles play actual brothers, along with Paul Schneider) are nothing if not familiar. Waiting for them to do something wild or confrontational, as many of Lee's previous characters have, may prove disappointing. Boys, it seems, will be boys at any age — albeit especially fun to watch when played by an able, starry cast.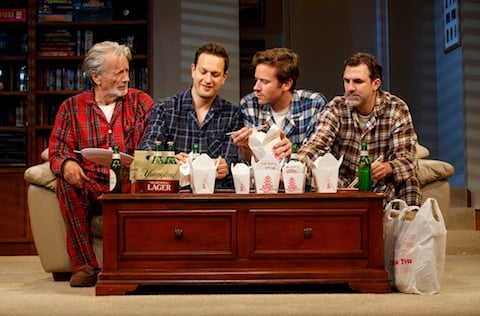 When they share a pie with dad (the brothers are home for Christmas), forks dive directly into the pan. When Charles' alpha banker returns from a run, he swipes a hand towel through his pits and drapes it over the face of his passed-out sibling, Hammer's tenure-track author. When dad (Stephen Payne) forces them all to wear matching holiday PJs, the brothers re-enter Todd Rosenthal's living room set and pose, side by side, like a boy band.
It's only when the eldest, played by Schneider, bursts into tears over Chinese takeout that we get our first hint being straight, white, and middle class may not be all laughs and leather couches.
The brothers' late mother taught them to recognize their innate advantages (her revision of their "Monopoly" board is called "Privilege" and includes penalties for being white). Schneider's character seems to have internalized this most deeply, working for community nonprofits after studying at Harvard and Stanford. But now he's living with dad and making copies as a temp. What gives?
His inertia becomes the play's primary crisis, all the more distasteful to the other men given that he's squandering every opportunity to succeed and thrive. One brother thinks it's noble self-defeat, to move out of the way and let others less fortunate past. Another thinks it's low self-esteem, and therapy is a must. It's easy to share the brothers' frustration as they try to get at what's eating one of their own, especially as the afflicted offers so little aside from saying he just wants to "feel useful."
If striving lends the disadvantaged a kind of purpose, the idea that privilege can be crippling to those born on top is certainly an inverse to consider. Lee has never been one for easy answers, but here she seems to resist even posing more pointed questions. Under Anna D. Shapiro's direction, Schneider's lost soul seems disconnected from his actions; neither here nor there, just drifting. This seems precisely the point, but watching him can feel like a similar experience — there's not much to grab hold of, try as we might, to understand.
According to the program, Bornstein and Defoe are the "People in Charge," despite their disappearance after the prologue. As they crop up between scenes to set the actors in place, it's difficult not to consider them reduced to props. They urged us to extend our sympathies to a historically dominant demographic, then scurried into the shadows, martyrs to the dark. Did they learn anything new here about their so-called subordinates? It's the most interesting question of the night.
Recent theatre features…
Jesse Tyler Ferguson Is a Gay Neo-Con in Vacant 'Log Cabin' Off-Broadway: REVIEW
Idina Menzel Opens In Off-Broadway's 'Skintight,' a Daddy-Twink Romance Where 'Hot Is Everything': REVIEW
The Grit and Heart of the 2018 Tony Award Winners Show Theatre Is More Relevant Than Ever: RECAP
Starry Broadway Revival of 'The Boys in the Band' Lends Gay History a High Sheen: REVIEW
Time's Up? Not So Fast: 'Carousel' Is Back on Broadway: REVIEW
Get in, Losers: The 'Mean Girls' Musical Is Fun as Hell: REVIEW

Follow Naveen Kumar on Twitter: @Mr_NaveenKumar
(photos: joan marcus)