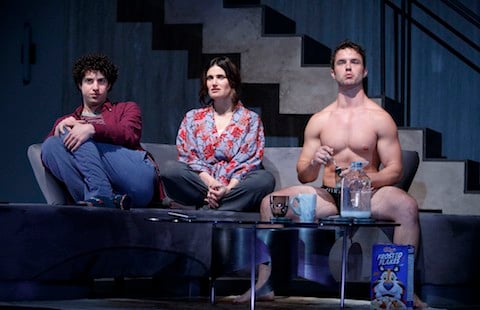 Calvin Klein's much publicized but short-lived romance with an adult film star less than half his age has become ripped-from-the-tabloids fodder for a new play by Joshua Harmon. Skintight, a witty but muddled satire of cultural fixation on youth and beauty, opened off-Broadway last night at Roundabout's Laura Pels Theatre, starring Idina Menzel as the daughter of an iconic American designer (and catnip for much of the play's target audience).
"Anything that's very beautiful only lasts a very short time," goes the unsubtle maxim tossed off by a manservant in the posh West Village townhouse belonging to Elliot Isaac (played by Queer as Folk's Jack Wetherall), plainly a stand-in for Klein. (Lauren Helpern designed the industrial chic digs.) Jeff (Stephen Carrasco), the domestic who glides around in starched whites arranging fresh flowers and delivering Diet Cokes, is a former flame of Elliot's who's gone from revolving in his orbit to skirting its margins.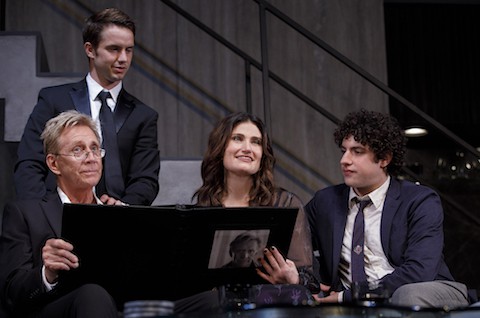 In addition to a token of acute privilege, Jeff figures as a ghost of boy toys future for Elliot's pretty young thing du jour, Trey (Will Brittain), a dim and swaggering stud who'd fit right in on SeanCody.com. When Menzel's Jodi turns up unannounced for the occasion of Elliot's 70th birthday, she scoffs at the 20-year-old's claim to being her dad's "partner." And anyway, she's much too upset about her ex remarrying a twenty-something himself to consider her dad's love life with any seriousness.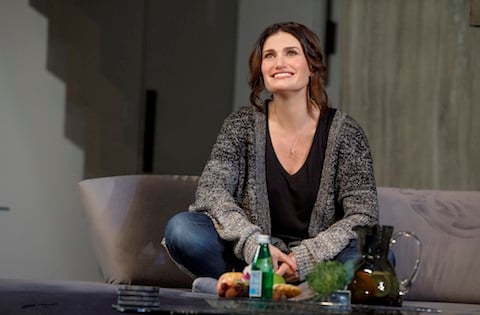 Menzel is in her element here, surrounded by gay men and lending Jodi's frenetic insecurities a comedic air that grows progressively more natural. When Jodi's son Benjamin (standout Eli Gelb) arrives, on break from studying queer theory abroad in the family's ancestral seat of Budapest, he easily feels like a stand-in for the audience, alternately bored and intrigued by the rarefied lifestyle within these walls.
Benji, who's the same age as Trey, regards Elliot's lover with a bemused indifference that naturally morphs into erotic curiosity — particularly after Trey pads into the living room in nothing but a jockstrap (hoo, boy!). Though Brittain hardly need open his mouth to feel magnetic, his small flourishes of physical comedy make him all the more so.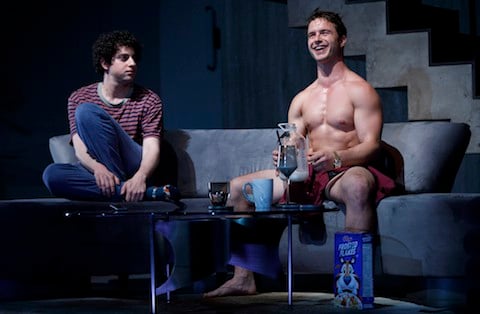 The play's gossipy origins seem to promise a juicy look behind the curtain at a celebrity May-September romance, while the production's promo art, which features Menzel's face marked up with dotted lines, suggests a treatise on cosmetic surgery. But neither and not much happens in Skintight, whose characters seem like particularly well-spoken archetypes behaving just as you'd expect them to, under Daniel Aukin's steady direction.
Nor does Harmon dig too far beneath the surface-obsessed world he only obliquely mocks. As in Admissions, an all-white sendup of affirmative action, and Significant Other, his portrait of a sad sack gay hobbled by neuroses, Harmon's clever dialogue lends a slick, comic sheen to otherwise amorphous social commentary. A recurring gag finds Elliot's maid, an older Hungarian woman (Cynthia Mace), performing physically taxing orders, brief nods to the absurdity of class disparity without bite to knock the wind out of cheap laughs.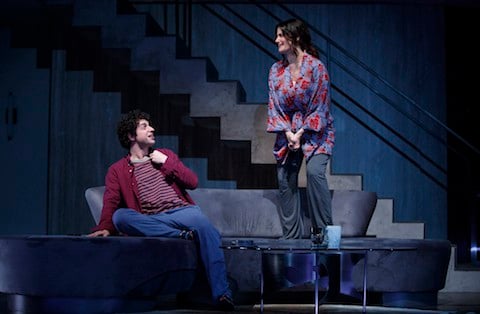 "Hot is everything," Elliot declares in defense of his craving for a man just on the other side of puberty, "still dripping with the aftermath of having been made into something." Wetherall's Elliot delivers what seems to be the lustful crux of the play with a curious kind of melancholy. Carnal desire for hot, young flesh, Harmon seems to say, makes the world go 'round.
Though Elliot articulates the point in almost uncomfortably explicit terms, it's an obvious one to begin with, as are its roots in the aging icon's fear of death. Would that the story on stage moved us to similar extremes of feeling.
Recent theatre features…
Love Between Black Men Faces Impossible Odds in 'Sugar in Our Wounds' and 'Pass Over': REVIEW
The Grit and Heart of the 2018 Tony Award Winners Show Theatre Is More Relevant Than Ever: RECAP
Starry Broadway Revival of 'The Boys in the Band' Lends Gay History a High Sheen: REVIEW
Time's Up? Not So Fast: 'Carousel' Is Back on Broadway: REVIEW
Get in, Losers: The 'Mean Girls' Musical Is Fun as Hell: REVIEW
In 'Three Tall Women' and 'Yerma,' Stunning Portraits of Women on the Verge: REVIEW
Andrew Garfield and Nathan Lane Star in Electrifying 'Angels in America': REVIEW

Follow Naveen Kumar on Twitter: @Mr_NaveenKumar
(photos: joan marcus)