There's no shortage of stories to tell about Studio 54. Ian Schrager will spill the whole teapot in a definitive doc out later this year. Miramax dished up a splashy and hollow celluloid treatment in Ryan Phillippe vehicle 54. And of course there are the legendary tales that will likely be taken to the grave.
It's tough to discern what story the creators of This Ain't No Disco, a rock opera that opened off-Broadway tonight, aim to tell about the famed nightclub. It could, at various moments, be one about access and escape, fame and artistry, the primordial uptown-downtown tug-of-war endemic to pop culture. But it is rarely any one of these for long, and the result feels like a shopworn grab bag without much clutch.
This ain't no disco, indeed.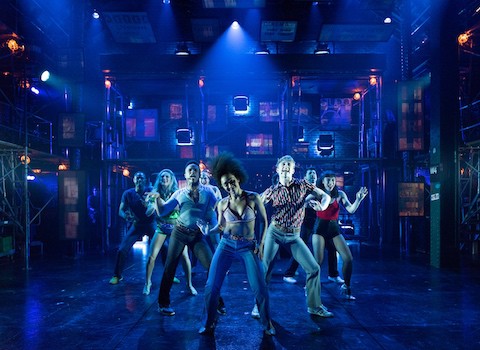 The gang of stock characters is all here on Atlantic Theater Company's main stage, including Steve Rubell himself (Theo Stockman); Warhol, known simply as "the artist" (Will Connolly, disguised under an unfortunate wig and shades); a gaudy loudmouth publicist (Chilina Kennedy), the D.A. with a hidden agenda and taste for young hunks (Eddie Cooper); the coat check girls, who are lovers and aspiring artists (Krystina Alabado and Lulu Fall).
The trials of tandem protagonists are woven throughout: One is a self-professed "teenage hustler runaway" (Peter Laprade) who knew it was time to go when Dad found his "fag rag and Jean Genet." The other is a young single mom (Samantha Marie Ware) whose brand of Joey Ramone punk bears an unmistakable resemblance to "Rhythm Nation" Janet. They are both aimless until convinced by the vague allures of fame (and its makers) to become an artist and a singer-songwriter, respectively. How else to spend your youth?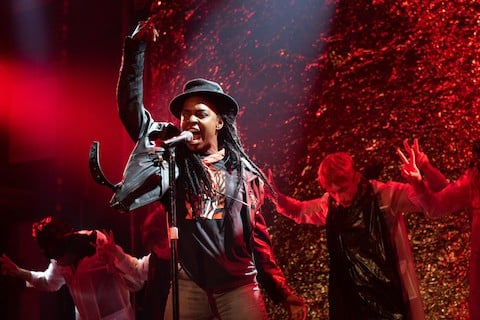 Stephen Trask teamed up with Peter Yanowitz (of The Wallflowers) on a new-wavey pop-rock score that lacks the boldness and tart flavor of his cult hit Hedwig and the Angry Inch. (True to the show's title, cribbed from a Talking Heads song, discernable disco influence is scarce.) Jersey Boys co-author Rick Elice collaborated with the pair on a book peppered with rhyming couplets and overstuffed with plot, including a rivalry with the edgier Mudd Club that winds up buried.  
Director Darko Tresnjak (Tony winner for A Gentleman's Guide to Love and Murder) struggles to differentiate uptown from downtown, or outside club doors from interior splendor — extremes that make the city tick. As a chorus of "supplicants" clamors to be let in, it's tempting to confess they're not missing much. Jason Sherwood's two-tier scaffold set, well suited to a rock opera, only modestly transforms with the descent of a disco ball and multi-colored bulbs (Ben Stanton designed the moody club lighting).
For a musical about dance clubs not to employ a choreographer seems like an odd choice (Tresnjak doesn't receive dual credit in addition to directing). When the coat girls sing a seat-of-their-pants anthem, "we just make it up as we go along," they might be speaking for half of the show's uninspired steps.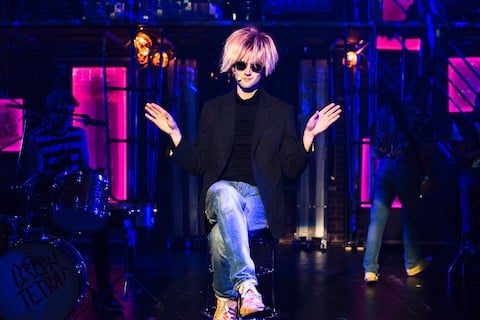 In the end, Warhol's unnamed proxy delivers an eleven o'clock number that belies his dispassion, singing "life is suffering, life is pain." He's right, of course. Isn't that why people go out in the first place? "Stop thinking and you will know," he insists. "Stop wanting and you will have, stop looking and you will see." It's a ballad about the false promise of obvious pleasures. Now that's a unifying theme for a musical.  
Recent theatre features…
Boys Will Be Boys in 'Straight White Men' Starring Armie Hammer and Josh Charles: REVIEW
Jesse Tyler Ferguson Is a Gay Neo-Con in Vacant 'Log Cabin' Off-Broadway: REVIEW
Idina Menzel Opens In Off-Broadway's 'Skintight,' a Daddy-Twink Romance Where 'Hot Is Everything': REVIEW
The Grit and Heart of the 2018 Tony Award Winners Show Theatre Is More Relevant Than Ever: RECAP
Starry Broadway Revival of 'The Boys in the Band' Lends Gay History a High Sheen: REVIEW
Time's Up? Not So Fast: 'Carousel' Is Back on Broadway: REVIEW
Get in, Losers: The 'Mean Girls' Musical Is Fun as Hell: REVIEW

Follow Naveen Kumar on Twitter: @Mr_NaveenKumar
(photos: ben arons)