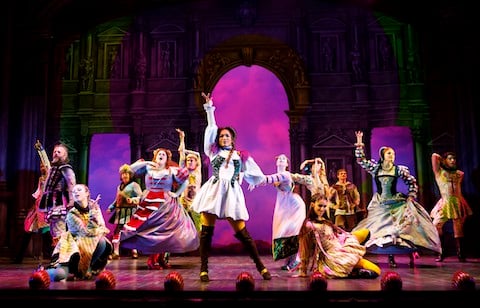 A bride's cockamamy paternity hunt was just crazy enough to make Mamma Mia! into a smash, launching a thousand jukebox copycats. Two decades later, The Go-Go's are taking the opposite tack — toppling the patriarchy Head Over Heels in an queer fantasia of a new musical that opened at Broadway's Hudson Theatre tonight.
Consider it an escapist mission for our times, wielding nostalgia and camp as its weapons of choice. The result is openly bizarre, no doubt. It's also an infectiously entertaining, french-tipped fist pump for the resistance.
Oh, yeahhh! And they got the beat.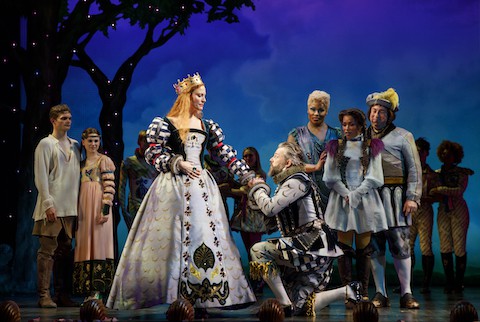 Not that there's anything overtly political about the frothy Elizabethan rom-com on which the story is based (Sir Philip Sidney's The Arcadia) or director Michael Mayer's vibrant-hued, ingeniously tongue-in-cheek production, whose aesthetic marries amateur summer Shakespeare with retro fantasy flourishes that recall She-Ra: Princess of Power.
But James Magruder and Jeff Whitty (who adapted and conceived the story, respectively) take inspired liberties in retooling this source material to jive anachronistically with the present day, and accommodate The Go-Go's brand of new wave girl pop. With lines like, "Wherefore scoffest thou?" and "Thou better workest," we're not in Sir Philip's Greco-Roman countryside anymore.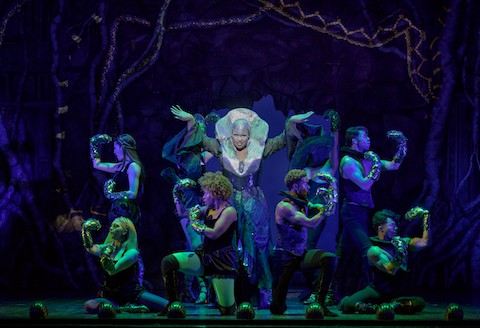 The oracle who gets this show on the road is non-binary Pythio, played in fab finery by Drag Race alum Peppermint (making the Broadway debut she deserves, and history as the first trans woman to create a principal role). Arcadia is in peril of losing its divine life force (you guessed it, that beat!) for remaining too orderly under "the iron yoke of tradition" (ugh, men). Pythio's prophecies for the king (zaddy Jeremy Kushnier) and his royal fam include a forbidden love affair, adultery, and regicide. Oh, my!
In Shakespeare as in Sondheim, the woods are where folks head to figure out who they really are away from the fetters of civilization. So off they go, where mistaken identities, cross-dressing, and sexual awakenings all carouse beneath designer Julian Crouch's flattened Rococo woodland.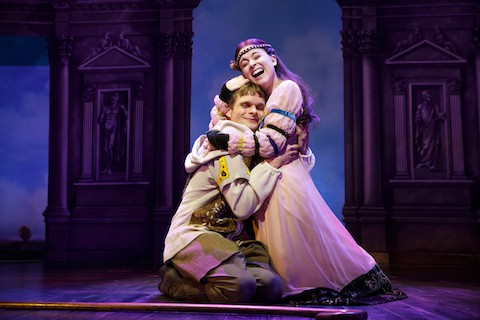 Who'd have thought The Go-Go's greatest hits were so well-suited to such Elizabethan hijinks?
"Our Lips Are Sealed" in secret romance, sing two sets of unlikely lovers: the king's youngest (Alexandra Socha) and her shepherd suitor (a kooky and ripped Andrew Durand), in Amazon warrior drag; and the eldest princess (Bonnie Milligan, a knockout) and her handmaid turned beloved (Taylor Iman Jones). The latter fleas on "Vacation" to Lesbos when the two face their first spat. A furtive liaison set to "Heaven Is a Place on Earth" delivers the most brilliant stagecraft of the night. If not every number pops with distinct flavor, neither do they feel shoehorned, or the story contorted to fit as many tracks as possible.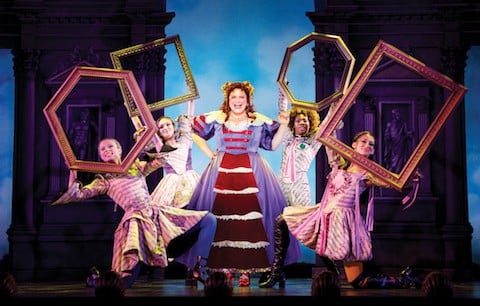 This is not to say the plot isn't twisted; a series of sharp turns near the end are enough to cause whiplash. But then, so is dancing to the Go-Go's if you're doing it right. Given the show's unwaveringly open embrace of its own absurdity, faulting it for flaunting logic or convention feels beside the point.
Playful, expressive choreography from Spencer Liff adds punch and sex appeal to a musical that ultimately considers eroticism as primal and gender as performance. When a heroine dons drag in Shakespeare (and it's always a woman's ruse), resolution depends on casting it off and affirming gender identity as fixed. Here, the very notion that gender is anything other than a false disguise gets flipped Head Over Heels — and heaven knows we can dance to that beat.
Recent theatre features…
New Rock Opera from 'Hedwig' Creator, 'This Ain't No Disco' Is Right About That: REVIEW
Boys Will Be Boys in 'Straight White Men' Starring Armie Hammer and Josh Charles: REVIEW
Jesse Tyler Ferguson Is a Gay Neo-Con in Vacant 'Log Cabin' Off-Broadway: REVIEW
Idina Menzel Opens In Off-Broadway's 'Skintight,' a Daddy-Twink Romance Where 'Hot Is Everything': REVIEW
Starry Broadway Revival of 'The Boys in the Band' Lends Gay History a High Sheen: REVIEW
Time's Up? Not So Fast: 'Carousel' Is Back on Broadway: REVIEW
Get in, Losers: The 'Mean Girls' Musical Is Fun as Hell: REVIEW

Follow Naveen Kumar on Twitter: @Mr_NaveenKumar
(photos: joan marcus)