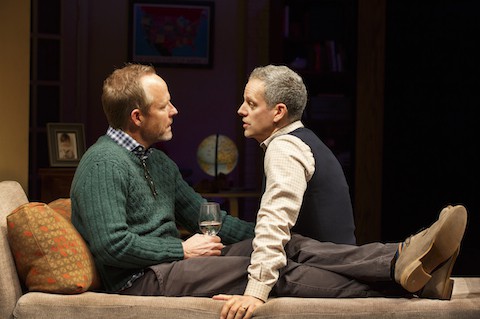 Now what? It's a question on many of our lips, and one tackled in earnest by Peter Parnell's thoughtful and elegant new play, Dada Woof Papa Hot, which opened Off-Broadway at Lincoln Center Theatre last night. Now that the door is finally wide open for gay people to get married, how will folks who never imagined starting a family — or learned to temper their desire to do so — fare now that they can? What is fatherhood like for someone who never saw parenting as a given?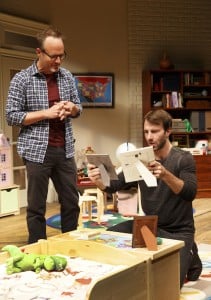 Directed with finesse by Scott Ellis at the Mitzi E. Newhouse Theatre, Parnell's play examines the dynamics of marriage and fatherhood — and the unique experience of gay fatherhood in particular — with clear and touching insight. Rob (Patrick Breen) and Alan (John Benjamin Hickey) have been together 15 years, and came to parenting relatively later in life. While they both appear to be doting dads, we soon learn that Rob has wanted kids since he was one himself, while for Alan the experience still feels somewhat unexpected. He mourns the decline of their sex life, misses the trips they used to take.
We first meet Rob and Alan on a double date with a younger couple, Scott (Stephen Plunkett) and Jason (Alex Hurt), fellow dads they met at a social gathering for gay fathers. The four hit it off, and a social schedule of play dates and a summer share in the Pines ensues. This being a play and these being gay men, of course, there's sexual tension. While Rob and Alan are monogamous, the younger men have carefully negotiated rules, mostly for the benefit of Jason, the more sexual of the two.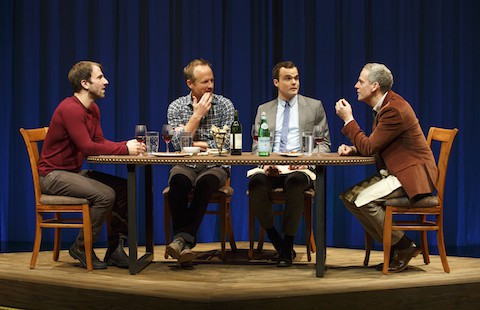 Breen and Hickey (both seen on Broadway in The Normal Heart) have an easy, affectionate chemistry, and each delivers a wonderfully sensitive performance. Hurt lends the more carnal Jason a magnetic charm, and John Pankow and Kellie Overbey offer a very New York blend of neuroses as married, longtime friends of Rob and Alan's. In many ways, the latter couple faces the same bourgeois and, in this case (sigh) white-people problems as their friends, including competitive kindergarten admissions and a rotating cast of ethnic caregivers.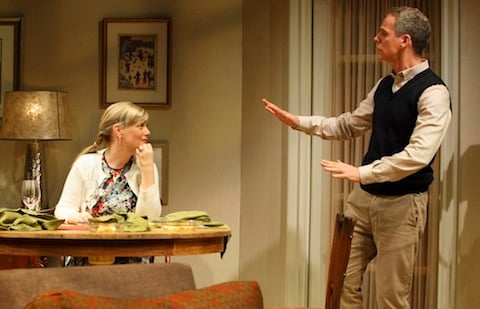 Yet Parnell tackles many of the questions that arise as gay people fight for (and win) the right to live in a way that's been, until so recently, the very definition of heteronormative. For someone like Alan, being gay has always meant a certain freedom from conformity, and suddenly being allowed to "fit in" feels if not entirely unsettling, then deeply weird. Ruminating from the floor of his daughter's playroom on how his life has turned out, Alan confesses that at times he doesn't "feel gay" anymore, and refers to parenting at one point as "playing a role."
What will parenting be like for future generations of gay people who grow up knowing it's their right? What will "feeling gay" mean to them? I can't wait to ask.
Recent theatre features…
Gloria Estefan Musical 'On Your Feet!' Congas Onto Broadway: REVIEW
The Royal Family Comes to Broadway in 'King Charles III:' REVIEW
Keira Knightley Stars in Stunning Production of 'Thérèse Raquin' on Broadway: REVIEW
Matthew Broderick and Annaleigh Ashford Bring Canine Comedy 'Sylvia' to Broadway: REVIEW
Topher Payne's 'Perfect Arrangement' Takes on Govt's Anti-Gay Witch-Hunt: INTERVIEW
Clive Owen Stars in 'Old Times' on Broadway and 'Cloud Nine' Comes to Atlantic Theatre Co.: REVIEW
Follow Naveen Kumar on Twitter: @Mr_NaveenKumar (photos: joan marcus)