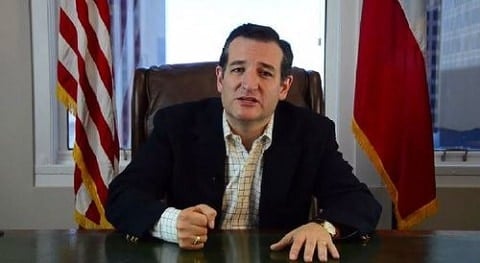 After appearing at an Iowa rally last weekend organized by Pastor Kevin Swanson, who advocates the death penalty for gay people, GOP presidential candidate Ted Cruz will host his own anti-LGBT hatefest in South Carolina on Saturday.
Cruz's "Rally for Religious Liberty" will be held at Greenville's Bob Jones University, which once famously argued that its racist policies were protected under the First Amendment.
Among the speakers at Cruz's event will be Tony Perkins, president of the Family Research Council, an anti-LGBT hate group; would-be reality TV stars the Benham brothers, and anti-gay Houston activist Dave Welch.
Right Wing Watch reports:
Just as Swanson believes that "the homosexual Borg is the power in the principality of the demonic world," a number of the Religious Right activists who will be speaking alongside Cruz in Greenville have claimed that their battle against gay rights is really a spiritual war against Satan. …
Cruz's rally, similar to one he staged in Iowa in August, is part of his ongoing effort to woo evangelical voters. The New York Times reported today that Cruz's campaign has identified 411 key national evangelical leaders, and he's secured endorsements from 191 of them.
The junior senator from Texas is currently fourth in most GOP primary polls, behind Ben Carson, Donald Trump and Marco Rubio.
Meanwhile, veteran gay journalist Michelangelo Signorile is taking the mainstream media to task for failing to adequately report on Swanson's rally last weekend, which was also attended by GOP presidential hopefuls Mike Huckabee and Bobby Jindal:
Indeed, if Ted Cruz — or Huckabee or Jindal — attended an event at which the host hinted at mass murder of Jews, African-Americans or any other group it would be a massive media story. He'd be forced to answer questions about it, at debates (and it didn't come up at the last debate), in press conferences and in interviews non-stop. He'd be pressured to condemn both the comments and the pastor — as when John McCain had to dump Pastor John Hagee in 2008 because of his ugly comments about Catholics — or he'd face the consequences. …
Swanson may not be Huckabee's, Jindal's or Cruz's own pastor, but they attended a hate conference organized by Swanson, who introduced them onstage, in the middle of a presidential primary race. The fact that it seems to be viewed as just another ho-hum campaign stop suggests we've not come as far on LGBT right as we all like to tell ourselves.
Earlier this week, Cruz dodged a question from CNN's Jake Tapper about his appearance at Swanson's rally, saying, "Listen, I don't know what this gentleman has said and what he hasn't said."