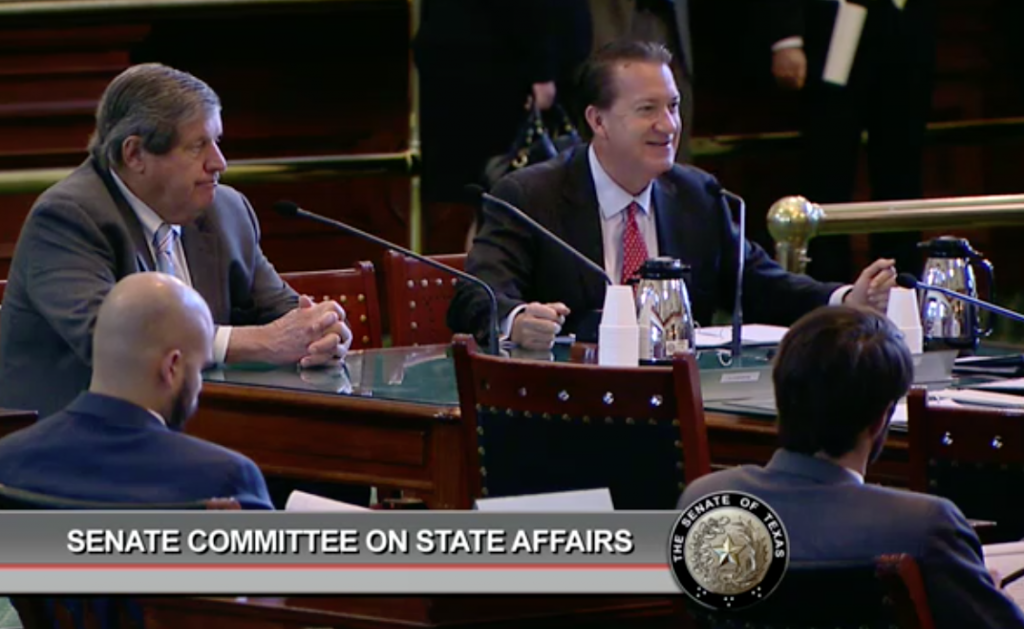 Right-wing Texas legislators must feel like grounded teenagers.
All their bigoted friends from other states are out having fun — filing more than 150 anti-LGBT bills across the country, mostly in the name of "religious freedom" — which is pretty much the legislative equivalent of banging hot cheerleaders.
https://twitter.com/andreagrimes/status/699981391618945024
But Texas lawmakers violated their curfew last year, when they stayed out past midnight by filing a record number of anti-LGBT bills, but couldn't get any of them passed to seal the deal. Now, mired in blue balls and penis envy until 2017, they're forced to sit at home in their rooms and watch porn about militant homosexuals persecuting God-fearing Christians.
And it must be a pretty intense fantasy, because Wednesday's interim hearing of the Senate Committee on State Affairs — conveniently scheduled for the second day of early voting in Texas' primaries — lasted over three hours.
The committee heard from witnesses including Texas Values President Jonathan Saenz, who undoubtedly got lawmakers hot by conjuring images of his lesbian ex-wife, and Texas Eagle Forum President Cathie Adams, who must have been surprised to be there given she predicted America would end if the Legislature didn't act last April.
Saenz: Local nondiscrimination laws protecting sexual orientation/gender identity are bad for biz, create contentious environment. #txlege

— Chuck Lindell (@chucklindell) February 17, 2016
Full disclosure: I was on a press call about Houston bigot Dr. Steve Hotze being labeled a walking anti-LGBT hate group, so I didn't catch the entire hearing. But I'm pretty sure there was also a pastor from one of Texas' many "Cowboy Churches," one of which was recently rocked by a child sex abuse scandal. And I could have sworn I caught a glimpse of anti-LGBT Houston attorney Andy Taylor (pictured above), who told lawmakers they should loosen signature requirements to make it easier for anti-LGBT groups to commit fraud and forgery when circulating petitions to repeal local nondiscrimination ordinances. There was even an appearance by Irion County Clerk Molly Criner, who traveled all the way to Austin from West Texas, presumably on the taxpayers' dime, to talk about how she idolizes Kim Davis.
"We should make sure legibility is not used as a sword to prevent well-intentioned people from voting," Taylor said. #txlege

— Kelsey Bradshaw 🦇 (@kbrad5) February 17, 2016
In other words, for those of us masochists who are into this stuff, the hearing was pretty vanilla. But the question remains, if these wingnuts were unable to finish last year, who's to say they'll get any luckier in 2017?
After all, they'll still be up against the cock-blocking Texas Association of Business, the state chamber of commerce whose CEO warned them yet again during Wednesday's hearing that this type of deviant behavior is bad for business.
In fact, it was socially conservative pimps like Saenz and Adams who ratted out these lawmakers by demanding that Gov. Greg Abbott call a special session to take on the high court. Abbott just wasn't in the mood, so Lt. Gov. Dan Patrick compensated for his own inadequacy by giving senators some "interim charges" related to religious liberty (think erotic electrostimulation).
Thanks to Lt Gov @DanPatrick and Senator @JoanHuffman for holding a hearing to shine light on protecting our religious liberties. #txlege

— Attorney General Ken Paxton (@KenPaxtonTX) February 17, 2016
Some Texas Republicans even thought about running away from home and seceding from the Union, but alas they came crawling back to their domineering mother, the First Amendment — amid Deliverance-like screams from one GOP candidate about being bent over and dominated by "the gay agenda."
Despite all the titillating talk, though, senators seemed unable to resolve their frustrations, and at the end of Wednesday's hearing, they didn't really have anything to show for it.
That's right, even in Texas, anti-LGBT bigots have become largely impotent. But like obsessed teenagers, they'll never stop trying, so we can't let our guards down, because you never know when they might get their hands on some Viagra.