Donald Trump apparently has a Women for Trump' bus tour and it made a stop at Orlando's Pulse nightclub last week, the site of the deadliest anti-LGBT attack in U.S. history.
Conservative outlet The Washington Times reported on the visit as did alt-right (read: white supremacist) site Breitbart.
Honored to pay tribute to the victims of the #PulseNightclub & sign the names of friends who care too. 🌈 #LoveWins pic.twitter.com/9IFtYxKDoy

— 🇺🇸 Lynne Patton (@LynnePatton) October 27, 2016
Paying respects at the memorial were Donald Trump surrogates, including daughter-in-law Laura Trump, "The Apprentice" star Omarosa Manigault, Trump Organization executive Lynne Patton and YouTube sensations Lynette "Diamond" Hardaway and Rochelle "Silk" Richardson.
They laid a wreath and bouquets of flowers at the makeshift memorial. They also wrote messages on the canvas-covered fence surrounding the building that is covered with handwritten remembrances for the victims and pleas for peace.
After the women left, a message written on a large hart-shaped drawing on the canvas read: "You will forever be in our hearts, love from NYC."
Good morning, #Orlando! ☀️ @TrumpWomensTour @LaraLeaTrump @OMAROSA @DiamondandSilk @KatrinaPierson @KatrinaCampins pic.twitter.com/lqvkqfj0Gk

— 🇺🇸 Lynne Patton (@LynnePatton) October 27, 2016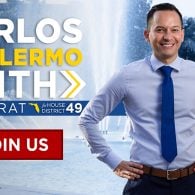 Gay rights activist and Democratic House candidate Carlos Guillermo-Smith was visiting Pulse with survivor Angel Santiago when the Trump bus arrived. Calling the visit "unbelievable", Guillermo-Smith blasted the Trump campaign's repeated stoking of intolerance: 
 "I just hope there is a lot of reflection in the Trump campaign about their response to this tragedy. The Trump campaign in its entirety is a campaign based on hate, racism and bigotry…His call to action immediately after the shooting that LGBT Floridians needed to turn against our Muslim brothers and sisters, and join him — it's hate mongering and fear mongering, and he should be ashamed of himself."
The visit from 'Women for Trump' came just days before Hillary Clinton herself campaigned at a gay club in Wilton Manors, Florida, telling the crowd, "Make no mistake: LGBT rights are at stake" in this election. Clinton also sharply denounced anti-gay conversion therapy.
Clinton visited Pulse in July, a little over a month after the horrific attack.
.@HillaryClinton visits memorial outside Pulse nightclub in Orlando pic.twitter.com/HtIvMXm0vi

— Amy Chozick (@amychozick) July 22, 2016
Trump, the self-proclaimed 'true friend' to the LGBT community, still has not visited Pulse. Though he did respond in disgusting fashion to news of the attack only hours after it happened.
https://twitter.com/realDonaldTrump/status/742034549232766976?ref_src=twsrc%5Etfw
Trump also attended an anti-LGBT hate conference just miles from the Pulse massacre that began on the two month anniversary of the attack and set up a campaign office across the street from Pulse. 
Trump's campaign shows no sign of backing down from its attempt to paint itself as pro-LGBT despite Trump's horrible record on LGBT rights, including his coziness with the anti-LGBT right, his choosing anti-LGBT political operatives to run his campaign, his presiding over the most anti-LGBT platform in the Grand Old Party's history, his support for the vilest 'religious freedom' bill of our time, and his desire to appoint anti-LGBT justices to the Supreme Court. 
So a note to 'Women for Trump', Trump himself, and Republicans courting the LGBT vote: being a friend to the LGBT community is more than a photo-op. If you want to be counted as a friend to the LGBT community, you have to do more than lay some flowers and sign a nice message, or in Donald's case, send your surrogates to do so. For starters, maybe try to avoid inciting hatred, currying favor with anti-LGBT bigots, and backing draconian anti-LGBT policies.