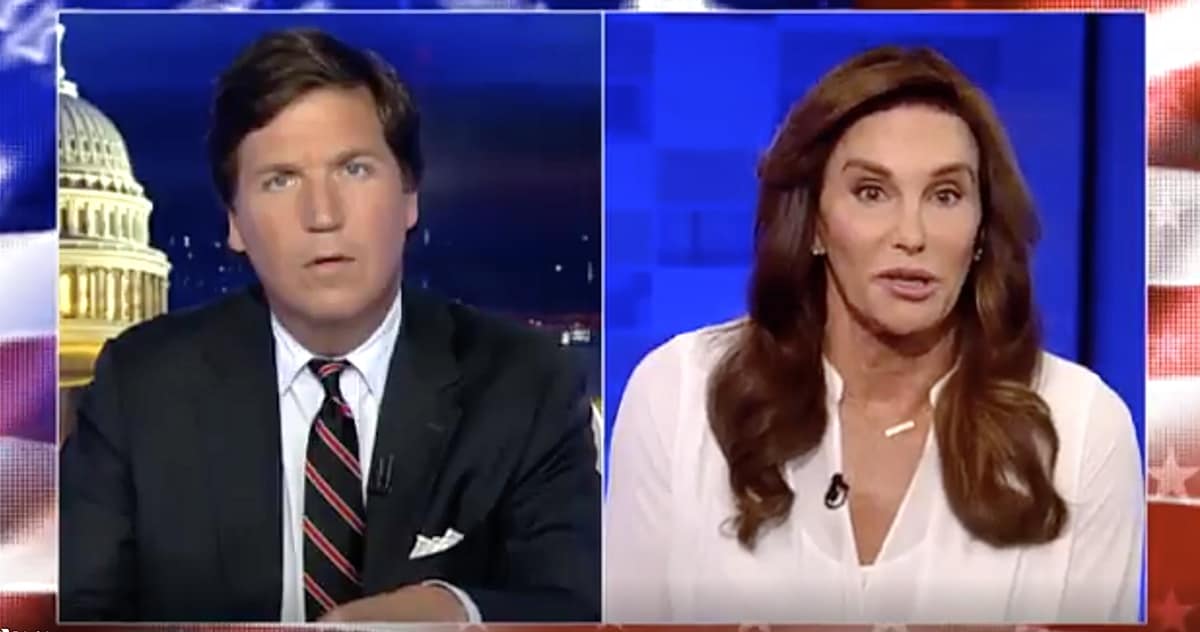 Caitlyn Jenner still doesn't understand that you can't be voting conservative Republican and claim to support the LGBT community.
"I never actually came out and outwardly supported Trump. The media did that for me," she told Tucker Carlson in his first gig in the 8 pm time slot on FOX News.
Jenner never "outwardly" supported Trump except for that interview in June 2016 when she said "…Trump seems to be very much for women. He seems very much behind the LGBT community because of what happened in North Carolina with the bathroom issue. He backed the LGBT community."
"I'm on the Republican conservative side," Jenner explained to Carlson. "And he wound up being our candidate. And so certainly I was going to vote for him. He looked like he would be pretty good on all LGBT issues, which is important, because my loyalties do not lie with Donald Trump. My loyalties do not lie with the Republican party. My loyalties and what I am fighting for is my community, the LGBT community and particularly the trans issues that are out there, because there are many of them. And so that's where my fight is. I thought Trump would be pretty good. But he's kind of disappointed me in the first 100 days."
Watch:
.@Caitlyn_Jenner: Pres Trump has disappointed me in the first 100 days pic.twitter.com/sgyjX2DIMn

— Tucker Carlson (@TuckerCarlson) April 25, 2017
Jenner supported Ted Cruz for president during the campaign, saying she wanted to be his ambassador for transgender issues, blasted Hillary Clinton as a "f**king liar", and pulled a bathroom stunt at Trump Tower in Manhattan in an attempt to show how trans-inclusive Trump really is.
Jenner sees herself as a change maker within the Republican Party for LGBT people.
Republicans need help understanding LGBTQ 🏳️‍🌈 issues and I'm here to help!

— Caitlyn Jenner (@Caitlyn_Jenner) January 18, 2017
Said Jenner on Any Given Wednesday in August:
"I am here to help the entire Republican Party do a better job when it comes to LBGT issues. For that reason I stay on the conservative side. Now, the Republican Party obviously is – they are not, have not, been as good as it comes to LBGT issues and social issues. And so I have kind of positioned myself with the Republican Party, of trying to help these people kind of understand what the issues are for the LBGT community. And obviously, in my case, the 'T' portion."
Added Jenner:
"We have a lot of issues. We have a nine times higher suicide rate than the general public. Young kids especially. Very prone to bullying. Not fitting in. The murder rate is way way too high of trans individuals. Hate crimes towards trans people. Maybe I can help the Republican Party do a better job when it comes to these types of issues."
Last December,  Jenner met with Samantha Power, the United States ambassador to the United Nations, who praised her for efforts to raise the profile of transgender people.
Jenner suggested that she's "comfortable" with the issues here in the U.S., a remark that didn't sit well with trans activists here who have called her "an insult to trans women" and claim that because of her privilege, wealth and fame she is out of touch with the discrimination, poverty, and marginalization issues faced by transgender women day to day.
Of course, after claiming that she advocates for the trans community, Jenner still voted for the anti-LGBT GOP in 2016 despite a slate of candidates who were vocal and expressive about their opposition to LGBT issues.