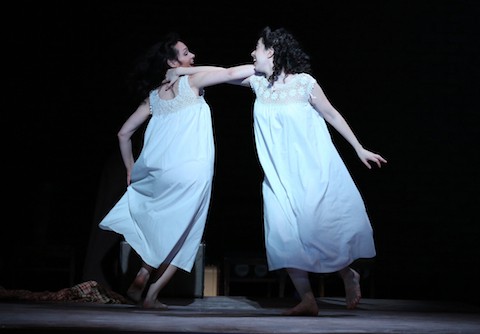 Some works of art grow even more urgent as contexts shift around them. Indecent, a thrilling and poignant new play that opened at the Cort Theatre last night, may have been 20 years in the making, but its story of scandal and struggle could hardly be more timely.
Pulitzer-winner Paula Vogel and director Rebecca Taichman both make triumphant, long-awaited Broadway debuts with proof that a lyrical, ensemble-driven drama about a Yiddish theatre troupe can walk off with an entire season.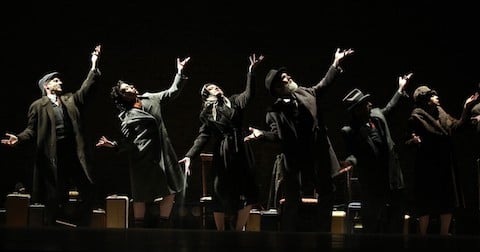 The decades-spanning story begins in Warsaw at the top of the 20th century. As the players stand to greet us, dust pours from their sleeves and trousers (in as haunting an image as I've seen on stage in years); a supertitle projected through the darkness elaborates: "from ashes they rise." This company of seven inhabits every character in Vogel's deft, poetic, and utterly entertaining account of the controversy that greeted another, older play, Sholem Asch's 1907 Yiddish drama The God of Vengeance.

In Asch's play, a teenage girl from an Orthodox Jewish family falls in love with a prostitute — who works in the brothel that her father runs downstairs. The uncanny forbidden love between the two women, as we learn, is the heart of Asch's achievement. No surprise, the play's Jewish critics were mortified that the salacious story would reflect badly on their already ostracized people. But the artists choose truth and art over pressures to act as a paragon for all Jews.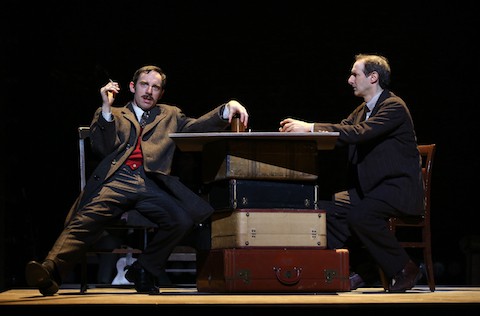 Moving rapidly in time and place, Indecent follows Asch's play from the hands of his wife, poring over it for the first time, to a troupe performing it all across Eastern Europe, and nearly 20 years later, to its premiere on Broadway — where the whole company is brought up on charges of indecency. The journey is a deeply felt and challenging exploration of language, freedom of expression, the struggle for belonging, and ultimately, love.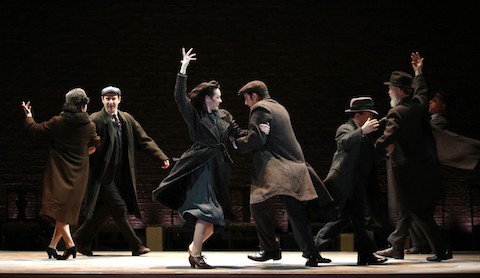 As befits a play about artists invested in the integrity of art, Taichman's ensemble cast has been collaborating on the development of the production for two years, including at the Vineyard Theatre off-Broadway, where it appeared last June. Every one of them delivers beautiful characterizations, including a striking Katrina Lenk as various iterations of a woman in love, and Mimi Lieber as a mother many times over.
Taichman's fluid, mesmerizing production is masterfully staged on Riccardo Hernandez's black set — bare save for an embellished gold proscenium and stacks of suitcases for its itinerant people. Woven together with movement (David Dorfman did the expressive choreography) and bouts of klezmer instrumentals (Lisa Gutkin and Aaron Halva composed, and also help perform, the music), the story flows together and forward as in a dream — even when confronting the nightmare the that looms on the horizon.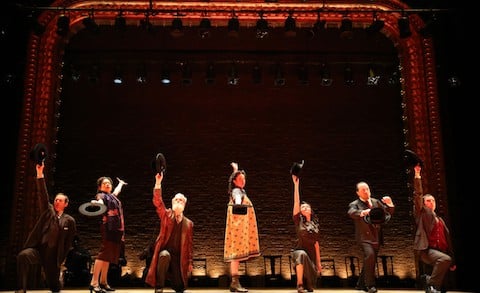 "It won't happen here. We're safe here," Asch's wife insists from America.
This is years before the hatred simmering in Europe bubbled over and consumed her people by the millions. It's a chilling sentiment, the truth of which, perhaps, has never been less certain.  
Follow Naveen Kumar on Twitter: @Mr_NaveenKumar (photos: carol rosegg)