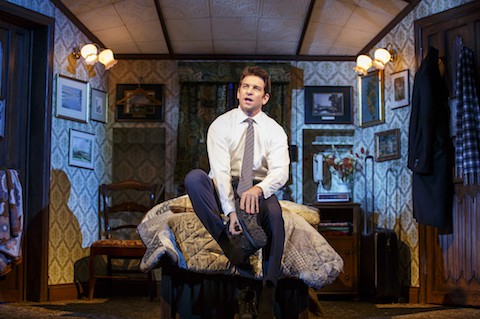 The most satisfying moment in Groundhog Day, an ambitious but disjointed new musical that opened last night at the August Wilson Theatre, comes when Phil, its smarmy weatherman protagonist, finally takes a knee to the groin.
The well-deserved blow is delivered by Rita (a lovely Barrett Doss), Phil's producer who — along with the rest of us — has spent the first hour of the show wondering how any man could be so egotistical, misogynistic, and deluded about his own importance, all based on a two-bit TV gig.
Sound familiar?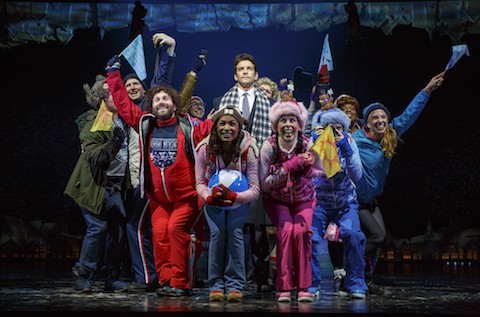 Phil, as played by a tireless but too-handsome Andy Karl, is essentially white male privilege personified. If, for whatever reason, watching him bristle and turn his nose up at a funhouse parody of small-town America doesn't sound like a great time to you, you may want to sit out act one — Groundhog Day's perfectly enjoyable second half might even make more sense to you that way.
Besides, you're likely familiar with the plot of Harold Ramis' 1993 comedy, adapted for the stage here by its co-writer Danny Rubin. Phil, a big city weatherman from Pittsburgh, travels to report on Groundhog's Day from Punxsutawney, PA, where winds up reliving that same bizarre holiday over and over. Bewilderment ensues, then recklessness, despondency, and benevolence, before love finally sets Phil free.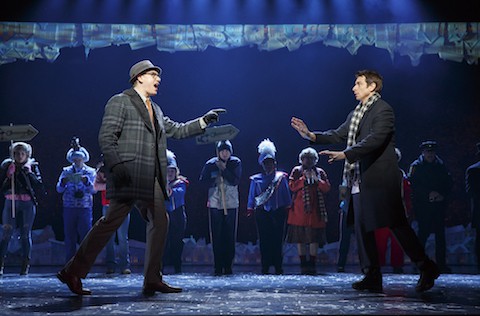 But unlike Bill Murray's character in the movie — a deadpan average Joe with a chip on his shoulder — Karl's Phil is a hunk, and he knows it. His libido quickly becomes act one's driving narrative force (among his first gripes upon waking up in this shit town is his "pointless erection").
This Phil is used to having any woman he wants and turns his personal time warp into a chase for tail, first setting his sights a local named Nancy (Rebecca Faulkenberry), before moving on to Rita (and, as we learn in a later aside, the rest of the town).
Rita, for her part, is not so easily won. Thirtysomething and career-focused, she's circumspect about the fairy-tale idea of romance she was fed as a girl, even while admitting she wouldn't mind if her prince came along. It's to the show's credit that Rita, and even Nancy, who opens the second act with a curiously placed number about always playing the pretty one, voice their own desires, even if only to pay them lip service.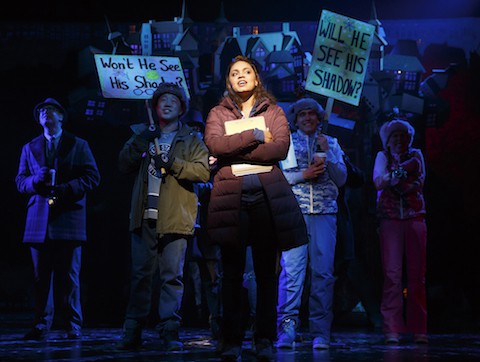 Fortunately for Rita (and for us), Phil returns from intermission a changed man. After a suicide montage marks his breaking point, suddenly Phil is using his powers for good, bent on making everyone's day and unwittingly turning into Rita's ideal man in the process.
That it's impossible to trace this man back to the jerk we met at the top of the show is a stark discontinuity, but boy, is it a blessing. Rita and reformed Phil's recurring 24-hour love story becomes one to root for, however much you enjoyed the aforementioned shot to his crotch.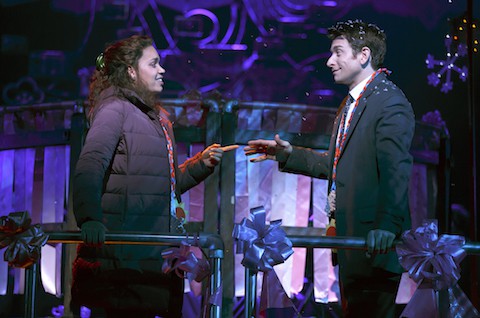 Once the show lurches past its repetitive and busy setup, the pleasures of director Matthew Warchus' imaginative staging are easier to appreciate. Though the crammed-together facades of Rob Howell's ever-shifting set are more provincial Europe than small-town America, the elaborate physical production conjures delightful bits of stage magic in tune with the plot's bizarro premise (though the performance I attended had to pause for technical trouble).
Fluid and at times fantastical choreography by Peter Darling and Ellen Kane bring the dream-like vibe into the bodies of the performers. Composer-lyricist Tim Minchin, who also collaborated with Warchus on Matilda The Musical, delivers a buoyant and satisfying score that likewise takes off once freed from its initial broken-record mode.

The London-born production, which won the Olivier for Best New Musical just last week, presents a distinctly British take on the American cult film, and, perhaps incidentally, an indicting view of our culture — a leading man all swagger and entitlement, out of his element among grating and cartoonish working class townies. Ultimately, it's all in good fun, if maybe a little too close to home.
Follow Naveen Kumar on Twitter: @Mr_NaveenKumar (photos: joan marcus)