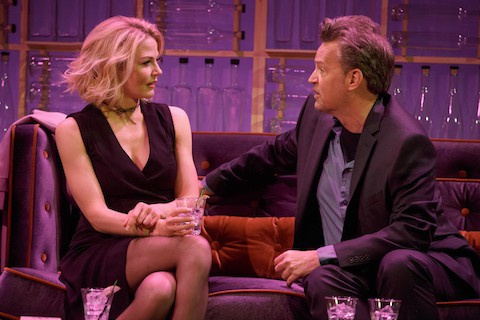 The End of Longing is banking on your love of shiny things. Chief among them is Matthew Perry, who wrote and stars in the four-person play, which opened off-Broadway last night at the Lucille Lortel Theatre. The former Friends star also says that the alcoholic lothario he portrays is an exaggerated version of himself, lending the show air of behind-the-scenes voyeurism.
It is undoubtedly courageous of Perry to write and perform a character inspired by his storied struggle with addiction. But The End of Longing feels about as vacuous and void of nuance as the clear, empty liquor bottles stacked into Derek McLane's shiny reversible set. Director Lindsay Posner's production for MCC Theater spins around and around various L.A. bedrooms and bars, gaining little momentum.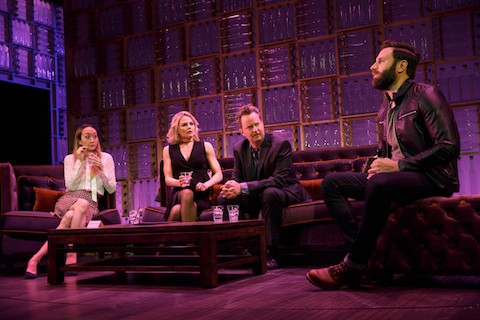 This is fiction, but it's also pure male fantasy. We meet Jack (Perry) perched at a watering hole, introducing himself to every woman who passes by (like a creep). In walk Stephanie (Jennifer Morrison), poised, beautiful, and unusually affable; and Stevie (Sue Jean Kim) high-strung, manic, and very impatient. They are essentially caricatures of what some men think All Women Are Like, trotted out in dated pumps for a story whose premise basically amounts to "two women walk into a bar…"
Stevie is desperate for the guy she slept with just four hours ago to return her text. And what a small world! In walks Jeffrey (Quincy Dunn-Baker), who happens to play softball with Jack. Stephanie, as it turns out, has an infinite capacity for skeevy BS, of which Jack is an endless font. It's not until they wake up after a night of "just spooning" that Jack learns she's actually a high-end escort — and! — really wants to have sex with him for free.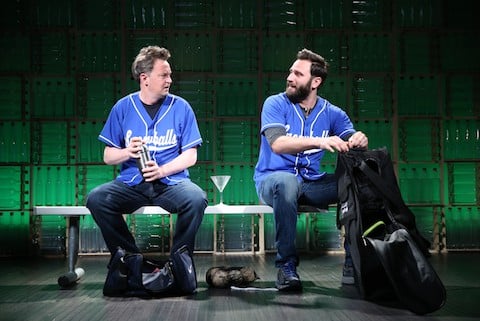 As relationships grow between the two pairs, Perry proves better at writing for others; the unlikely romance between Stephanie and Jeffrey feels believable and sweet, despite eye-rolling details like her career at a pharma company for antidepressants and boner pills. The appeal of their story is also largely thanks to Kim and Dunn-Baker, who have a natural chemistry and ease on stage.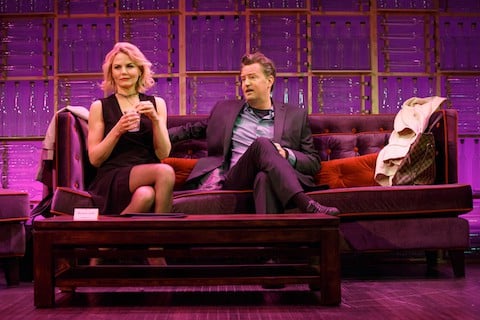 But the same cannot be said of Perry, whose rather robotic performance is a far cry from the on-screen roles for which he's known (yes, particularly the zany Chandler Bing). It doesn't help that Jack and Stevie are written as little more than stock characters (the drunk, the prostitute) whose backstories default to the lowest common denominator (bad breakup, daddy issues).
People change. At least, that's the moral Perry wants his story to prove. And it's true, even if audiences don't feel particularly altered by these 100 minutes.
Follow Naveen Kumar on Twitter: @Mr_NaveenKumar (photos: joan marcus)