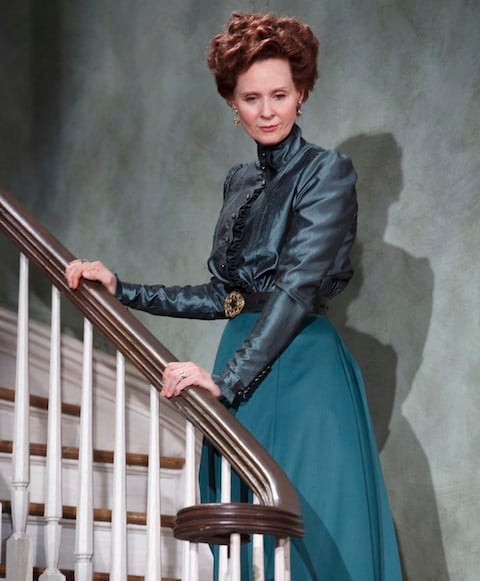 As you watch Cynthia Nixon and Laura Linney tackle the vastly different women at the center of Lillian Hellman's The Little Foxes, your mind may begin to play tricks. It's a testament to the stars' immense versatility that audiences are sure to wonder what it'd be like if the two switched roles, as they do every other performance in Manhattan Theatre Club's seductive new revival, which opened at the Friedman Theatre last night.
After some hand wringing, I chose to see Nixon in the role of Regina, all avarice and sharp rejoinders, perfectly put together even when she descends to breakfast in her dressing gown.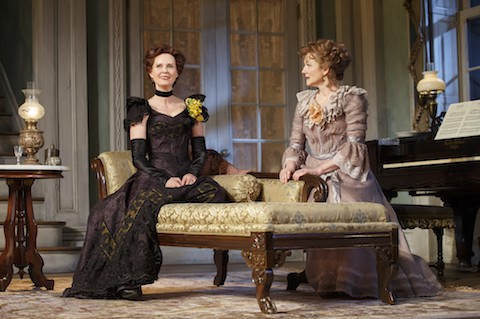 We're in Regina's home, a money-colored Southern estate designed by Scott Pask, luxurious and high-ceilinged if a little worse for wear. The Civil War is some decades over, and the Hubbard family fortune is divided among Regina's two brothers. Now that they're planning to get even richer by opening a cotton mill, Regina wants to finally get her share. All she needs is her browbeaten husband, Horace (an excellent Richard Thomas), to put up the money, and she'll use her profits to live her best life and escape to Chicago.
Horace's heart is going, and their daughter Alexandra (Francesca Carpanini) is grown and ready for marriage — it's finally Regina's time.
Of course, nothing involving family, money — or a loveless marriage — is ever simple.
Between Regina and her sister-in-law Birdie (Linney on the night I attended), it's hard to say whose marriage is more miserable. Regina, at least, manages to sometimes have the upper hand, or behave as though she does. Birdie, whom Regina's smarmy brother Oscar (Darren Goldstein) married for Birdie's family land, is open-hearted but put-upon and utterly trapped by circumstance. Flighty where Regina is regal, she loves music and dotes on her niece, but otherwise drowns out her surroundings in drink.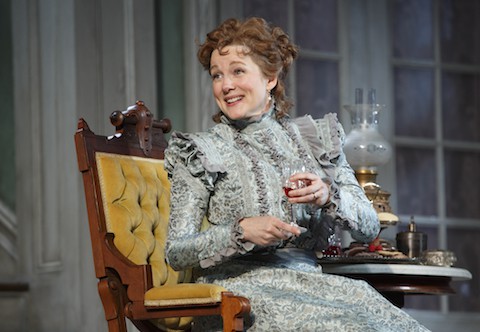 When Birdie's unspoken truths bubble over in a second-act emotional meltdown, Linney's delicately daffy and devastating performance elicited the only exit applause of the night. With her broad vocal register shading in every color, it was as arresting a scene as I've seen on stage all season.
Nixon, renowned for embodying buttoned-up, self-possessed characters whose interior turmoil flashes vividly on the surface, is firmly in her element as Regina. Though perhaps less obviously imposing than others might be in the role (including Linney), Nixon's Regina has a mind three steps ahead of everyone else, racing with a haughty assuredness that she'll get what she wants.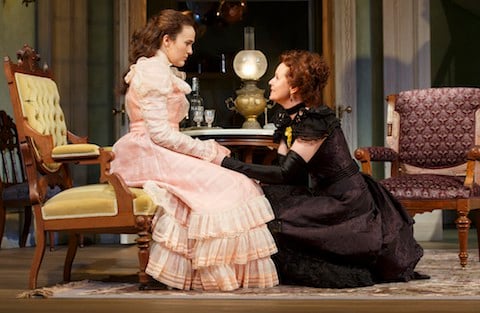 Director Daniel Sullivan's finely tuned production features a strong ensemble cast, including Caroline Stefanie Clay and Charles Turner as integral household hands, who double as shadows of the sins of slavery. Wrapped in this beautiful package (Jane Greenwood designed the decadent costumes, Justin Townsend the cascading lights) is a precient warning about the consequences of greed carried on the backs of a subjugated, Black lower class.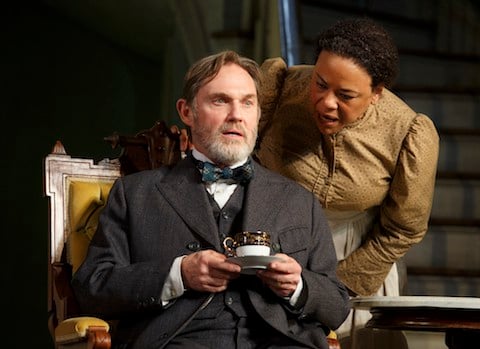 Regina certainly isn't exempt from censure as Hellman questions what's possible for women, how they might break free to get what they want — and at what cost. In fact, she has the most to atone for of anyone.
"Are you afraid, Mama?" Alexandra asks after their final confrontation, which finds Regina ascending the stairs, staring down a life alone. If she knew her mother as well as we do, she'd know the answer is probably not.
Follow Naveen Kumar on Twitter: @Mr_NaveenKumar (photos: joan marcus)