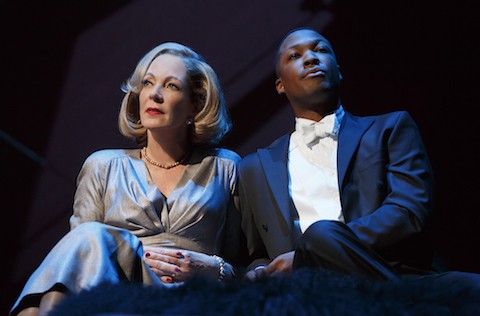 By the time a naked hustler tumbles onto the stage of the Barrymore Theatre, where a stylish but tame revival of John Guare's Six Degrees of Separation opened last night, the man who snuck him into a couple's posh Manhattan apartment ought to seem like a seductive and menacing sort of mystery.
Rewind some minutes, and recounting that fateful night with smooth, quick wit are the Kittredges: Ouisa (Allison Janney, in command of the whole show) and Flan (John Benjamin Hickey, somehow perfectly ruffled and buttoned-up). They're independent art dealers in the midst of courting an investor for $2 million — so the stakes are relatively high when Paul, a young Black man bleeding from his belly, bursts in claiming he's been mugged and is a friend of their kids' from Harvard.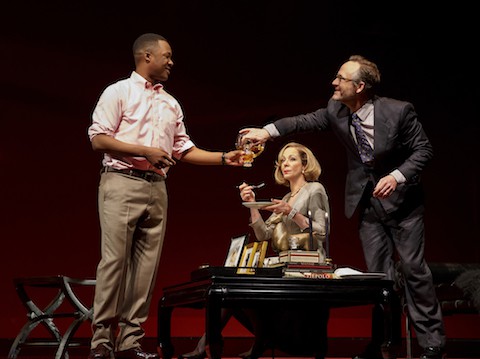 When he also says he's the son of Sidney Poitier — and that his venerable dad is directing a movie version of Cats (!) in which he might snag them walk-on roles — he has the room eating from the palm of his hand; before long, they're savoring the gourmet dinner he whipped up in their kitchen and soaking up his circular musings on Catcher in the Rye, too.
It's a feat for a charming, magnetic conman (such as the real one who partly inspired Guare's 1990 play), but here the conceit is less than wholly convincing. Corey Hawkins, who broke out on screen in Straight Outta Compton and stars on Fox's 24: Legacy, chatters through the con with a casual, flat sort of cheer, hardly slowing to allow his words or the circumstances a chance to breathe and fan out. (More persuasive is the brief flashback to a time before the act.)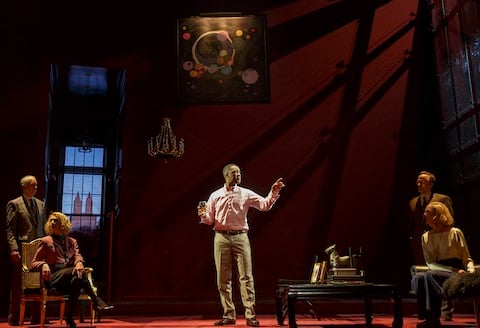 The Kittredges in director Trip Cullman's droll, slick production don't need much convincing to take in a stranger, who seems perfectly nice, if not altogether captivating, in their own recollection of events. But when it becomes clear that "Paul" duped them, and others in their circle, they set out to discover how, and why, he did it.
The how would certainly be less of a mystery any time in the past 10 years (Google, duh), though it was certainly a more dramatic question in the far less connected world of 1990, when this production is squarely set (see Clint Ramos' John Hughes-inspired costumes on the growly college kids for definitive proof). Why he did it, though, hasn't changed at all, and is still what makes Guare's drama so probing and provocative.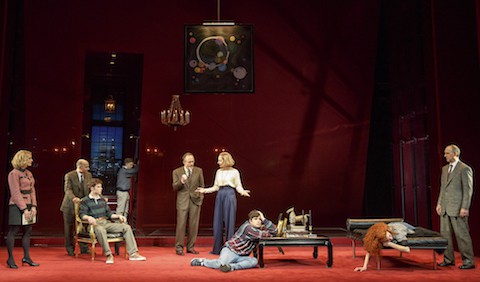 There are two sides to every story, a truth beautifully illustrated by the double-faced Kandinsky suspended over Mark Wendland's red, abstracted set.
Marginalized by his sexuality, race, and most especially his means, Paul perfects the tools he needs to experience how the other half lives — how to dress and behave, how to talk and what about, and most importantly, what other people need to hear. Realizing that Paul coveted the life in which she feels so stuck, Ouisa is compelled by the intrinsic nature of human connection and the idea of six degrees of separation (one first set out in the early 20th century, and popularized by this play).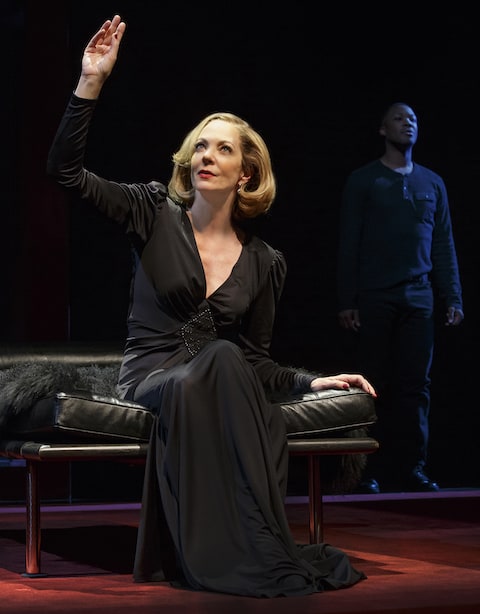 We may not find the concept of interconnectedness as astonishing as it once was, for reasons obvious to anyone reading this on their device of choice. But in the online whir of everyday life, it's easy to assume we know who people are, and overlook the most essential parts of them, even as they stand all around us. Just ask anyone staring into their glowing screen at intermission.
Follow Naveen Kumar on Twitter: @Mr_NaveenKumar (photos: joan marcus)