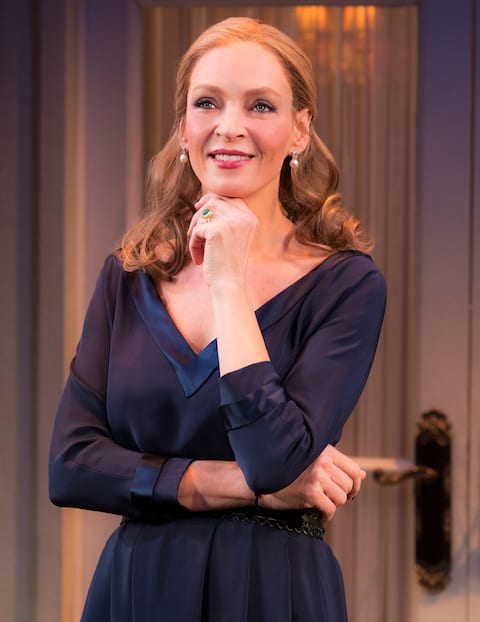 There are times when real drama outside the theatre overshadows what's on stage. The Parisian Woman, which opened on Broadway last night at the Hudson Theatre, presents an unusually extreme example.
Uma Thurman, leading the production in her Broadway debut, recently promised to share her own potentially explosive story about Harvey Weinstein as soon as she feels ready. Playwright and House of Cards creator Beau Willimon, also making his Broadway debut, has seen his Netflix series embroiled in controversy with the downfall of its star Kevin Spacey. Though ostensibly unrelated to the play, the presence of these stories in the room is hard to deny — and one has to think, adds to the production's allure.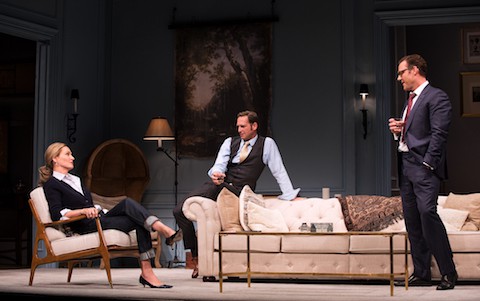 All that aside, the real events outpacing The Parisian Woman's slack political storyline are the ones cascading down our Twitter feeds from Washington. Just keeping up with every outrageous plot twist can feel nearly impossible — so how are artists meant to respond to the current moment? Doing so on stage has proven especially difficult. Incidentally, Willimon's play, inspired by Henri Becque's 1885 La Parisienne, suffers from the same problem as recent seasons of House of Cards (though Willimon left as showrunner after season 4). The truth is far, far stranger than fiction — never more so than now — and it's moving too fast for anyone to capture.
Here, Thurman plays Chloe, a self-professed woman of pleasure who takes full advantage of her open marriage, thumbs the occasional vampire novel, and ministers to the finer points of advancing her husband Tom's career. Tom (Josh Lucas), a tax attorney serving Republican bigwigs, is angling for a judgeship (a position for which he's hardly qualified, so if not now, when?). Chloe is determined to help.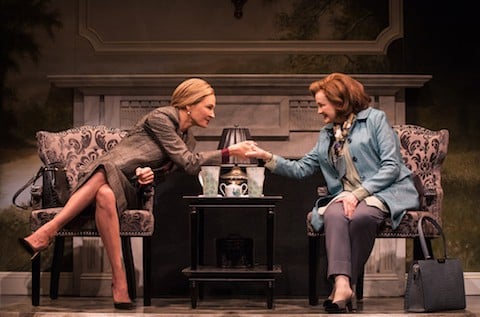 The setup is simple, the stakes feel low, and for the first half of these 90 minutes, it's not very clear what we're doing here when real breaking news likely awaits on our switched-off phones. Pam MacKinnon's characteristically serviceable direction does little to generate heat. Willimon, a keen observer and wordsmith, turns out some memorable truisms (e.g. "in the land of sinners, the whore is Queen"). Then he delivers the kind of twist that usually arrives by episode 4, with a relish that feels thrilling for a moment, until you realize this is still about one mid-level player moving up a notch, albeit to a lifetime appointment.
That thrill, such as it is, comes largely thanks to Ms. Thurman, whose poise and assurance is impressive, if not equal to the total self-possession and command of the stage her character would seem to require. In that pivotal scene, she plays opposite a superb Blair Brown, in the role of a party-line Republican appointed to lead the Federal Reserve. In Brown's Jeanette, we're privy to the utter delusion of GOP leaders who think their erratic president can be controlled — though she can hardly know the half of it without tracking Twitter in real time.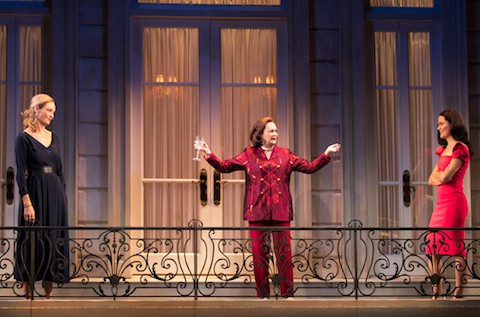 Lucas, previously on Broadway in a 2005 production of The Glass Menagerie, seems least at ease, and his scenes opposite Thurman find them both on shaky ground. He's also tasked with delivering the play's denouement, eulogizing his own crisis of achievement (the title's focus on her is one bait and switch among many). It's another testament to the pervasive power of current discourse that no one is likely to shed a tear for the frustrated ambitions of an affluent white dude, even one who started with nothing.
"We have a nice townhouse," Tom says (and they do, Derek McLane's set is a Restoration Hardware lover's dream). "We wear nice clothes" (though, Jane Greenwood's blue-and-red palette is a little on the nose). So what?" Tom asks. "Doesn't it feel empty?" Unfortunately, it does.
Follow Naveen Kumar on Twitter: @Mr_NaveenKumar
(photos: matthew murphy)