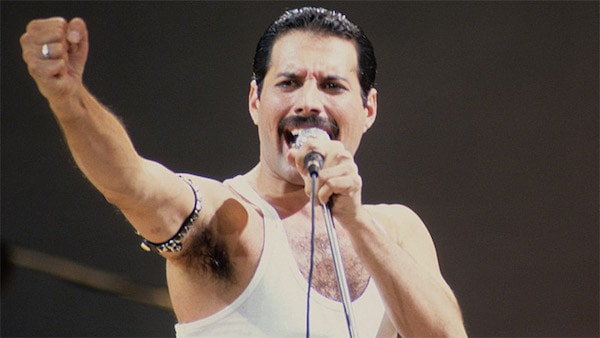 PRESENTED by WorldPride 2019 | Stonewall 50
Next summer, WorldPride comes to the United States for the first time to commemorate the 50th anniversary of the Stonewall uprising. The sixth edition of the culturally-diverse WorldPride will attract millions of LGBTQI+ revelers for the largest celebration of Pride in history. In honor of this incredible event Towleroad is celebrating 50 years of LGBTQI+ history with a series examining queer life from the 1960s through today.
Any discussion of LGBTQI+ history and culture in the 1980s will undoubtedly center on the AIDS Crisis. It's difficult in today's culture of increased awareness, improved treatment and advances in prevention to properly convey the devastating impact of the epidemic on the gay community to those who hadn't lived through it themselves. (And even more difficult to do so in a single blog post.)
However, it's vital to never forget the AIDS crisis not only for the too many brilliant minds, fighting spirits and beloved friends lost, but also for how it galvanized the queer community, showed the world our resilience and power and how it laid bare the prejudices of a society willing to stand by and do nothing while a vulnerable community was ravaged.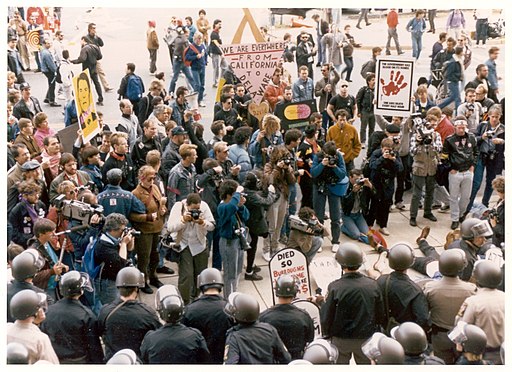 On July 3, 1981, the New York Times ran a story about a rare cancer seen in homosexual men. Originally identified as Kaposi's Sarcoma and later gay-related immune deficiency, the Center for Disease Control began using the term AIDS in late 1982. In response to the epidemic, activists formed Gay Men's Health Crisis, including Paul Popham, Edmund White, Paul Rapoport, Lawrence D. Mass and Larry Kramer.
As politicians like President Ronald Reagan, Secretary of Health and Human Services Margaret Heckler and New York City Mayor Ed Koch were grossly slow to respond to the crisis, GMHC established crisis counseling, hotlines, legal aid and volunteer programs to assist and advocate for the diagnosed.
Kramer, every bit the firebrand then as he is now, saw a need for more direct, disruptive action. At a GMHC meeting in 1987, he gave an impassioned speech:
"If my speech tonight doesn't scare the sh*t out of you, we're in real trouble," he said. "If what you're hearing doesn't rouse you to anger, fury, rage and action, gay men will have no future here on earth. How long does it take before you get angry and fight back?"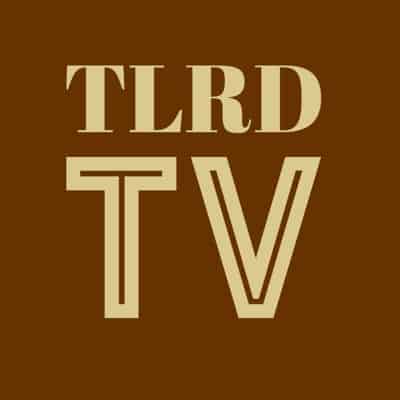 Days later, the radical activism group AIDS Coalition to Unleash Power (ACT UP) was formed. The group was known for its unapologetically aggressive approach. They infiltrated the New York Stock Exchange to protest obscenely high drug prices for HIV/AIDS medications. They successfully seized media attention with demonstrations in post offices as people filed their taxes. ACT UP also collaborated with the Silence=Death project, resulting in the recognizable Silence=Death poster with pink triangle.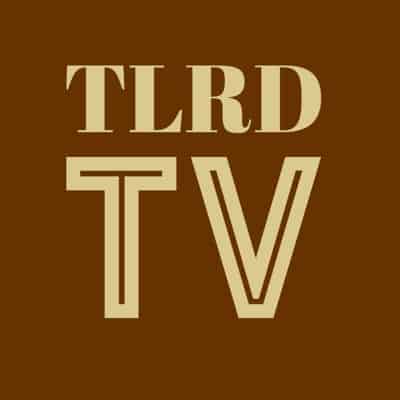 Activist Cleve Jones took a different tact with the AIDS Memorial Quilt, an idea he had in 1985. He made the first square in 1987 in memory of his friend Marvin Feldman. The project is the largest ever community-created piece of art, weighing more than 54 tons. It not only serves as a reminder of the scale of the epidemic, but it honors many queer people who were denied a proper funeral because of their status, because they were disowned by their families or both.
By the end of the 1980s, AIDS had claimed numerous queer artists and celebrities like Gia Carangi, Klaus Nomi, Rock Hudson, Alvin Ailey and Keith Haring. Having risen to prominence out of 1980s New York City street culture, Haring's work in particular brought LGBTQ and AIDS iconography to mainstream audiences.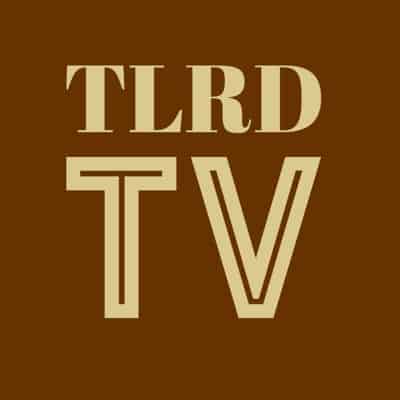 Despite hardships, there were still victories for the LGBTQ population. In 1980, Democrats made their support for LGBTQ people known, adding a plank to the party platform reading: "All groups must be protected from discrimination based on race, color, religion, national origin, language, age, sex or sexual orientation."
Also in 1980, Steven Endean founded the Human Rights Campaign Fund, one of the first LGBTQ political action committee. It continues to be the largest organization fighting for LGBTQ rights. After essentially creating queer media studies with his book The Celluloid Closet in 1981, Vito Russo was one of the founders of GLAAD, then an acronym for Gay and Lesbian Alliance Against Defamation. (The organization has since been known only as GLAAD to be more inclusive of bisexual, transgender and other queer people.) GLAAD has been a consistently powerful force of change in media, beginning with early victories to change how the news media describes and covers LGBTQ issues.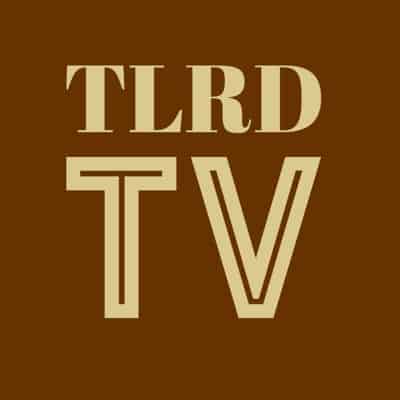 Even as shame and stigma raged, queer culture continued to blossom. Uptown New York City, the ballroom scene — pioneered and sustained by queer people of color — flourished. Balls grew and happened more frequently, while the drag houses also proliferated. Of course, the cultural impact of the ballroom scene would be captured in the seminal film, Paris Is Burning (released in 1990, but filmed in the mid- to late-1980s). A hybrid of dance, posing and kung-fu, voguing became a phenomenon in the '80s, transitioning from dance venues like Tracks, Paradise Garage and Better Days to fashion runways and MTV.
https://www.youtube.com/watch?v=ktYlzVYQbwY
This proliferation of LGBTQ culture into the mainstream helped catapult queer and queer-allied performers into superstardom. Musicians like Cyndi Lauper, George Michael, Grace Jones, the Smiths, the Cure, the B-52s and, of course, Madonna topped the charts, dictated style and, to varying degrees, challenged mainstream attitudes about sexuality. In 1985, artists including Patti LaBelle, Madonna and Queen performed at Live Aid, a benefit to fight famine in Ethiopia. Queen's iconic performance in particular was one of the greatest of all time.
In spite of battling discrimination and a plague, the LGBTQ movement continued to organize and build strength throughout the '80s. Survivors of the AIDS crisis would see unprecedented representation and increased tolerance during the next decade, but the memory of so many lives lost in the 1980s would become forever woven into the history of the LGBTQ community.
Get all the info on WorldPride at the official website, or by following @NYCPride on Twitter and Instagram.